Haddo House
We seem to have a knack for showing up just as places are closing -- we lose track of time, and race to a listed building hoping to slip inside for a glimpse...and what usually happens is we end up talking to people s they leave and wandering around the grounds. We had a lovely conversation with two of the caretakers here, with their little dog.
I need to plan better....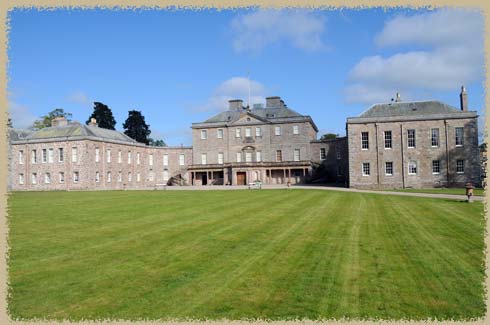 the william adams facade
H2 level heading
There might be the foundations of a castle here somewhere, but it has been replaced by a rather plain but very symmetrical classical mantion built in 1731-36. It was extensively remodeled in the 1800s.
The style of the exterior is Georgian Palladian -- a rather austere style that usually has two stories, with a main house and wings with rooms "two deep", and is extremely symmetrical. One of the identifying features are single sash windows, often arranged in rows or columns of five.
The interior has been re-done ni the 1880s and is late Victorian style, a more ornate and colorful style than the rather plain Adams interiors that would have been originally designed.

the curved staircase and columns leading to the pedimented entrance
Ownership
The lands here, originally called the Place of Kelly, or Kellie Castle, was owned by the Gordons from the 15th century. The original castle house stood near the loch. It was captured by the Marquess of Argyll in 1644 after a three day seige and it was destroyed by the Covenanters.
The 18th century home was built for William Gordon, 2nd Earl of Aberdeen by William Adam..
During WW2, the house was a maternity hospital. It has been in state care since 1979.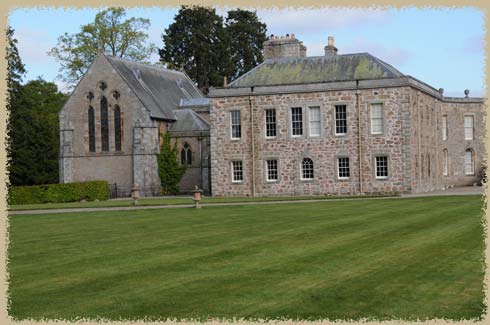 the chapel, added in the 18th century to the wing of the house