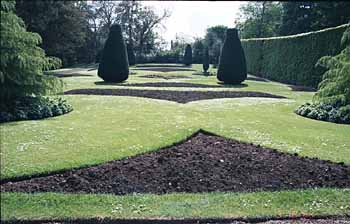 The not-quite-sprouted-yet formal gardens on the grounds of Dirleton
We were unfortunately a little early in the season to see all the gardens in full bloom. Everywhere we went, things were just starting to plant things. We missed the heather in the Highlands, too. I can only imagine what some of these meticulously designed gardens look like later in the summer. It must be wonderful.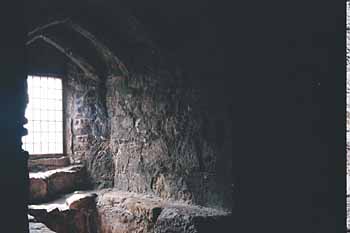 A window antechamber in the thickness of the wall still lets in a lot of light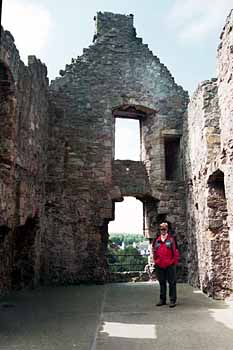 Mark inside the Ruthven residence wing along the inner castle wall
Most staircases that we found in castles were narrow spirals, sometimes a bare three feet in diameter. With a thick stone pillar in the middle, the stairs were literally stacked with the exterior walls, as the picture below (sort of) shows. Some castles had huge, wide staircases, with treads several feet wide, but most are tiny and very steep. In most of the Historic Scotland-held castles, a rope twines around the center pillar like a handrail. It's such a perfect solution, it must be the original. I wouldn't want to try to climb these stairs in a dress without one.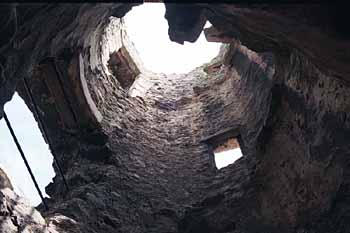 Looking up the ruined stairway tower, with the stubs of the stairs still in the walls
Dirleton
1 2 [ 3 ]

---

Lothian
North of A198
2 miles west of North Berwick
National Trust for Scotland


---

l i n k s


---