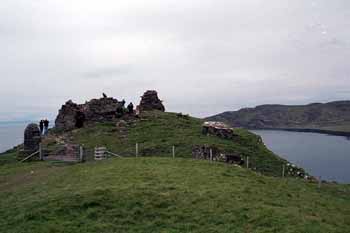 Not much remains of Duntulm except a few scattered rubble foundations

This site on the Isle of Skye originally had an iron age broch that was used by the Norsemen in their forays down the coast. Later, a stone castle was built here by the Macleods, although most of the remaining ruin dates from the 17th century.
The castle was abandoned in 1730 for nearby Armadale Castle, a more comfortable residence. The last masonry wall fell in 1980 during a storm, although the vaulted basements are intact.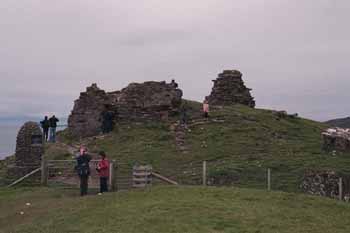 A bit better view of the rocky mound on which Duntulm stood
Duntulm has some pretty horrific history. Hugh MacDonald was imprisoned in the castle dungeon, and purposely starved to death after he tried to seize the lands of his family. He was given only salted beef and no water and died stark raving mad -- one horrid story says he tried to eat his own hands before the end.
The castle is rumored to be severely haunted. The ghost of Donald Gorm can be seen brawling with other ghostly miscreants in the courtyard, and a screaming, raving Hugh Macdonald also haunts the castle dungeon. Occasionally, the weeping of Margaret (who was shunned by her husband after she lost an eye in an accident) can be heard. The hysterical screams of a nursemaid who 'accidentally' dropped a baby out a window and onto the rocks below can also be heard sometimes.
Supposedly, the Macdonalds abandoned the castle because of the ghosts.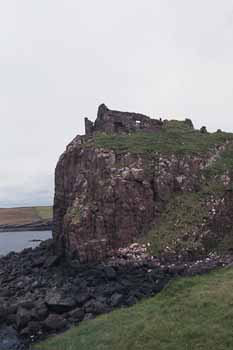 Duntulm is well protected from the seaward side by tall, rocky cliffs