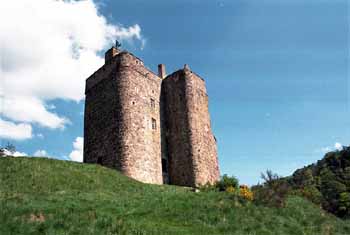 The tower is oddly smooth, and made of a hard, concrete-like rubble
The main block originally contained three vaulted compartments, with the lower two divided by wood floors. The main block contained a cellar, a retainers loft, a great hall and a lofty pointed vault, the lords private chamber, and a top room for other family members. The hall was a huge room, with a dais at the north end, and lighted by large windows.
In the 1590s the tower was remodelled above the hall vault, removing the topmost vault to replace it with a timber roof. Further alterations were done in the 1660, when the cellar was divided and a wide staircase added. Restorations continue today in the cellars and in many of the still-plastered rooms above.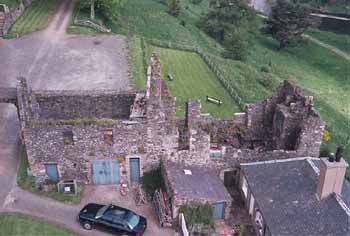 The remaining, roofless outbuildings, from the top of the tower
Except for the ruined 16th century bakehouse and brewhouse in the southeast corner of the courtyard, nothing remains of the builders of the 1660s and later. The north wall has mostly gone and the east range was again remodelled in 1780. It was left as a consolidated ruin in 1950.
Neidpath is reputedly haunted by a young woman. She fell in love with a local laird, but her father did not think he was good enough for her. She pined away until her father recalled the young man. She waited on the ramparts for him to return, but she so changed by her illness that he rode right past, not recognizing her. She died.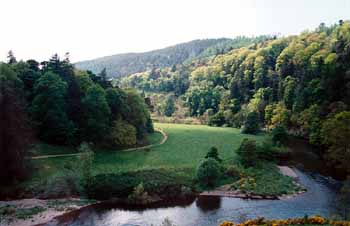 View of the River Tweed from the tower
Neidpath
1 [ 2 ] 3

---

Neidpath
Borders
1 mile west of Peebles
On A72
North of River Tweed


---

l i n k s


---