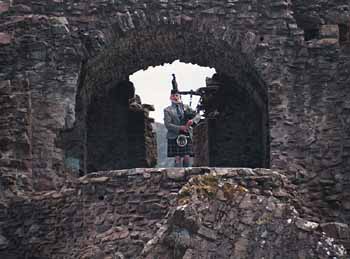 In the middle of the landward side is a gatehouse with d-shaped towers on either side. There was a portcullis and probably two sets of doors. The lodges for porters and guards oneither side also have vaults, and the rooms above are vaulted. The dry ditch in front was crossed by a drawbridge.
Over the entrace of the tower are four corbels, and a parapet where the piper is walking.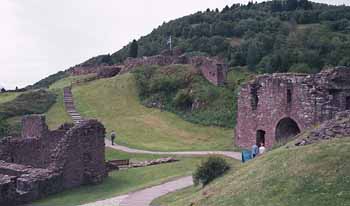 In the lower bailey are foundation of what is likely a chapel. One of the monks at the chapel here claims the first report of the Loch Ness Monster, which supposedly grabbed him from the shore and released him. Many people claim to have seen the monster from the castle, and quite a few were actively looking while we were there.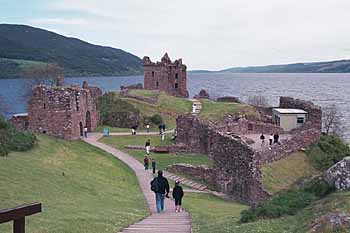 Urquhart
1 [ 2 ]

---

Urquhart
Inverness
1 ½ miles east of Drumnadrochit
East of A82
West shore of Loch Ness
Historic Scotland
£6


---

l i n k s


---