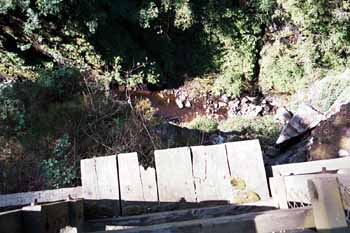 Looking straight down, over a hundred feet, from the viewing platform

In the steep, wooded Corrieshalloch Gorge, the Falls of Measach plunge nearly 150 feet. They are a bit hard to see -- the gorge is narrow and very steep. There is a tiny viewing platform (carefully labelled 'two people only!' in several different languages) that we ventured out on after waiting our turn with the tourbus full of german tourists.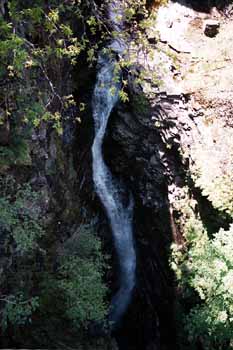 The falls themselves, a narrow plume in Corrieshalloch Gorge
There is also a nifty suspension bridge that was built across the gorge (also carefully labelled 'six person maximum') that sways alarmingly, but offers a spectacular view up and down the glen. The views on the drive out here are also beautiful, along the 21 mile long Loch Broom.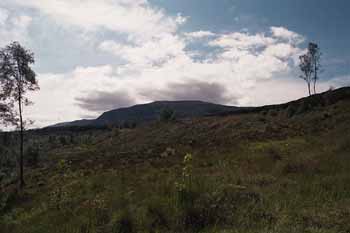 The far side of the gorge, with views to the mountains nearby.
---

l o c a t i o n

---

Falls of Measach
Corrieshalloch Gorge
11 miles south of Ullapool
On A835
Off Loch Broom
National Trust for Scotland


---

o t h e r l i n k s

---