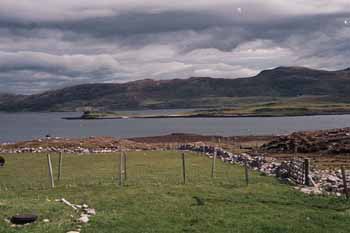 Looking across Loch Eriboll from the Port-na-con tea shop

A838 runs right along the northern coast of Scotland and we drove from Thurso in the east along the coast and eventually to Ullapool. The scenery up here is gorgeous (am I saying gorgeous alot?) and we just sort of meandered along stopping whenever we felt like it.

Blue skies over Loch Eriboll before the wind came in
We stopped at Port-na-con, which is really a single croft, maybe two houses, on the side of Loch Eriboll. This very deep loch was used for military training at one point, being one of the few lochs that is deep enough for a large ship. It was amazingly windy -- and I do mean amazingly. We stopped at this little tearoom for sandwiches, and enjoyed a very leisurely lunch and conversation with the nice gentleman who ran the tea room. It was a nice stop.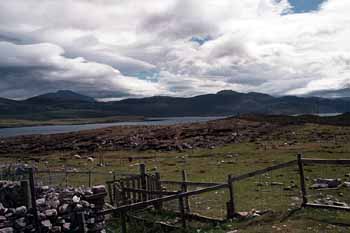 The wind howls in with the clouds near port-na-con and Loch Eriboll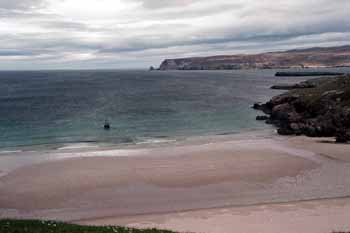 A wide expanse of sandy beach at Loch Eriboll
---

l o c a t i o n

---

Loch Eriboll
from Port-na-con
Northwest Highlands
On A838


---

o t h e r l i n k s

---