Yup, me again wandering around -- you can tell how thick the walls of this tower were!
This was a very small castle, as you can see by the size of the remaining shell. The floor of the tower, which is over vaulted basements, is solid and was probably repaired fairly recently. The wall of the tower is cracked, and while you can rationalize that it probbaly isn't going to fall at this moment it's still hard to walk inside the shell of the tower.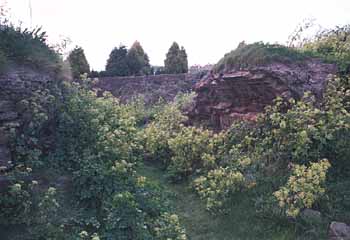 When the top of the castle was demolished in 1867, the rubble fell into the vaulted rooms below and they are mostly destroyed as well.
Back
to MacDuff Tower


---

l o c a t i o n

---

East Wemyss
Fife
North of East Wemyss
South of A955
on the shore


---

o t h e r l i n k s

---