Osireon, page 2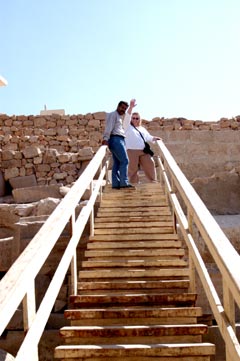 the new (and rickety) stairwell to the bottom of the temple
Outer walls are also of red granite, and the entire temple is built below ground level; no other temple has ever been built like this. It is possible that the temple was bult very early, on top of what was ground level then and the inundation of the nile laid down layer after layer of silt that buried the temple to its existing depth. At least on Egyptologist (A. West) believes tht it may predate the Egyptian dynasties entirely.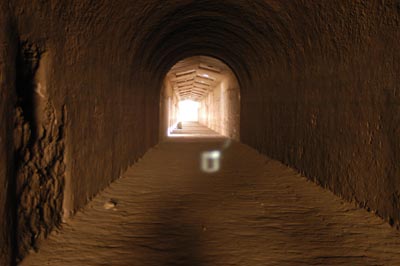 the covered causeway leading to the Osirieon
There is a long covered passageway that has been cleared of the sifting sands and rising water -- it was built by Seti I and contains the inscriptions of the Book of What Is In the Duat and the Book of the Gates. This was probably finished by Seti I's grandson. It has a sharp turn when it enters the Osirieon, but it is closed to tourists. Mark and Bessem walked over the roof to the end and tried the locked gates. While they couldn't get inside (and I was pretty sure they'd plummeted to their death somewhere!), they did get some pictures of the well-restored causeway.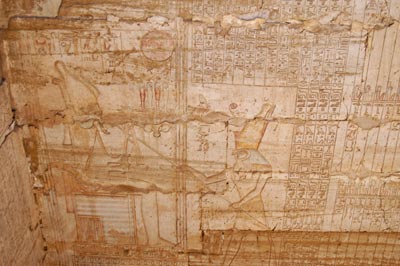 detailed reliefs of the pharaoh and his offerings