Fort of Sultan Qaitbai
Of course, nothing remains of the original lighthouse except a few foundation blocks in the northwest portion of the enclosure wall and the facade of the keep. The third story collapsed in 700 AD (or was destroyed by treasure hunters) and the rest fell to ruin. Earthquakes in 1100 and 1307 destroyed the foundations. The second level was eventually restored by Ibn Tulun, but neglect left the structure in ruins by the fourteenth century.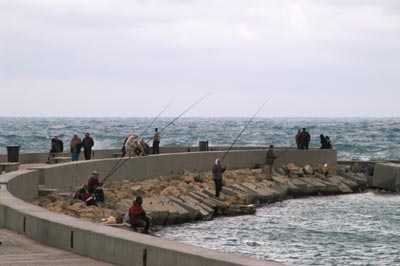 men fishing off the promontory and stone breakers
Recently, excavations in the harbor have found stone blocks and statuary that may be from the lighthouse and nearby Temple of Cleopatra. Her royal court has been lost since a series of earthquakes caused it to collapse into the sea. Statues and blocks of a great temple lie in the shallow harbor. A french marine archeologist, Franck Goddio, discovered the ruins in the harbor.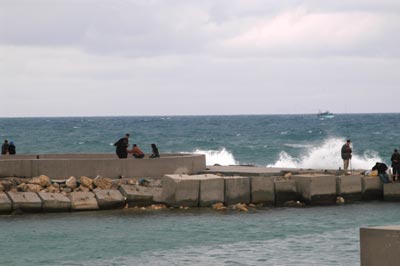 the surf was high, but people were out on the platforms
You can currently dive the ruins, and there are apparently plans to open an underwater museum.