Temple of Isis at Philae, page 2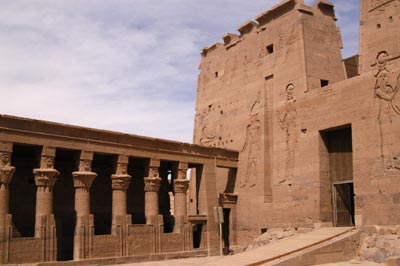 the mammisi and first pylon
The island was originally accessed from the south, up a double staircase that led to the small Kiosk of Nectanebo. THe staircase leads now to the entrance of the long, trapezoidal courtyard which is lined by columns on both sides. The west colonnade is well preserved, and each of the columns has a different capital. Behind he columns, windows would have looked out to Biga island. The columns on the east are undecorated, and past them, a series of ruined temples and other buildings range out from the walls.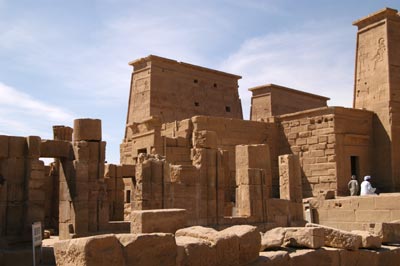 remains of the temple of mandulis, to the east of the temple of Isis
Near the entrance, a ruined temple of Arensinupis (companion to Isis) and the foundations of a small Chapel of Mandulis abut the colonnade. Mandulis is a Nubian god (similar to Horus) and the nearby Temple of Kalabsha is dedicated to him, as well. Closer to the first pylon is a temple of Imhotep, the deified architect of the third Dynasty Step Pyramid of Djoser. He was worshipped as a god of healing in the Late Period.

foundations of a temple abutting the colonnade