Great Temple of Amun at Karnak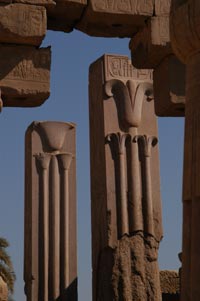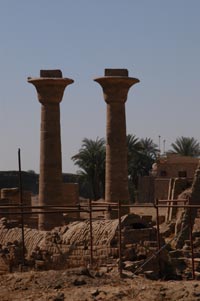 Two square pillars stand in frontof the sanctury, caredwith the lotus and papyrus flowers on thier faces. Nearby are two statues of Amun and Amunet and a seated statue of Amenophis III. A granite sanctuayr was added to the original temple in greco-roman times by Phillip, brother of Alexander the Great. It replaces the original sanctuary of sandstone.
More pylons are built to the south, at right angles to the main part of the temple. The seventh through tenth pylons house a few statues and are built from masonry used in the destroyed Aten temple of Akhenaton.