Travelogue - Day 3, Tuesday
Normally, we don't stay in one place too long -- a day or two, and then we simply find someplace to sleep wherever we happen to end up at the end of the day. However, for the first two nights, we stuck around Dublin at our B&B, to get a feel for things and have a base to go back to. I asked if we could stay another day, but no go. We're off into the world today, after packing up our stuff and loading the car even before we descended into the cellar kitchen for breakfast.
I love bacon in the UK. It's a completely different thing than thin, curled American bacon (which is called 'streaky bacon' here and used only for cooking). This does not bode well for my nutrition while on vacation. Bacon at breakfast, cookies for lunch, something rich and sumptuous for dinner. Luckily, we usually walk a lot to make up for it.
Travel Rules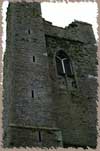 We only had nine u-turns today, based on my official count. Mark added two, because he missed the road back into town, for which he is entirely blaming me. It has become a running joke. We have a well-defined set of 'travel rules' that we abide by, after having done this a time or two. Mark's job is to drive and keep us from getting killed, and keep us moving in some general direction on our vacation. My job is to navigate, find interesting things to see, and get us there with a minimum of fuss. Well, that's the intent, anyway. For the first few days, there is always a bit of fuss and pointing 'we should have turned back there'. It wasn't until a few days into the trip that I realized missing a turn driving in ireland is not critical -- take the next one and there will be an easy way back to where you need to be. In most cases. And, if there isn't, you'll find something equally as interesting down the road.
Before leaving Athboy, we stopped for supplies (read: cookies and orange juice, our usual lunch while traveling) and to take some photos of the main street and find the remains of the old town walls. We never did find obvious remains of the castle that is reputed to be in Athboy (parts are incorporated into buildings on the main street, including part of a gatehouse), but we found the old church tower and walls near the library, and read the plaques on the buildings -- the old toll house is now a bridal shop, the meeting house a series of small shops. Nearly all towns have an old [tollhouse], usually a stone building or elaborate timber structure in the middle of town, where the old market and trading offices were housed. Some of them are quite ornate.
We also discovered that the right front hubcap one our rental car was missing. We don't remember where or when it disappeared. We had noticed the previous day that it was loose -- despite being zip-tied to the wheel (as are a lot of hubcaps that we see) and apparently that wasn't enough to keep it on the car. Mark (in true Macgyver-like fashion) rigged enough zip ties on all the wheels to securely hold the remaining hub caps in place. And, we noticed that the bumper had a hole in it, although we're both sure it was there when we picked up the car from the rental agency. It's not noted on the rental papers, though, and we were still fuzzy from the long flight when we got the car, so I'm sure we'll be on the hook to repair it. Not a big deal, I guess.
Frankly, I'm amazed that most car rental companies will even rent to tourists. We're not used to the roads, can't navigate (and in this case, driving on the opposite side of the road)...we're a rolling hazard! They should require us to be in day-glo orange cars with flashing lights and sirens. Ireland quite reasonably requires that you buy full-coverage insurance no matter what. (Note that most credit cards, even if they do offer supplemental coverage for auto insurance, specifically exclude Ireland.) From our experience today, I agree it's definitely necessary.
Cow Encounter
Our ultimate goal today is the town of Kells, although the town is not where the famous Book of Kells can be seen. The book itself lies in state in Trinity College, Dublin. The monastery here created, illuminated, and protected this book in the [x] century.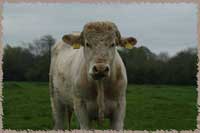 We took a slight detour (aren't they all slight?) to see a castle-dot in Rathmore. The castle itself lies in a farmyard and there is a clear sign that no trespassing is allowed. The owner no longer allows anyone to walk through the ruin, but you can see t clearly from the road and I happily snapped a few pictures. Just up the road is a tiny rusted sign pointing to the Teampall agus Cross, which lies in a cow field populated by a number of young bulls. They eyeballed us pretty aggressively when we approached the fence and -- deciding that prudence is the better part of valor -- we remained at the roadside and took pictures from there. I've been watching rodeo on television and I'm not going to tangle with a bull, young or not!
Walking along the roads can be a nerve wracking affair. The roads are narrow, and drivers whiz by at alarming speed. Unlike in the states where you are usually counseled to walk with traffic, always walk AGAINST traffic here, and be prepared to leap to safety into the weeds when oncoming cars don't yield. Oh, it's not that they don't yield, but they are very close, and it takes a while to develop steady-enough nerves to not leap up the embankments and cling to the nearest fencepost when they rush past. And remember to LOOK RIGHT for oncoming cars when you cross the road, then left, then right again. Be overly careful, since your instinct, honed since childhood, will be do to the opposite. I have a tendency to leap out intro traffic, trusting in rock-solid pedestrian laws in Colorado, and it's doubly difficult for me to remember that cars will be coming from the right. More than once, Mark has caught the hood of my coat and jerked me back onto the roadside as cars thunder by from the right. I'm just a serious car-accident waiting to happen, I swear. It's unnerving to walk with your back to traffic, but equally important to be able to see oncoming cars in time to move out of the way.
On to Kells
We looped back to the main road to Kells and found a parking space on a steep road just outside the churchyard. Parking in most towns requires either a parking disk or a scratch-off parking ticket that you can buy in most shops. You set the time (or scratch off the correct time) and place the card on the dashboard to show how long you have been parked. Some towns have vending machines that spit out dated parking slips for the same purpose. Usually you're limited to two hours on main streets. Practice your parallel parking skills, too, as there are very few traditional car parks in towns (except at some of the major Duchas sites). No parking zones are usually clearly marked, but the complex rules about where and when and for how long you can park anywhere else in each town are simply beyond the comprehension of a visitor in most cases. Single yellow lines, double white lines, blue areas...if you have any questions, pop into a shop and ask if it's ok to park where you are, or you risk having your car booted or towed. However, parking seems a haphazardly enforced rule in most towns and you're likely to find cars parked half-way up the sidewalk and double or triple parked along wider spots in the road, often facing against traffic. The locals know what the rules are and when it's ok to break them; we weren't quite so sanguine about it. Try to stick to designated parking areas and make sure to check if a parking disk/card/ticket is required.
Kells has steep roads that all lead down to the visitors center and school in the center of town. Simply head down and you'll end up at the courthouse and center for Kells. One of the few remaining original market crosses stands in a well-protected glass box just outside. It is quite battered -- in fact, it was moved here to its protected cubicle when a city bus bashed it a few years ago. We didn't take the camera down, and didn't get any pictures of it There are a number of pictures here: http://www.megalithomania.com/show/site/484 The megalithomania site is a great resource for monuments in Ireland -- definitely worth a visit.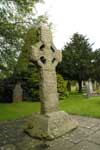 We hiked back up the cobblestone road to the churchyard, which holds three High Crosses in various states of repair, St Colmcille's church and a well-preserved round tower within the walls. The church here is still used, and there are interesting gravestones in the yard. Beyond (and further up) is the interesting stacked-stone building called Columcille's House. Columcille was an early church saint, and many monuments and sites attributed to him dot Ireland. Columcille's house lies in a small walled area next to the Supervalue grocery store. There is a key available, but the instructions about where to get it are a bit vague. House numbers are uncommon (most houses have names, we discovered) and we weren't sure where to proceed.So, we walked back to the car and had ice cream cones from the little shop where we had parked.
Driving out of Kells towards Navan to find Athlumley castle, I realized that the regional councils and tourists organizations simply do not want us to be able to find anything in ireland. There are NO SIGNS anywhere. Later, a guide at one of the big houses told us, "Nope. No signs. The last time we put up signs, we were invaded." We drove around and around and finally realized that the bridge they were talking about in the guidebook as the "main road" was indeed the teeny, one-lane wooden structure in the middle of town that we had dismissed as "too small". Rush hour in a small town with confusing one-way street systems is always fun. We used up about six of our nine u-turns and very nearly drove off into the river when we missed a turn. When we finally rounded into Lareto convent (a girl's school), where ALL of the guidebooks tell us the key to the castle is, we are disappointed. No key. Try up at the Mercy convent up the road and nearer the actual castle). While there are "older nuns here, no one has a key.", we are told. Try the little bungalow on the right at the housing development on the left over the little bridge on the way back to town. Uh-huh. No luck. We just took pictures from the outside, which was quite disappointing. The windows and fireplaces that we can see over the wall and through the gate are quite interesting, and I would have loved to poke around inside. I sent Mark off into the field behind the castle to take more pictures, and was then accused of luring him into a bog: the ground was so moist that it was difficult to walk on and he sank ankle-deep in the muck.
Design Hierarchy
A housing development curves around the walled castle, and we marveled at the absolutely identical houses row after row along the culdesac. Other than alternating door colors (green, black, blue) the houses were exactly the same. Same stone, same color, same roof line, same windows, same window boxes, same single tree in the front yard. The only way to tell them apart was by house number, prominently displayed over the door. I have a sneaking suspicion that this sort of housing development (and now that we had noticed it, we saw the same kind of homogenous houses everywhere) is a sign of the quintessentially British preoccupation with rank and social standing. The houses are the same so everyone knows where they stand in relation to everyone else. You know just where you are on the social scale. It's a weird obsession with social caste that seems to color every culture that has been influenced by the British. If everything is the same, you can't be any lower (or higher) than anyone else. Oh, we do the same thing in the states, too, but we don't seem to find any satisfaction in being exactly the same, we are more focused on being better. Which model you think is better is probably a moot point, but the unrelenting same-ness of the council-flats and housing developments that are cropping up all over Ireland like mushrooms are certainly a sign of something.
The building boom in evidence in Ireland is stunning. Houses are under construction everywhere -- row houses, townhouses, bungalows, enormous mcMansions, everything. Cinder block and stucco seem to be common building materials here -- with the rain and humidity, I imagine that they are good choices over wood. Every town we drove through has new houses going up, in orderly rows and cul-de-sacs. There is a sense of energy here that is palpable.
As we headed back through Athlumley towards Maynooth (muh-NOOTH) we passed a young man on a motorcycle for the fifth time. We had been passing each other as we crisscrossed the town looking for the castle. We waved merrily at each other as we sped off once again in opposite directions.
The drive which brought us through the tiny town of Kilcock, was pretty, but we didn't see much on the way. Maynooth is a heritage site, but they really don't open the castle until June. The two squat towers sit at the main entrance to the university, accompanied by a short gatehouse. We braved the slight drizzle to take some pictures and tried to stay out of the way of the hordes of students heading to class. It's funny, but students look the same at any university in the world: jeans, sweatshirts, tennis shoes, backpacks, cup of coffee. Pick them up and drop them anywhere and no one would spare them a second glance.
Duchas and National Heritage
Duchas maintains a number of heritage sites and houses across Ireland, most of them restored buildings and tourist-inspired educational experiences. They are well-worth a visit in most cases, and joining the Duchas organization (about 60$ US) saves you a ton of money in entrance fees if you are in Ireland for any period of time. Following the map of their sites is a good rough itinerary around Ireland and we followed it in our general clockwise trip around Ireland. The primary sites are all worth a stop, and we decided that with the threat of rain, something inside might be a good choice. I'm all for tramping about in the rain, but once you get soaked to the skin and your underwear squelches it tends to take the fun right out of sight-seeing. Yes, an "inside" venue is on the menu.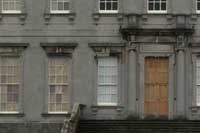 The small town of Celbridge is home to Castletown House, an enormous Palladian mansion. The house is definitely a showpiece, although they are just starting the restoration work to bring it back from ruin. Because of the ongoing work, photos are not allowed in the house. Fire, neglect, and vandalism had damaged many of the rooms of this huge house, and money is always short to do things properly.
It had begun raining in earnest (although as promised it rarely lasted long) and we were the only people in the entire house. Our guide was a hoot, though. We can only assume she had spent the entire day locked away in her office and only got let out to talk to us! We had about an hour and a half tour around the building (even behind the velvet ropes and closed doors) and learned a tremendous amount about the relationships between Irish landowners and farmers, and the role of the Irish in the English "Conversion" of land.
While staring out at the "folly" built at the edge of the estate, our guide laughingly told us how to predict the weather in Ireland: Can you see the mountains? If you can, it will rain soon. If you can't, it's already raining. Not surprisingly in a country that gets feet of rain every year, it's pretty accurate. Of course, she's also the person who responded to our minor vent that finding our way around Ireland was difficult because nothing was labeled with a raised eyebrow and smart, "Well, the last time we put up road signs, we were invaded."
The house is a bit odd: the doors in the house were originally built 7-8' tall, but the lady of the house had them shortened to update the house to "modern style" by filling in the tops with empty boxes and wood frames. The door is usually tall on the outer wall, but inside the room is short to maintain the right proportions on the rooms once the ceilings were lowered. There are fake doors aplenty to keep the rooms symmetrical; these often open directly into walls or don't open at all.
There is fabulous Italian plaster work in the main entrance hall and main staircase (Francini brothers), although you can't get too close. The staircase, a cantilevered "flying stair" is in serious danger of collapse after repairs were made with concrete in the 1970s. It is visibly pulling away from the wall and has no real means of support. It used to be a main part of the house tour -- I'd hate to have been the person to notice that all those feet had damaged the stairs! The main ballroom (in Egyptian style) has the ugliest chandelier that I've ever seen -- a monstrosity in blue-ish Murano glass. Youch The whole place is a glorious concoction of rococo froth and overdone frou-frou..
Food, glorious food
It was still drizzling as we left and we decided to stop for dinner and then on to the B&B for the night. We rounded Celbridge about four times (commenting each time on the strange set of buildings on the road on the way out of town) as we tried to get pointed in the right direction. We literally ran into Mario's Italian restaurant in a small strip-mall just outside town and decided to risk it for dinner and wait until traffic cleared for the evening. Dinner was surprisingly good, very authentic northern Italian with fresh mozzarella cheese and homemade pasta. I had baked chicken and pasta and Mark had lasagna and we both ate enough garlic bread to be surely offensive to anyone else we encountered later that night. No potatoes in sight. It was quite a surprise.
Eating out is expensive in Ireland (at least relative to the US). They pay wait-staff a good minimum wage, so tipping is not usually expected (well, it really is, but there are no rules for how much -- leave 10% if you feel like it, we were told). A meal that I would expect to pay 30$ US for back in Colorado is more likely to be in the 50$ US here, if our experience is any indication. Surprisingly good wine selections are available in most restaurants, but we weren't brave enough to order wine in a serious wood-and-rugby-style pub, in most cases. A pint of Guinness will run about 4 Euro or so. There is an abundance of cheap pub-food available, and if you miss eating fish-and-chips from a paper cone while you're in Ireland, or ordering a chip-butty, you've missed an important experience. Pizza is usually a sad affair, but Indian food is surprisingly common and quite good in most areas.
I'd been warned to avoid mexican food anywhere in the UK and we tended to stick to standard pub-grub (sandwiches, fried chicken, roast-of-the-day) when we went out. We usually picked up lunch from a local stop-and-shop. It seems like a bad risk, but eating from the many hot lunch counters in gas stations and grocery stores actually yields a good lunch of sausage, sandwich, meat pie or other tasty options fairly cheaply. Sandwiches made-to-order are available in most larger food shops and fresh fruit is everywhere. Of course, I should admit that we ate nothing but cookies for lunch on many days -- chocolate dipped malted cookies were a big hit. I can't find them anywhere in the US, which is probably a good thing, since we ate them in startling amounts.
We left later than we intended for our B&B for the night, The Old Rectory in Bray. Our directions shot us into town on the M4/M5/M11with the warning that "it's right on the left!" but we missed the house on the first try and had to backtrack a bit. We got a rather an odd, brusque reception (although we were later than we anticipated -- in our defense, we did call -- and I'm sure she was with her family). Mrs. Kelly showed us the room, announced breakfast at eight, and promptly disappeared, never to be seen again. It's odd: some B&B proprietors are chatty and welcoming and very homely while others are a bit more aloof and professional. There are some very good financial incentives to have a B&B (and many purpose-built houses are cropping up all over) so you're never sure if you'll get someone who is genuinely interested in your travels and welcomes you into a family home, or a small-hotel-type owner who is running a business. I tend to prefer the "oh, we had an extra room and love the company" types of B&Bs, but it's hard to determine that kind of reception you'll get from the books and web sites available. On the whole, though, B&Bs are friendly, comfortable, and accommodating.
Another piece of advice from our Castletown guide was to just roll down the window and ask for directions when we got lost -- and expect directions "via pub". As in, "Turn left at the Green Tree pub, then right at the Boiling Kettle, not the Brass Kettle, mind you, the Boiling Kettle on the right, in Navan but not so far that you pass the Pink Lily" and so on. It's probably more useful than the OS maps and road numbers, at any rate. Come to think of it, someone should publish a map of Irish pubs -- that where we all end up anyway!
I probably commented on the problems with navigating a hundreds times today. Part of the problem is that you can't actually see much from the road. Hedgerows are TALL and tend to block the view of anything in the fields beside. Someone has to go by and trim the bloody things, though. I wonder who does it? (We eventually did see the machine that maintains these -- an enormous, vertical mower on an arm, driven by a huge tractor that just sort of buzzes off anything that hangs over the road, but that's not for a few weeks).
We had a couple of interesting conversations today (locked in a small car as we are). We also worked out a few standard requests that apparently I have been expressing unclearly to the husband. I explained that when I said, "Oooh! That's a neat looking building" or "What on earth is that?" what I really mean is PULL OVER NOW. Noting calmly that "there is a dot for a castle just around the next corner" means TURN LEFT. Mark wants to know why we're speaking in code.
Hmmph. It adds to the air of mystery that I'm cultivating.