Travelogue - Day 4 - Wednesday
We were on the road pretty early this morning. The B&B was very comfortable, but breakfast was a perfunctory affair, even if the toast was hot. Hot toast is, we discovered, a rarity in the land of toast-racks. Is this peculiar to England and Ireland, the pre-toasting of humongous amounts of bread which are then left to cool in little upright racks so they are served bone-dry and completely cold? We're not sure, but our current study give us a 50-50 chance of warmish toast vs ice cold croutons. I have few basic needs at breakfast time, but bread warm enough to melt butter is definitely one of them.
However, I'm willing to accept a trade off of cold toast for extra slabs of lovely bacon. Seems fair.
We arrived at Powerscourt too early to get into the house, and sat in the car poring over the B&B books to figure out where to stay for the night. One of the first books that I purchased was a B&B Guide and Farmhouse Guide, which can be found in nearly every tourist office. It's invaluable. While you can pop into a tourist office in a larger town and ask them to make reservations for you, we discovered that a) they charged a fee to the B&B owner and b) tourist offices are open only haphazardly in the off season. We were usually on our own, and the illustrated books were pretty tattered by the time we went home. A few of the other references for lodging are listed in the Bibliography. I particularly recommend Alastair Sawday's book for unique (if pricey) places to stay.
Overly Optimistic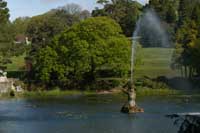 We wanted to be moving along the coast and looked for something in Wexford or Waterford. In hindsight, we had a tendency to overestimate the distance we would cover during the day and usually ended up with a 45-minute drive to wherever we had made reservations. We never seemed to learn, either -- but it did help Mark keep us "progressing" around Ireland. We always warned places that we tended to arrive late, which seemed to go over ok. Usually, you're expected at your B&B around 5-o'clock or so. Any later and you need to make sure that you make arrangements with the proprietor. A few will simply not let you in if you show up after the appointed time and haven't called. A polite warning that we were on the way was always appreciated.
Powerscourt is another huge manor house, but the real attractions here are the fabulous gardens. Acres of manicured lawns, carefully trimmed flower gardens, a Japanese grotto, and man-made lake spill out from the back of the house like a multicolored party dress. I can't even imagine the amount of work that goes into daily maintenance of this place. We counted more than a dozen men working on the grounds, and I am sure that the whole staff must be three or four times that. And now, of course, they have power tools and motorized carts. When the gardens were designed and built, this was done by hand.
An enormous stone terrace decorated with colored-pebble mosaics leads down to a man-made lake with the requisite spitting statue and other frou-frou. Perfectly symmetrical trees and topiary line the walkways. There is a spectacular japanese garden with a grotto that was designed in the 1700s. Most of the grounds are unbearably pretentious, but the japanese garden (which probably took more work nd manpower to build that then rest of the acreage) is surprisingly not. Perhaps because it is not meant to impress, but to be a sanctuary of some sort? Some quirk of ocean currents and weather patterns gives Ireland a mild climate and there are trees and plants here that I would only expect to see in much warmer climes. At times, the gardens are almost rain-forest like. The guidebook provides a number of walks around the grounds, and we wandered the well-groomed paths. The grounds of the house seem to go on a long way beyond what is open to the public, and the extended area still seems to be "organized" and planted, not wild. Also, Powerscourt has the largest pet cemetery in Ireland, with stone markers for the dogs and cats...and a pet cow.
The man-made lake is large and green. Very, very green. The fountains are fed by gravity, and I assume that irrigation of the rest of the garden is handled the same way. Up above and nearer the house is an acre-sized walled garden housing the longest herbaceous border in Ireland. The walled garden is split into three pieces -- a bowling green, a hidden area for growing replacement plants, and a center geometric garden hemmed in by hedges on all sides. Through a copy of the famous Brandenburg gate lies a well-established rose garden. Some of the canes are and inch or more in diameter. I could only wish for roses taht fabulous.
We wandered the gift shop before leaving and Mark bought enormous sandwiches and bottles of water for lunch. We added gingerbread loaf and chocolate to the list before heading out. Always keep enough snacks around!
Really, we didn't vote for him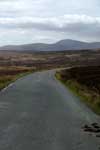 Pausing to decide on the best route to drive to Glendalough (another Heritage Ireland site) we decided on the scenic route over the Wicklow mountains through Sally Gap. The narrow road winds up into the mountains and has some incredibly beautiful scenery. We stopped at one of the many scenic overlooks and met a lovely couple (Christie and ??) also up walking around on the beautiful morning. The initially thought we were Irish and were surprised we were American (which was rather flattering, until they explained that they "knew" we weren't american because we were driving on our own and didn't have white tennis shoes!) and we chatted for a few minutes. They rather obliquely brought up politics and finally asked what we thought of Bush. The Irish think he's an f-ing idiot, and we were happy to agree.
I can only imagine from the responses we get when traveling that American's really don't travel independently. Most people are surprised that we're not with a tour, and even more surprised that we are not on a specific itinerary. I can't believe that's true -- but we've gotten the same response in every country we've traveled. Egypt was the worst -- they were aghast we were traveling alone. And I have to agree with the white tennis shoes. And butt-packs (don't call them fanny packs!) mark American tourists the world over. I'm sure there are equally bizarre stereotypes about other country's tourists (germans drive too fast, italian women wear high heels?). Well, the last might be Italian law.
Bogs and Fens
At any rate, we ventured out on the "blanket bog" -- which looks like a grassy field but is really a rocky surface barely covered with squishy, mossy, peat. There's something seriously odd about walking on a mountainside and having the ground squish under your feet like a damp sponge. Most of the ground here is actually blanket bog (as opposed to raised bog, which fills in lakes and depressions). The blanket bog actually covers the rocky ground with layer upon layer of moss and other fen plants, so that it eventually looks like a worn and frayed knitted afghan flung over the rocks. Anything remotely sharp rubs through. Be careful walking anywhere in possible bog-land of any type: sometimes the surface, which seems solid, can be a thin skin over waterlogged peat or deep pools of water. You may sink in half an inch...or plunge in a foot or more. Stick to the tuffets of grass or the rocks if you're wandering the coast. Do not stray into raised bogs, and don't walk alone.
And waterproof your shoes. Bring an extra pair of shoes and socks each day, since you will end up with wet feet nearly every time you get out of the car. If it's not because of soggy peat moss, it will be dew-bedecked grass. Trust me on this one. There's nothing fun about walking around in shoes that squelch with every step.
We parted ways with Christie and his wife, and drove on through the narrow roads through to Sally Gap. The mountains are beautiful, even if we're a bit early for the flowers to be blooming. The narrow road meanders its way up the mountain, around long, narrow valleys and loughs. The road is really a one-lane road with slightly wider 'passing places' every so often. It's even narrower on bridges, which require that one car wait while the other crosses. Of course, they do have a white dotted line down the center, like we would believe it was really a two-way road, or something! We have bicycle paths at home wider than the "lane" implied by the white line. But as I noted before, it all works.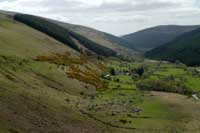 The view from the "top" of the pass flings out miles in either direction, over the rough yellow-green sedge on the mountains to the rolling green hills below. Ireland is oddly shaped, though. Most islands have the mountains in the middle, the ground rises from the seashore to the higher land on the interior. Ireland is almost opposite: it's a huge bowl. The mountains and cliffs ring the island's coastline and surround the lush lowlands in the center. It's quiet here, too. Perhaps I've become too inured to the low hum of traffic and the fact that it' rarely really quiet anywhere at home anymore, but the silence here is deafening in its stillness. The cranky growl of a car engine is overly loud, and we spent a moment resenting every other traveler who was driving around and ruining our silence contemplation. Not fair, I know.
The Mystery Tour
We followed a small tour group in the Mystery Tour Bus (which is painted vaguely like the van that the Scooby Gang tooled around in) back down the other side of the gap (and had a hard time keeping up!) We figured we were safe; if the clunky tour bus could make it around the corners and over the bridges, we'd be fine. We ran into the Mystery Tour again several times, it looked like a fun group; much more animated than the somnolent hordes that are disgorged from tour busses at the major sites.
Glendalough is a major monastic site in Ireland (started about 650 CE), with many ruins scattered around the series of lakes and streams. The 'interpretive center' was quite interesting, and we sat through a video about the founding of the monastery here with a group of French students before we escaped to walk along the riverside and to the site.
We ran into our first round tower here, and Mark took a "nauseating number" of pictures of it and the surrounding ruins. The tower is about 100' tall, and topped with a conical roof (a later restoration). Many guidebooks suggest that these towers, which are a unique feature of Irish architecture, were refuges for the monks when the monastery was attacked by the Vikings. This was a common occurrence, since monasteries were well-known caches of treasures that the Vikings wanted. The entrance to a round tower is usually well up on the wall (in this case 12 feet) and could be accessed only by a ladder. Inside, there are no stairs, either -- each floor was reached by a ladder that could be pulled up to deny access to anyone else.
But common sense suggests that the 'refuge' idea is flawed. It would be easy enough to light the tower on fire (a common result of being sacked by the northmen, I imagine) and it would be very unpleasant to be stuck in a huge chimney with burning wooden floors and no way to escape. The idea that they are watchtowers or storehouses is a logical alternative. Still, why are the doorways so far off the ground? Why are the ladders moveable, if not for security? Obviously they are designed to keep people out.
There were just a ton of German tourists at the site today, and we never did get a good picture of the monastery gate without a horde of people in it. Vendors with tourist-y stuff flocked just outside of the gate, along the dirt road. You know the stuff -- maps, hats, even a roll-along ice cream trailer. From the gate, we could see another church but we weren't sure how to get there. I think we found the right path (behind the hostel), but it required us to open a gate and we're simply too polite to really trespass if it doesn't look absolutely open. So, only a few pictures snapped from the road.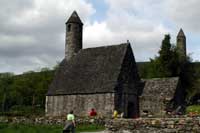 Glendalough has a "cathedral", which had me thinking lofty-spired gothic church. This is a much earlier church, blocky and squat, with very thick stone walls. it seemed more protective than decorative. The graveyard surrounding the churches on the site have hundreds of stones. Most are leaning or toppled, and only a few are readable. It is still a working cemetery -- stones from last year mingle with those from the 17th century.
We walked up the "green path" to see the upper part of the site. Glendalough is split into two different sites, the upper lake and lower lake. The upper lake has a few standing stones, another chapel, nd the cave were St. Kevin lived as a hermit. These were all pilgrimage sights for many years, but we gave up after about a million miles of walking and we'd only reached the lower lake. With no end in sight (and a blister the size of a small plum), we turned back and enjoyed the lovely stream-side walk back to the main site. We stopped for ice cream at the little cart, too. You have to take advantage of that sort of thing. You know, encourage them.
Successful Navigation to Wicklow
We were back on the road by about 3:30. We couldn't see the Arnamoe tower from the road (although the map implied that it was right there!) and simply traipsed along down to Wicklow. We zoomed with into town and ended up in the parking lot of the Wicklow Gaol -- a rather surprising turn of events. Usually we crisscrossed a town looking for the site we wanted. Finding on the first try was a rather astounding feat, really, considering that we'd been lost most of the day.
Wicklow Gaol is designed as a live-action/audiovisual sort of thing. After a guide dressed up as the jailer orders you into a small cell and proceeds to give you an idea of life in the gaol before prison reform, you're let loose into the reconstructed prison. Each one has a descriptive bit of history (including some gruesome plaster people) and a display of objects, personal effects, or other memorabilia of the gaols rather dark history. In the back, there is a full-size model of a transport ship for convicts, and stories about life in Australia for those who were sent there. It's interesting, in a campy and sort of creepy way. Lots of moaning and yelling sound effects. I bet kids love this! I was into it enough to get a "release form" on the way out and sign the huge guest book. Mark does not have a release certificate, making him an escapee.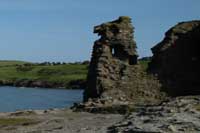 Not knowing where things were, we got back in the car and drove a hundred yards to the remains of Black Castle on the coastline. Feeling quite stupid for giving up our nice parking space in the shade, we walked along the rock peninsula to see the tiny bit of stone wall that are still standing. There is a steep staircase down to a sea gate, but very little remains of the castle. As usual, there is no fence or even warning signs -- one wrong step and you'd plummet into the sea. Fun! Mark noted that he wouldn't have built a castle here; the space is to limited. it would probably be easy to defend, though, which is a much more important consideration.
Heading off into the countryside again, we drove through Arklow, Gorey, and a few smaller towns, but we didn't see the castles that The Dots suggested should be there. Hm. Either The Dots are misleading us, or we simply can't see things from the road. Not being able to see things is the most likely culprit. Hedgerows are sometimes 12 feet high. You'll hear this complaint over and over again in the future, I imagine -- it is so frustrating to not be able os see anything from the road!
We didn't dally for long looking for things, since we were supposed to be in Buncrody by 6:30, and we were already running late. We did, however, stop in Ferns when we nearly drove into the castle grounds as we passed through town. The castle is right in the middle of town, and the tallest structure for a few miles around. While it's a Duchas site, it was not open. We went through he open gate, but we could only see the outside of the castle.
Unsuccessful Navigation out of Wicklow
Then, we got lost. Really lost. Half of the intersections had NO LABELS AT ALL and the rare sign we did find was inconclusive in our search for Buncrody. One had only a B-- on it, which was encouraging, but it petered out in a farmer's field. We eventually had to dig out the GPS and figure out where we were on the map and what direction we should be going. It's easy to get turned around when there isn't a straight road to be found and you take a half-dozen turns in various directions. Without the bulk of the mountains to the west, like I'm used to in Colorado, I get all discombobulated.
We did finally arrive, but it was very amusing to look at the GPS record of our travels. We meandered around like a drunken goat.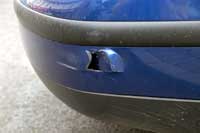 As we pulled up, Mark made the flippant comment that "we hadn't bashed anything off the car today"...and promptly discovered that yes, indeed we HAD bashed something on the car. Mark was able to push the trim piece back in, but we realized we had tempted fate by saying anything about it. We are now missing a hubcap, have a small hole in the back bumper, and a piece of trim is quite loose. To appease the travel gods, Mark added a second zip-tie to each of the remaining hubcaps on the car. Just in case.
Our B&B for the night, Moss House, is a lovely house at the top of the town, which meant we walked down into the town of Buncrody for dinner. We were told there was a good chip shop in town, so we set off to find it. Turns out it's called "The American Style Diner", which I supposed covers the decor, but I'm quite sure that no diner in American served a chip butty (a roll with chips and gravy). We started towards the pub, but bailed on the idea when we realize that we were too tired to talk, much less drink and talk. Pubs are pretty convivial places, and if you slither in, sit silently, and don't talk to anyone, you're viewed as a) extremely rude and b) probably dangerous.
The lovely woman at the local library (a tiny shop front on the main street) let us use the internet access there to check email. She gave us a few minutes free since she was just closing up. No email about the house, so things must be going ok.
Amusing Note for the day: We ran into Clara Lara Fun Park - imagine a very prissy English voice and a stately walk -- on our drives today. It set us to giggling hysterically, as we attempted to mimic our imaginary English headmistress It's not really a boarding school, it's a water park and amusement park, but the name set us giggling. It's 'just outside of Glendalough.