Travelogue - Day 5
Breakfast was, as usual, full of bacony goodness. Moss Cottage is very comfortable. The owner, George, had just returned from a 2 week, 190-mile walk across England. He was still recovering, but said it had been a fantastic trip.
The bathroom had 2-level flushes on the toilet. Why do I mention this? Because I can't figure out why the US doesn't do this. We're always being urged to conserve water, and in Colorado at least everything has to be "low flow". Well, I for one HATE low-flow toilets. How does it save water when you have to flush twice? Why can't we also have a small flush and a large, full-bore flush? Is it that difficult? Bathrooms are always a surprise when you travel, and I find that i'm always inordinately pleased when a place has a good shower. After a while, I learned to look for the keywords"american-style" shower in the B&B descriptions as a way to (usually) find a good shower instead of the tepid drip-drip-drip that we sometimes ended up with. Most places have on-demand hot water heaters (which used to make me nervous; should there be electrical stuff in the shower? I don't think so!) but produce hot water forever.
The sun was just starting to peek through the clouds when we stopped at Ballymoone Castle, which sits in the middle of a field next to the road, and has a little gated bridge for access. The field was still soggy, and I repeat my warning to waterproof your shoes and take an extra pair. I was wet nearly up to the knees after hiking through the grass to the ruin.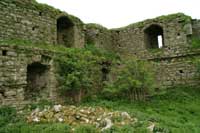 The castle is interesting, in a very square, blocky way. Inside, there are many fireplaces on the first story (second floor, for us Yanks) and a seriously large number of latrine chutes. Mark is quite sure that I should pursue a doctorate in the toilet habits of medieval castle-dwellers, since I am always fascinated by the latrines and projecting garderobes.
I changed socks in the car, and we were off to Leighlinbridge and Black Castle, which lies right int he middle of town, next to the bridge for which the town was named. There were rescue vehicles and divers in the water under the stone bridge. We don't know fit hey were actually rescuing anyone, or just practicing, but the group of onlookers staring over the walls and clustered ont he bridge hinted at something amiss. Mark, being fascinated with fire/rescue operations, stood and watched from a distance. It looked to me like they were trying to find someone who had jumped in. I hope not. We didn't go any closer, so we really don't know what was going on.
Piles of Rock
The castle is locked up, so we only got a few exterior pictures. The back wall of the tower actually forms part of the garden wall for the neighboring house. When i went back to investigate, I was greeted by two extremely excited barking dogs jumping up nearly to the top of the wall to see us. I'm surprised by the cavalier attitude towards castles -- they are just rocks or inconvenient buildings to most people here, I think. Sitting in farmyards, blocking access to things, occasionally dropping a rock on someone's head. A few times we popped into a pub for lunch and I asked where the castle was in town (usually based on one of the The Dots on the map) and I'd usually get a puzzled look. People would always assume that we're looking for some restored tourist destination and cannot fathom why I'd be interested in an anonymous, crumbling tower house sitting in someone's farmyard. I'd explain that my book said there was a castle tower in town and they'd look puzzled.
"No, not in town. Not a castle."
"It says somewhere on the Brede Road?" I'd try again.
"Oh, that? Why, that's just ruins, love. Why'd you be interested in that, now?"
I got a lot of patient smiles that said, quite eloquently, "crazy tourist", but it did spark some interesting conversations. They may just have been humoring the obviously deranged woman looking at piles of rocks, but I like to think I surprised them a bit.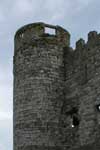 Our meandering journey continued on to Carlow, looking for the large castle there. Road construction blocked nearly every road, and those it didn't block, it rerouted onto one-way streets or never-ending roundabouts. It didn't help that we arrived right at lunchtime, either, but we did manage to park the car and find the tourist office to ask for help. The sign said it would reopen at 11:30, but by nearly noon we gave up and decided to try on our own.
Asking a couple of young men sitting outside the office where the castle was, we got a rather patient smile and the instructions that it was "just up Castle Street, of course." We were standing on Castle street, of course. It just wound around to where we couldn't see the enormous 100' towers of the castle, which sits on a hill overlooking the town. Doh! We should know this by now. The castle is huge, and in sad repair, but someone has planted extravagant gardens behind the shells of the towers, with espaliered apple trees and delicate knot gardens of herbs.
Thinking I could get a picture straight up the enormous round tower, I walked inside and promptly sank in at least a foot of liquefied pigeon poop on the floor. If there was floor underneath there at all! I yelled at Mark for not telling me that there was a floating sea of poo in the bottom of the tower (where he had been peering only a moment before) and he yelled back that I wasn't going to believe him anyway. Grumped back to the car with birdshit on my shoes, convinced that i was going to catch some sort of horrible bird sickness and attempted to clean them off in a nearby puddle. Now the car is going to smell like pigeon poop, too. The Adorable Husband is gloating, but he's doing it quietly and I probably deserve it.
We trekked back through Leighlinbridge and through Bagenalstown, heading towards New Ross. As usually, we ended up lost and went through Borris -- and back out again -- and then tried down the road labeled Graiguenemangh (which we decided was pronounced greg-mna-mna and had a silly moment where we sang Muppet songs in the car) but ended up instead on a parallel road that went through St. Mullins before dropping us, a bit discombobulated, in the middle of New Ross. We missed the castles that The Dots said were in both towns. You can't see anything through the hedgerows! It was a pretty enough drive, though, if a bit frustrating.
Keep your hand and feet inside the vehicle...
We did nose in to a small turnoff to make a u-turn, as we often do, and found ourselves on a road that was perhaps a foot wider than the car, and lined with 10' high hedges. It was a green tube, and Mark had a hard time opening the door enough to dash out and take a picture. I was amazed at the narrowness and curvy-ness of the road, but I shouldn't be -- there are a LOT of roads like this around. I'm surprised that any cars still have mirrors attached to them.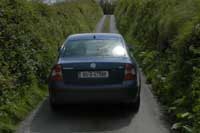 Dogs do not stick their heads out of windows here, not if they know what's good for them. I had to keep resisting the urge to dangle my hand out the window...you never know when a stone wall is just behind that lush greenery.
New Ross is a lively town, with a long quay and colorful shops along the main street. There is a wide boulevard along the harbor, and we walked along a bit to find the Dunbrody, a reconstruction of one of the hundreds of "famine ships" that transported Irish passengers to America. We toured the ship with a huge busload of green-uniformed schoolkids. It was a fun tour, with actors playing the parts of steerage passengers and first-class passengers, and a chance to poke around in the cramped quarters belowdecks. The ticket for the tour is a copy of a steerage ticket, with the name of a family that actually traveled on the Dunbrody during its term of service. The ship also has access to the records of all the Irish families who left Ireland during the famine, with family records, history, and a trove of genealogy records. Families scraped together every single cent they had to pay for passage, which they spent crammed ten or twelve to a bunk with only a few minutes a day allowed above decks.
Mark was fascinated with the ship itself, and spent quite a bit of time watching the craftsmen who were rebuilding rails and decking in preparation for the Tall Ships procession in July. Quite a bit of the ship was cordoned off as they worked. The Dunbrody is the official Review Ship for the Tall Ships this year -- you can be a part of the crew for only 1000 euro.
There is supposed to be an abbey (St. Mary's) in town, according to the brochure, but we weren't able to find it and assumed it had been incorporated into another building since it wasn't on our map. Instead, we picked up cookies and gas and drove down towards Tintern Abbey.
Tintern and Dunbrody
No u-turns this time (probably because there was only one road). Tintern is a lovely ruin, and is currently under restoration. The crews are repointing the main tower and we managed to get a quick peek inside (sans hardhats) while they crew ate lunch. They've been working for months on this project, and had several months to go. Inside, the entire tower is being jacked up, supported by scaffolding and braces. We walked around gingerly, wondering how much of the support system as really holding up the stone floors and stairs. We figure things haven't fallen down yet, and probably won't collapse this moment, but believe me, I was aware of every single quiver in the floor or rickety stairs as we climbed.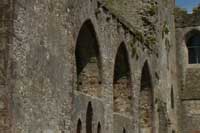 No one else was at the Abbey, except the work crew, and with the fabulous sunny day we wandered around the site for an hour or so, poking into the nooks and crannies of this large monastery. Most of the cloister -- most of the church, really -- is crumbled, so the huge tower dominates the grounds. Behind the abbey is a small, slow river with a corby-stepped bridge and a small church hidden back in the woods. It was a lovely walk, and the view of the abbey along the water as we walked back was certainly worth it!
From Tintern, we intended to go up to Hook Head and see the lighthouse, but apparently we got all turned around and ended up near Baginburn Head on the wrong side of the water. Ha! You think that sounds hard to do, but you'd be wrong. With the twisty, windy, and absolutely unpredictable web of road in every square mile of Ireland, it wasn't that difficult. Take one wrong turn and voila! You're somewhere entirely different. Anyway, the cliffs are vertigo-inducing high and the view is beautiful on a clear day but we didn't make the turnoff and ended up heading straight for Duncannon Fort. Signs near the odd buried stone arch in the field were marked 'private property beware of dog' and Mark wouldn't let me wander in. We did get some remote pictures of the headland, though.
Duncannon Fort was actually closed when we got there, so we don't know if the fences and gates that were in place are normal or if they shut down for the day. Didn't see too much, really, although they did let us in to wander around. There is an interpretive center with some interesting displays, but they don't let you go out on the battlements or up on the stone walls along the seashore. It's possible that they have tours out there when they are actually open, but we weren't able to get out of the central courtyard and the few buildings surrounding it. Do drive right across the wooden bridge into the fort -- the parking lot is INSIDE, although his is not too clear. We were sure we'd driven somewhere forbidden, but the nice women in the office waved us in.
We often were able to find the general vicinity of things (castles, ruins, roads, etc), but weren't able to actually find some of them. We blamed odd and patchy signage and meandering roads, but we often missed things marked on the maps because we simply couldn't find a way to get there. Bunratty Castle is well marked, but the castle is up the hill behind a ton of road construction nd we didn't see any way to get there. Not even a little path around the work that we could walk up. Bust! I'm beginning to believe that some of the sites just tease you -- you can see the place, but can't come close.
Dunbrody Abbey is right beside the road -- the visitor center (which was closed) is on the opposite side, but you can't miss either of them. The site is open, although he main tower of the abbey is locked. Most of the outer walls are crumbled and overgrown, but its possible to see the outline of the (quite large) abbey if you can avoid the moist and boggy bits. Which I seem to be inexorably drawn to, so my shoes are wet most of the time.
A very overgrown castle huddles next to the visitor center. Enormous tacky signs announce that inside the castle yard is a maze and a putt-putt golf course. The gate was securely locked, but we could see a few painted bits inside. Once again, I am reminded that castles and ruins are so common here that they are ignored, or seen as an annoyance to building something else. They are casually re-used, or demolished, or incorporated into other buildings, as we saw only a few miles down the road.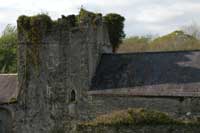 We decided to drive around the peninsula rather than take the ferry across on our way back to New Ross. I was pretty sure we were lost - and DEFINITELY sure that the map is wrong on the placement of the JFK homestead, but when we dug out the GPS, the dot on the map near Dunganstown was definitely a castle - built into a farm building, but you can see the walls and the main tower clearly from the road.
Contact with Home
Our B&B for the night is down near Waterford, in Dunmore East - Church Villa. It's a nice enough place, but the room is quite tiny. It's a purpose-built B&B, six rooms, and run very much like a business. We decided we need a spiffy place to stay in Cork after this.
We walked along the main road in town -- populated by a lot of stonewashed houses with honest-to-god thatched roofs. About a third of the buildings are thatched, which is cool. There are a few restaurants in town, and we sidled into the Ocean Hotel (which does, indeed, have a slight view to the ocean) for dinner. We eat terribly early (at least for Ireland) and we were the only customers there. The lamb was lovely, and I had fish and the first entire beer I've drunk in my entire life. I'm definitely not a beer drinker of any sort, but I figured that if I'm in an Irish pub, the least I can do is try an Irish brew. I adore Smithwicks -- "smidh-icks" -- and may have started a trend. Mark is quite sure that Guinness served in Ireland is much better than that served at home, even on tap or with the widget in the can.
We also leaned that we should avoid dessert in most places. It's jello frozen deserts dressed up for the table and not worth the time. Ask first if dessert is homemade, in which case you have a good chance of getting fabulous tortes or fruit concoctions. Otherwise, just have another beer.
One of the things we insisted on having for this trip was a cell phone, and picked up an unlocked international phone and a chip for Ireland so that we could call ahead to B&Bs and call home without painful international rates. Larry and Chris called from my office (to tell me that the main project person had resigned, they thought it would cheer me right up!) and we had to figure out how to a) refill the cell phone from a vending machine in a local shop and b) dial the US. (which, by the way, simply requires you to dial 001 before the number). They were surprised to hear from us, and we had to do some mental gymnastics to figure out the time differential, but I have to admit that the latest bad news from the World's Worst Project was actually quite amusing, from several thousand miles away!