Travelogue - Day 9 - Monday
Our hostess was much more congenial today (she was a bit gruff last night when we arrived, I think we came at a bad time) and we loaded up on breakfast before setting off into Kerry.
The Ring of Kerry is one of the major tourist things-to-do in Ireland -- and enormous busses roar by on the narrow roads all hours of the day. Most tour companies off a 'ring of kerry' tour, and it's unfortunately that so many people see this lovely country and the cliffs from behind a bus window. And even more unfortunate that the main road is actually a few miles in land in some cases, and you miss some of the most spectacular sea shore on the island. Getting even a little bit off the beaten track is rewarding.
The scenery is absolutely stunning, worth just stopping and staring. "Emerald Isle" is right; I've never seen so many shades of green. I can see what this is a popular drive. There aren't that many towns on the Ring, but those that are large enough to support a pub or two do well enough with the tourists coming through.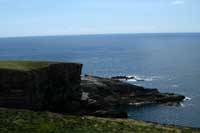 We drove out to Mizen head -- the westernmost part of the peninsula. It's nothing that spectacular, really -- just a rough point jutting out in to the sea. We didn't go out to the listening station (over a neat suspension bridge), which offers some lovely views of the mainland. We did track down a ton of small castle ruins along the shore using the gps and my now-tattered maps, though, which made up for it!
It might be a wee bit windy
A gentleman offered to "sell us a castle" in Kealkill. We had parked up the road and were walking along the stone path to see the tower house (which stood over the river in the center of the hairpin turn of the road. He nearly scared us to death -- he was hanging over the fence behind his house trimming the shrubbery. One false move and he'd have plummeted down into the water! We mentioned as how the castle would be a wee bit chilly at night, considering that the end walls were nearly gone. He allowed as this was true, but it would probably go cheap. I think they don't get many tourists in Kealkill. We had a lovely chat with him, all the while he hung over the back fence with a rope!
There are actually quite a few castles for sale in Ireland -- the lovely refurbished ones are obviously in the millions, but many of these smaller castles are not in state care, they are privately owned -- or just sort of owned by default when the properly is sold. Tower houses are used as barns, build into walls, or simply plowed around in fields. Important castles, those that are still in decent repair, or have a known history, do come up for sale sometimes. The cost of restoration must be astronomical, since they need water and electricity and all that sort of thing added to be even partially livable. And, of course, there are a bazillion rules about what can and cannot be changed and "historical fabric" that needs to be maintained. For a lot of them, it is simply easier to let them fall into ruin.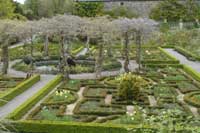 Some of the big country houses, though, are definitely showpieces. Bantry House is a stunning example of the lifestyle of the well-to-do in Ireland. Walking up the 'staircase to heaven' in the garden looks out over the house and into Bantry Bay. It's stunning, and the house is still occupied. The gardens are beautiful, including a ring of Wisteria in the garden that are over a hundred years old. The house is open, but only a few rooms are accessible -- and those are filled with a wonderfully eclectic collection of antiques and curios from around the world. I could totally live somewhere like this. Of course, I need a team of gardeners and maids.
Electrical Confusion
At some point today in the car we got on a discussion of electricity and the different ways of doing things around the world. I know why we use AC vs DC, for example, but around the world people use 110 volt, 220 volt, etc. What's the deal? I don't' think one or other is safer, or anything, but it sure does wreak havoc on your electrical appliances. Not that I travel with any -- I can't actually fathom traveling with a blow dryer, curling iron, what-have-you, but I can guarantee that I have chargers for my camera, and we brought a laptop on the last trip. Most of the time all electronics need is a plug in the right configuration but smaller stuff needs a transformer.
I shouldn't sound so smug, just because i don't carry a blow-dryer. Our collection of electronics and gadgets is pretty startling, actually. All sorts of stuff that needs cords and chargers: digital camera, ipod, cellphone, laptop (to write pictures to cd). It's just a different class of pluggy things.
We made an attempt to find a genuine fisherman's sweater, but we can't find anything even close to tall enough for Mark. Big isn't a problem, but tall is definitely an issue. I did learn that the patterns on a traditional sweater are actually family patterns -- the combination of chains and lines and blocks and collars and such are specific to a family, so that sailors can be identified by their sweater. No two families are exactly alike, and there is a long history of specific patterns being used in different regions of Ireland. It's fairly easy to find a cream-colored sweater (the basic color of bleached wool, I guess) and a few black or gray sweaters show up. The tourist shops sell sweaters in any range of colors, but cream and gray seem to be the most traditional. We'll keep looking.
After Dinner Activity
We actually stopped for dinner before driving to our B&B for the night (The Olde Forge), and were done early enough we actually made a foray out after dinner. Usually, we are done for the day once we eat, but for once we hadn't overestimated our mileage and arrived early and had a little zip left. We checked into our room and dumped our clothes. The B&B is purpose built, as far as we can tell, all the rooms are along a narrow hallway upstairs and the rooms are comfortable, but nondescript.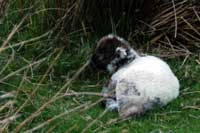 So, we chased lambs around Staigue Fort, a neolithic circular fort. No one knows if these huge round walls were dwellings, or if they were actual fortifications (or both, I suppose). The fort here is in good repair. It sits on someone's farmland, and there's a "donation" box on the gate leading to it. We dropped a few coins in the box. Mark kept trying to get pictures of the lambs.they really are quite adorable when they are young and fluffy and stupid. They'd trot up to him and mill around curiously until he spoke, and then they'd bound away in terror. They have very short memories, though, and in a few moments would be coming back to snuffle him curiously.
We found a lamb with a broken leg, and I was trying to figure out who to tell so someone could do something about it. Mark pointed out that the lambs were just about market age, so he was going to be lamb chops soon anyway, so the farmer probably wasn't too concerned. It really upset me, but the little lamb seemed to be able to get around ok and was getting enough to eat. It didn't help to know that he was going to get eaten. This is why I don't eat lamb. I'm a sucker for cute.
We've been taking a ton of pictures and writing them to CD every night. Yup, we're paranoid. It's not enough to load them on the laptop, we write CDs every day so we have an extra copy. We've run out of CDs and we'll have to find somewhere to buy more. The next laptop will have a DVD writer, that's for sure. Carrying around piles of empty CDs (we ended up using almost 20, I think) is a bit of a pain.
. Checked email - nothing from the realtor, so I assume the sale is going through. Sent email to mark's mom, Larry and Chris that we're alive and heading into Kerry.