Travelogue - Day 10
Even though we're heading "the wrong way round", we are continuing off around the Ring of Kerry this morning. I figure it will take us two, maybe two and a half days to make it all the way around the peninsula. Most of the tour companies run the busses around here in one long, deisel-fumed day. The more I think about that, the worse it gets: what could you possibly see through the bus in one day?
One of the major Heritage sites on the Ring is Derrynane House, just up the road from the B&B. It was the home of Daniel O'Connor, The Liberator (for Irish Catholics, apparently). A folk hero, to the point that they are storing bits of paper that he touched and things that may have been his, with grand write-ups on little linen cards. I don't mean to minimize his importance -- he was a very powerful politician who did a lot of good, it's just a bit funny to see a solemn little note attached to his under things, 'The Liberators smalls". It felt a little bit like Graceland, without the velvet.
But no...we just had to look a little harder for the velvet and tassels.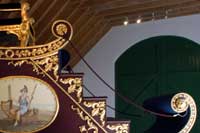 Out in the glassed-in barn attached to the house is his "victorious" chariot, which drove through the streets to fetch him from jail in 1844. It looks like a gilded emperors carriage, with a purple-painted throne on it for him to wave to his adoring fans. Mark took a picture, but you aren't supposed to. We won't step foot into a deserted farmyard to get a closer look at a castle, but we'll ignore the no-photos admonition and snap one of the purple carriage. I have no idea. We're just living on the edge, I tell you.
The ground of the house include a few miles of pale sand beach, and we walked along the beach for about an hour. The day started out lovely and we had a chance to enjoy the sun. We only saw two other people who ran along the beach with a very large, very wet black lab. They'd throw a stick out into the surf and then coast the beastie back onto the beach and do it again. Everyone was having a blast. THe dog, of course, was "borrowed". Everyone has borrowed dogs -- this one belonged to a neighbor. We picked up a friendly dog or two while walking, too. They'd just show up, walk along with us for a mile or so, and then disappear off to whatever important doggy business they had that day. We rather thought that they had styled themselves as Irish ambassadors and guided us around.
Living on the edge
A few times on our continuing trek around the Ring of Kerry we were stopped by road construction, and each time the view from the road was superb. It's really not much of a bother to be stuck in traffic when you have a lovely view to distract you. A view, I might point out, that is separated from the edge of the road by absolutely nothing -- no rail, no siding, nada.
Which is probably the reason for the road construction -- to widen the road and provide more turnoffs to support the bus and car traffic. THe road is narrow and very curvy -- and usually populated by giant tour busses going counter-clockwise around the ring, so it's definitely a worthwhile effort. Since we're driving clockwise (yeah, we're just bucking the system!) it can be damned scary to come up on one of these coaches or large trucks on a narrow curve, snugged up against a steep drop off. Exhilarating. Scary, but exhilarating.
Trying to avoid the busses and trying not to get stuck behind tons of traffic, we started taking random turnoffs and seeing what was down the road. Not surprisingly, ti's a pretty good plan!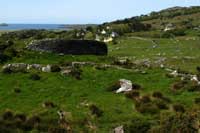 There are hundreds of round stone forts in Kerry, and we saw two of them from the road and zipped off to take a quick look. One was quite near Derrynane. The other, which I believe was Ardkearagh, was in much better repair than Staigue Fort from last night. The walls are thicker and higher, and were probably rebuilt at some point in the last century for the tourists. At this point, I had to pee so badly that Mark kept watch while I peed inside the fort (the only place not in full view of the houses!). I figured that enough sheep have piddled here that it wouldn't make any difference, and there was no way I was going to make it to another town and find a public potty. My habit of carrying TP and ziplocks pays off! Eek!
Back on the road to Ballinskelligs, we arrived at the beach in time to enjoy a great, warm, sunny day. We walked along the beach for awhile and climbed out to the remains of the castle, which sits on a rocky outcrop jutting out into the water. Up the beach a bit further are the scant remained of a priory. It was a bit too chilly to take off our shoes and wade in the water, although there were some hardy souls actually swimming. Ireland has some lovely beaches, and there are a number of resorts along the coastline with swimming and water sports -- although I'd imagine that they are much busier in the later summer, when the water temperature is a bit less....arctic. We're talking north sea, here -- brrr!
We kept off the main road and drove along the little coastal side-roads for awhile, stopping at stone forts in Cahersiveen, a little cast ruin of Glenbeagh, and tripped upon Ballycarbery Castle. It wasn't on my map (I probably misplaced The Dot, since it certainly is a sizeable place that would warrant some sort of mark!). It's a neat ruin, sitting up on a hill overlooking the beach. It's surrounded by barbed wire (and possibly electric fence) and not really open to the public. Mark hopped over the fence to get about ten feet closer for a good picture, but we're not comfortable doing that, and skedaddled pretty quick.
Ok, yeah. I'm not too terribly worried about taking a quick pee in a field, but I'll worry about stepping over an unlabelled fence to see a ruin, even if there aren't specific admonitions not to. Yeah, I'm a freak.
We got stopped on the little road to Stradballey because someone was driving cattle across the road, and many times we had to stop and sit while clumps of sheep wandered too and fro across the road. They really are quite stupid, and sometimes they'd just lay in the middle of the road and we'd have to shoo them off. Be careful speeding along some of the narrow roads, since hitting a sheep is definitely taboo. You're more likely to get in trouble for doing that, than hitting a car, I think; especially during lambing season.
Ross Castle Dreams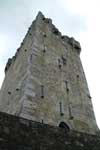 I really wanted to see Ross Castle, and so we snatched a quick lunch from the local Centra grocery store in Killorgin and sped off to Killarny before we missed the last tour. Ross Castle only does guided tours and we had to be there before 5pm to catch one. We got a bit stuck in Killarny because of traffic for horse racing -- most tourists seem to take the pony traps from town to the racetrack, so they block up the one lane road quite effectively. You can pass them, but slowly and carefully to avoid spooking the horses. We decided to run to the castle and then see if we could make it back for the horse races.
In hindsight, we should have just passed on Ross and tried to sneak our way in to the races. As it was, we spent too long touring the antique showcases in Ross Castle and didn't make it back to Killarny track in time. The castle has been almost completely restored to its original state and is populated with rare 16th and 17th century antiques and tapestries. The restorers were careful to "do it right", and the result is very convincing, if a bit too clean. The tour is worthwhile if only for the detailed descriptions of daily life in the 17th century, the heyday for this particular castle. Our guide kept telling us, quite dramatically, that is was "simply horrible, if you can imagine!"
The bedrooms are small and have no fireplaces, just voluminous quilts and draperies on the beds, the main hall had one enormous fireplace which would have made it warm enough at the other end of the huge room, but positively blistering anywhere near the fire. Staircases are extremely narrow, and many of them were for the sole use of the servants to bring food and drink fro the remote kitchens. In tiny rooms built into the haunches of the arched ceilings were dorm rooms where 15-20 servants would sleep.
Interestingly, one of the coverlets from the 16th century may have sections of the Koran embroidered on it. They haven't actually checked it yet, and we didn't have anyone who could read Arabic, so they don't yet know if it is, or not. It would seem easy enough to check, but they are in the process of restoration and repair of all the soft goods, so I'm sure they'll get to it. No pictures are allowed inside the castle (not sure why, but this is fairly common inside some of the larger houses). I suppose they may be worried about theft.
I Am the Cow Queen!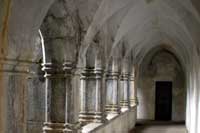 After looking at the chaos that was the Killarny racetrack, and the huge lines of cars still trying to get in, we reluctantly passed. Instead, we took a long, quiet, leisurely walk onto the Muckross estate to visit the abbey there. We didn't have much urge to see the house (which is closed now anyway), and passed on the pony-cart driver's offer to take us into the estate, preferring instead to walk along the paths near the lough and wander around. The abbey is back from the road, but has a lovely view of the water, and since we were the only ones there, it was quiet and calm. The buildings are a bit disjointed, because the abbey was in use for many centuries, and was enlarged over the years. An enormous tree grows in the center of the teeny cloister (the courtyard is maybe 20' square?) and the grounds surrounding the abbey are filled with graves and mausoleums.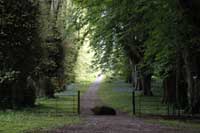 We actually spent half an hour waiting for just the perfect light to get a picture up the lane near the abbey, which was a long road between two rows of almost preternaturally green trees. It was one of those views that makes you stop and go, "ooh." Which we did, for about half an hour, sitting on the ground and watching the changing light.
The walk back to the car park seemed much longer than the walk in, and I spent much of the walk being followed -- nay, stalked -- by the small herd of black cattle on the grounds of the abbey. Every time I moved, they'd sort of sidle along the fence along with me. I am their Queen! Sadly, they stopped following me when they realized I was leading them out of the nice green pasture and into the short manicured grass. My entourage simply vanished back into the field.
Up what?
Every pub seems to be sporting signs like 'Up Carr!" and "Up Connelly!", which we finally figured out as support for sports teams of some sort. Sort of the equivalent of "Go Carr! Go Connelly!" We're not entirely sure, but it seems logical at this point. We'll ask at dinner.
Our B&B for the evening - Shores Country House -- is just.wow. Absolutely beautiful, and the kitchen is to die for. We hadn't made arrangements for dinner (stupid us!), we took everyone's advice and drove back to Stradballey to eat at Tamosins. Our dinners for the last few days have been exceptional, and we weren't disappointed. Crab au gratin and locally-caught salmon, potato and leek soup, Dingle Bay scampi. Lovely. We waddled back to the car after dinner and collapsed in our extremely comfortable room.
It's light outside until well after 10pm now, twilight-ish, but it's hard to think of as "night" and I'm having a hard time not heading out after dinner to "find more dots" will it still is light enough to see things and take pictures. Mark just laughs, but he's adamant that we're not going out driving after a bottle or wine or a couple of Guinness' at dinner. But that's only because he's mean and unreasonable.
They'd probably find us blissfully asleep in a sheep pasture, to be honest.
. Sign language: "look everywhere for it" and "postcards" - we seem to be communicating in some bizarre form of code.