Travelogue, Day 11
Had we known the kind of spread that the B&B was going to be putting out this morning, we would have opted for something other than "the standard Irish". If we had known, we could have had french toast, or home-made sticky buns. Sigh.
The B&B is gorgeous -- everything looks like it is out of the pages of House Beautiful, but in a warn and inviting sort of way (not cold and untouchable like so many of the picture-perfect show homes). Our hostess is the highest-energy person I have ever actually seen in person. She's the ADHD poster-child -- out running at dawn, producing a three course breakfast for a houseful of visitors, everything in place and everything perfect. Everything was run like precision clockwork, it was like watching a ballet in the the kitchen.
And the kitchen! Wow. It's obvious that the house was purpose built to be a guesthouse, but the kitchen was a work of art: part commercial kitchen, part family kitchen.
Suitably stuffed and really thinking that we should go back to bed and nap for a few hours, we packed up anyway and continued along the coast. Unfortunately, we couldn't stay another night -- we would have in a second if we could have planned for dinner.
Beautiful Scenics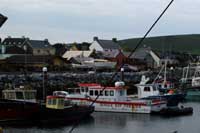 Our goal tonight is "music central" -- the many little towns on the Dingle Peninsula are well known for their live music nights. You're likely to find a ceilidh in just about any town all over Ireland, but the music scene seems to be more prevalent out on the western coast. So, heading out along the coast road we crossed Connor Pass --we followed a few other cars for awhile, but eventually we ended up alone on the single-track roads driving through the hills and valleys of the mountains. The scenery here looks almost prehistoric: no towns, no buildings, no wires, no sign of modern life at all; just the rolling hills and water-carved valleys. We kept stopping to try to get a picture that did the vistas justice, but Im' sure none of them did.
We're used to 'glorious scenics', coming from the foothills of the Rocky Mountains in Colorado. There are times when we drive over the hill into Boulder, CO and feel compelled to remark, "damn! We live in a gorgeous place! I know why people stopped here!" on a regular basis. Staring out over the mountains can be awe-inspiring, and looking out over the cliffs to the sea here in Ireland is the same experience. Well, the same experience, except far more green. And much wetter. No matter where you end up, just around the corner is a photo opportunity. Beautiful view after beautiful view - it almost becomes comical as each rolling hill crests to another gorgeous view. After awhile, we'd drive up a hill, and slow down to a crawl at the crest, "wait for it…wait for it…..ta-dah! Lovely!"
Dingle is a little fishing village (which means that Mark has to wander around on the pier to look at the boats. We stopped to grab snacks after wandering around and poking at fishing nets and buoys. It's early enough in the morning that the streets are pretty empty. We passed through on the way to Dunbeg.
Dunbeg Cliff Fort
Coastal forts are common on the cliffs, although the archaeologist aren't always in agreement over what the forts really were meant to be: defensive? Living spaces? Ceremonial? Dunbeg, in this case, is a ring fort on the coast, atop several hundred foot cliffs. Well, it's part of a fort, since much of the stonework has fallen into the sea. In fact, it's possible to lean way out around the fencing to see straight down into the sea. (You can really get a scary view leaning over the edge of the ring fort (Dun Angus) on the Aran islands. There, you can creep out on your belly to the very edge and look down (and back - since you're hanging off a ledge) to the sea.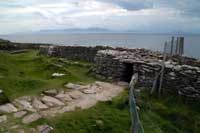 Rings of stone splay out from the center of the fort, which has a number of stacked stone structures that have been carefully rebuilt, including some underground passages that remain unexplained. Escape tunnels? Shortcuts? Living space? SO much of the information about these Neolithic sites is conjecture -- and my interest tends to lie 1000-1500 years later -- so I'm never quite sure what to make of all of these older stone sites. The cairns and burial cysts are pretty obvious, but ring forts, and these coastal circular forts are a puzzle, at least to me.
I did manage to gouge myself pretty well on barbed wire on my way out, though. I'm glad I've had a recent tetanus shot, since I'm a complete klutz and if there's a sharp edge or pointy corner for me to run into, I'll manage to do it! Remember, on my first day in Scotland I pitched headfirst into a gorse bush and broke out in hives that lasted the whole day. I'm gifted, apparently.
Our attempt to see Rathsinane Castle started out very badly. The guidebooks noted that the castle was on private property, but that asking permission (and paying a small private entrance fee) was entirely acceptable. Signs on the house seemed to support this, so I pressed the doorbell.
Which got STUCK. And rang and rang and rang over and over again while we furiously pried at it to try to get it unstuck. The owner of the house arrived, and she was very angry -- she runs a bed and breakfast and at this hour (oh, maybe 10am) had just settled in some overseas visitors who had gone to sleep and I'm sure our incessant ringing had woken them. She calmed a little when we explained that we had simply pressed once it got stuck and that we hadn't been standing out here like idiots pressing the button every second to get her attention. I have a feeling she still think that we did that, just to be rude. I was mortified, but we still asked for permission to see the castle and were warned not to bother any of the sheep, and watch out for sheepshit, but go ahead. The castle is out in the middle of one of their fields, on a small man-made motte with two ditches dug around it. Not much is really left of the castle except a shell and the remains of basement arches, but the ditches and surrounding defensive positions are easy to see from the castle site. Most castles that we see of this size aren't so obviously placed on man-made hills. Most are sited on high ground, but that is about it for defenses unless they are built up against the water. Having two obviously deep ditches was unusual. Dodging sheep (and plenty of sheep poop), we hiked back to the house, decided that leaving quietly was a better plan that ringing again to thank the owner for letting us through the garden, and we slunk off, still sure she was cursing us as rude tourists. Ah, well.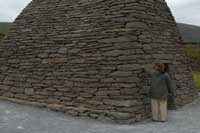 We ran into two of the guests from the B&B last night when we walked up the path to Gallarus Oratory, and had a good laugh that we'd been following each other around all day. I'm not sure why they call this an "oratory", which implies that this is some sort of church or chapel building -- it's a weird little dove-cote-like structure built entirely of stacked stone with a corbelled roof. That's the appeal, actually -- the building is entirely waterproof, and the stone construction is very uncommon in Ireland. There is another "oratory' in the town of Kells, built the same way - like a stone tepee. It may have been a chapel ,but the undecorated interior and tiny size (including the 4' tall door) make it seem more like a storage hut than anything else. I wonder if this type of building, like the round towers, have been misconstrued.
Off in the distance is a little castle. I think it's actually Gallarus, but I'm not sure.
The Cardinal Points
Our drive along the coast continued on to Minard Head -- the westernmost point in Ireland, and we stopped briefly. It's more for the cache of being able to say we visited the northernmost, southernmost, easternmost and westernmost points -- since the guidebooks are all so helpful as to mention them. To be honest, there are areas of the cost with much finer views, but we want to be thorough!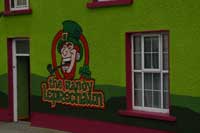 Of course, the real treat that was revealed by our drive out to Minard Head -- The Randy Leprechaun Pub. Seriously. This garish, bright green building is visible from across the harbor and we were terribly disappointed that it wasn't open so we could go in; I'm sure it is just as kitschy inside as out.
Ardfert
Ardfert has a number of ruins, clustered together at one end of the village. The signposted parking is a fair walk from the site itself, and we walked through part of a neighborhood street to get to the path. On the way, we picked up a bit of an entourage -- a couple of dogs followed us all the way to the ruins of the cathedral, running in circles around us and generally enjoying the walk.
Ardfert is a lovely church. There is something very peaceful about walking around ruins on a gray day. The Cathedral and the church lie next to each other. We tend to gravitate towards places that are off the beaten path, not usually the A-lit sites, so we are often alone in these fields of ruined walls and green grass. We become so used to it that I find myself getting a bit annoyed when we're suddenly surrounded by people (heck, when we run into more than two or three someplace!). It's often surprisingly quiet. Even in the small town I live in, it's never really quiet. There's too much traffic, too many people; there's always a low hum of sound. Out here, though, it's little towns and only a few cars in most places, and it can be almost silent. Don't get me wrong, of course, Dublin has its share of city bustle, but out here in the countryside, it's all birds and chirping cicadas.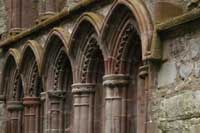 One of the interesting things about Adrfert are the repaired (or reconstructed, sometimes it's hard to tell), which are ornately decorated arches in a darker, reddish sandstone that looks as if they added the doorways in long after the original building was finished. The details carved into the red sandstone on the cathedral are a mixture of flowers, faces, and geometric designs. One of the weirdest things about the cathedral is that there are waterspouts sticking out of the walls with weird little human faces on them. Kind of creepy, actually. No gargoyles or anything (wrong style!) but these flat, gape-mouthed projections are all over the place.
The site has buildings from a number of different periods, it's interesting to see how the decorations and styles have changed. Enormous, round Romanesque doorways and pointed-arched Gothic windows are only a few meters apart. Make sure to check inside for the effigies and grave markets -- many are packed in boxes away from the elements.