Travelogue, Day 12
Another fabulous day, and we're off into the world after a breakfast of eggs, bacon, and cool toast (what is WITH he cold toast?) heading in the general direction of Cashel this afternoon. Since that was about as detailed a goal as we had for the day, it may prove to be either a leisurely meander across the lovely countryside, or a busy day of chasing down remote sites that aren't visible from the road. It's a toss up!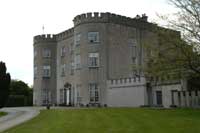 Glin Castle was easy to find. It's a fancy hotel nowadays, as are a lot of the better-preserved castles. Look anywhere on the web for "romantic castle hotel" and you can pick and choose from rustic stone rooms to fully-restored Baronial mansions with antique beds and tapestries. Some great old country houses are B&Bs, if you don't want to splurge on a fancy-schmancy hotel, too.I tend to gravitate towards houses 'with character' -- but you have to be prepared for a tradeoff. Castle Hotels or historical building B&Bs usually have smaller rooms and aren't always en-suite (with a bathroom in each room). They are often retrofitted with electric and heat. Don't expect a modern hotel room with all the conveniences -- but do expect a charming room with a lot of character, and often a level of service (in the castles at least) that makes you feel like visiting royalty.
Castle Architecture
A lot of people drop me emails about our Scotland trip, asking for a recommendation for a "castle to stay in" or a 'romantic castle hotel". I can understand the desire -- it's not often you have the chance to sleep in a hotel that has been standing for eight hundred years or more, and walk on the stone steps that a lord or lady trod. A lot of it is romantic rubbish, of course- the movie-version of "castle" often bears little resemblance to real castles, but in some cases the fantasy can be a real treat. Of course, it seems like the most popular castle hotels are bare-walled stone and rough-hewn furniture -- which is not quite as accurate as the movies would have you believe. The stone walls were almost never bare - they were plastered. Many (if not most) castle of the period had glass windows, and were bright, albeit a bit chilly. Carpets on the floor and weavings on the walls made some rooms very cozy. While we'd like to think that castles are horrible, dank, and filled with rowdy people roasting pigs in fireplaces the size of a garage and wiping their faces on their sleeves, that was probably not the case for most places. Mind you, I've stood in some fireplaces the size of a one-car garage, so they do exist!
Our adventures take us off towards less grand castles today, though, with a first stop at Shanid castle, which is really no more than a stub of wall sticking out of a hilltop, but I manage to get Mark to stop briefly anyway so I can clamber up the hill to get a picture. Once again, I'm going to spend the day with slightly damp socks and shoes. I keep forgetting that "dew" on an Irish morning is not some dainty little moistness, oh, no. Soggy is a much better word. Traipse out on the grass before the afternoon sun has come out and you're going to end up wet to the knees. I reiterate my advice - bring extra shoes, so you have something to change into that's dry. Otherwise, you'll be squelching all day. There's nothing quite so uncomfortable as squelchy socks. Well, squelchy underwear, I guess. Make sure you don't sit in puddles!
A quick run by Ballyvoghan- really only of interest to castle-buffs, but the view is nice!
Castle Matrix was under reconstruction, and we came at it from the wrong direction, not realizing that this is actually an open, restored castle with banquet halls and run as a hotel. As usual, we swung up on one of the small single-track roads, and ended up at the back end of the castle, behind the oddly machicolated tower , peering over the tall fence at the work trucks and spools of wiring and wondering just how hard it would be to climb over the wall. It is privately owned, and run as a hotel (with mixed reviews, if the google search is any indication).
Adare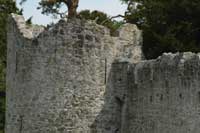 We swung into Adare in late morning, and what a charming place it is! Quaint whitewashed houses with actual thatched roofs line the main street, and we found a much desired parking space and sauntered off along the main strip to see the multiple churches in town (a Trinitarian priory and an Augustinian priory), and peer over the water at the off-limits Adare Castle. It's a big frustrating sometimes - some of the neatest castles tend to be under construction or covered in scaffolding, or otherwise inaccessible to visitors. I know it's a matter of safety, but I want to poke in all the corners and see what they are doing, dig into the niches and cellars before they are fixed! It's especially frustrating when they are redoing the castle to be a hotel or conference center, and not particularly caring if they change the basic fabric of the building or not.
The tourist office in Adare is very well stocked and the staff is very helpful, by the way.
Limerick is a fair-sized place, and it doesn't take more than a few blocks to find a good place for lunch.And despite the fact that a genuine divided road snakes through the town, we saw at least two horse-traps trotting along the asphalt and holding up traffic. That's definitely not something you're likely to see in most places! The primary attraction in Limerick is King John's Castle, which dominates the center of town, but there are a lot of interesting sites in the town, and they are all linked by well-marked signs for a walk through Medieval Limerick (the castle is number 16). It's a lovely walk through the town following the well-marked trail. Merchants buildings, meeting halls, bishop's palace, museum. We spent a few lie surly hours at the castle and nearby buildings before heading to Limerick.
Castle for sale, cheap!
When we stopped in Golden to see the falling ruin that is Golden Castle, we ended up parked a ways down the road and walking over the stone bridge to the site. As we hung over the closed gates to view the remains, a disembodied voice wafted up from across the water, "It's for sale! Want to buy the castle?" A gentleman trimming the hedgerows at the back of his property -- hanging precariously over the fence -- waved brightly and repeated his offer.
"You don't think it would be a bit drafty?" The tower is really only one standing wall and an arched cellar.
"Oh, sure, but just for the first winter…I'm sure you could put up a tarp."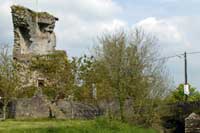 We all laughed, and crossed the bridge to talk to him, so we wouldn't have to shout across traffic. The tower really is for sale -- to someone willing to rebuilt the stone structure with all the problems and weird rules that entails. Ireland seems to be a bit less strict with "adaptive use" than Scotland or the rest of the UK seems to be. We saw a lot of old towers being used as barns, or storage, or incorporated into houses and hotels with a lot of new construction. It makes sense, I guess. There are simply so many of these ruins dotting the country (over 3000 in Galway alone!) that you can't protect every single one of them from re-use or demolition. If there is some interesting history associated with the site, or some devoted and focused preservationists, there's a chance that the fabric of the building survives.
This tower, though, has definitely seen better days. But -- I have to admit that for a brief moment I imagined us buying the derelict for a song and rehabbing it to its former glory. Just a brief moment. Then the reality (and enormity) of that sort of commitment sank in and we had a good laugh with the local guy about the fantasy of selling it. I picked up a book recently Castles in the Air, by Judy Corbett. She and her husband bought the crumbling hulk of Gwydir Castle in Wales and spent a decade bringing I it back to live -- living for most of that time without consistent electricity, running water, or a roof. I understand the urge -- houses speak to you, they have an deep-seated sense of being that really resonates with me. I bought both of the houses that Mark and I have lived in by visiting them and realizing "this is the right house. Yup. This one." But I'm not quite insane enough to consider a ruined castle lacking water, electric, heat, windows…heck, lacking walls. Not quite. Not yet. I think this worries the Adorable Husband. He can't hustle me away from looking longingly at the pile of stones looming over the bridge fast enough.
The Rock of Cashel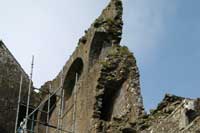 You can't miss The Rock of Cashel. I was expecting a cathedral or perhaps a tower or two -- but the site rises out of the flat green plain like the City of Oz -- it's completely unexpected and impossible to miss. Note that this does not mean that it's easy to GET TO. We circled once or twice before figuring out where to park and walk up the (steep) path to the main entrance. "Rock" isn't quite the descriptor that I'd use. Mountain or mesa seems a little bit closer.The views from his outcropping of rock over the town of Cashel are quite beautiful, and you can see at least two other cathedrals/churches from the walls. The buildings on the site range from fully -restored tudor arched hall, to an ancient stone Chapel. It's an interesting site, but quite hard to get a good feel for the place (definitely worth picking up the National Trust booklet so you can see the overall plan. Tudor, gothic, older. Cormac's Chapel is worth a look, although the carvings are hard to see and the dim lighting doesn't help much.
The views over the town of Cashel are beautiful, although a bit hazy - misty rain in the morning tends to hand around all day as a faint haze that blurs everything more than a few yards away. From the walls at Cashel, though, we can see the ivy-covered remains of Hore Abbey. It started off as a Benedictine Abbey, but was taken over by the Cistercians - and we can see the "standard" layout of the abbey pretty well, even without the informational placards. The walls and arches of the church are barely head-height, and the surrounding wall has been crumbled down to only a few feet. Some of the details are gorgeous, though - a niche in the main church that would have been used for the salver and chalice for mass, a lovely caved gothic archway, the stone corner pieces that would have supported the groin vaults over the nave. It's been roofless for centuries, of course, even the 15th century tower.
I always like to find the faint lines of the roof on the sides of the towers, to see how it has changed over the years, and see how walls have been built to fill in arches or doors. This would have been a fairly small monastery, especially with the vast installation up on the nearby hill, but it's small size actually make sit very interesting.
After wandering around town and climbing over a few fences to wander with the cows, we retired to our B&B for the night, Dualla House, just outside of Golden. We had to drive around Cashel about fourteen times to find the road (a real trick in a town with four major roads!). A lovely country house with lots and lots of sheep. The upper floor is lined with rooms, but we were the only guests.We barely had time to drop off our bags and share polite chit-chat with the owner before we had to forage for food, or risk certain starvation.
We ended up at Davens, and I had very strange chicken kiev - chicken wrapped around ham and cheddar cheese. Odd, but quite tasty (I kept thinking that with cheddar cheese it should have bacon on it, but then again, I pretty much think Irish bacon goes with anything. Mark had Weiner Schnitzel. In an Irish pub, no less. I have no idea what he was thinking!