May 18
Breakfast was very nice. We were the only guests, and the dining room was set up with china and crystal glasses. A bit out of place wit the flat screen TV tuned to the news channel, but that was actually a nice addition. I think of all the places we've stayed, only one had a television in the room, and another one or two had a television available in the 'guest lounge'. Definitely not a big thing here, like it is in Ireland, where every room has a television. We've felt very much out of touch with world affairs, I suppose we could have turned on the radio at any time, but I think we're both relishing the lack of 'input' from TV, radio, and internet. Disconnecting entirely is nice.
I'm constantly amazed at the number of electronic gadgetry and constant 'staying in touch' that people do. Gabbing on a cellphone all the time, or twiddling with a Blackberry and texting constantly -- even in situations where they have a real, live human being to talk to, half of them will still pay more attention to their little screens than the person in front of them. I think it's terribly rude, of course. I've been out to lunch with someone who, when their cellphone buzzed, gave a full-body spasm and leaped to answer it and talk to whoever had called, breaking off in the middle of a sentence with me. And is the call that important? No, it's just another acquaintance, not a doctor or emergency or anything. But the gadget gets more attention than I do. I"ve seen whole tables of people sitting at a nice restaurant ...every single one of them focused on their own Blackberry. I just don't get it. I don't want to be that tethered. No one is that important,that they need to interrupt every single live interaction with an electronic one. No one needs to be available and "on call" all the time (well, maybe a transplant doctor, and expectant couples get a pass here, too). So, having a few weeks off from the constant buzz and jangle and boop of beepers, phones and computers is actually quite nice.
But, we both wanted to check on the world outside of our little vacation bubble, since the opportunity presented itself.
So we watched the news, listened to the rain outside, ate copious amounts of eggs and toast, and chatted with our hostess. She is just starting the B&B (it was not yet rated by the tourist board), and really wanted to know how we liked it. I tactfully mentioned the crinkly-super-hot mattress pad, but that otherwise, it was very, very comfortable and we felt very welcome. I don't know if Scotland has a scheme to give tax breaks to people opening up their houses as B&Bs or guest houses, but the number of people who have just one room, or possibly two, in a residential area seems to be much higher than it was ten years ago. Then, most B&Bs were larger standalone houses with a few rooms, or farmhouses with rebuilt stables or a couple of rooms in the main house (or, of course, the purpose-built sort of place). Now, we're finding a lot of single rooms or two, at most, in houses that I wouldn't have easily pegged as B&Bs. It's nice, actually. I really like the small places, where they've let out a room to make a little cash - the proprietors tend to be less burned out on the hospitality scale, and generally more involved in the venture. If you have to tend six rooms all year long, you don't really have time to do anything else. The part-timers, though, offer the same level of comfort without the scale. It's nice sometimes to get the full-on hotel experience, but the homey touches of a small B&B are awfully nice.
Everything worth seeing is UP or through a fen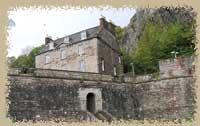 The sign at Dumbarton castle warns you that there are 557 steps up to the fortress. Looking up at the rocky crag, you can well believe it. The steep, wet, stone steps take two paths around the rocks and the view from the top is worth it -- daunting though the climb might be. It's not much of a castle anymore, really -- the most castle-ish building on the site is the visitors center at the base. It's a military post--and remained an active military post until recently. There are cannon emplacements, powder storage, and a few barracks scattered along the top of the outcropping. Up we go, 557 steps, along with a van load of Aussie tourists, all of us puffing our way up the rainy steps. Like I said, the view is awfully nice, you can see all the way up the firth for miles. Great site for a castle.
Rain is still misting down when we find Kilchurn castle and attempt (quite stupidly) to approach it from the wrong side of the loch. It's in a fen, really, and when I sank in to my ankle I stopped walking. Mark apparently has wide duck-like feet and can trudge across the bog without sinking, but I'm not quite so sanguine about being stuck up to my knees in muck and losing my spiffy new shoes. Which would happen, I can guarantee it. Mark kept on while I stood on a handily placed piece of wood, waiting for him to return. This time, we both had cell phones. He got some haunting pictures of the castle from across the misty water. They are some of the prettiest photographs we took, I think. He said he got a bit teary when he found a small memorial for someone's dog near one of the islands. Just a stick, a nameplate, and a collar. He also informed me (with photographic proof) that the spot on which he eventually stood, was an approved viewing point - despite the soggy ground. Two days of torrential rain did not help much.
The local hotel has a boat that can be rented to get out to the castle - and it's apparently possible to walk to the site from the other side of the loch, but we were wet and cold and didn't want to end up wading. Once again, I am making a mental note to either bring or buy wellies immediately upon arriving in Scotland, so I can fearless stride out into the muddy and soggy moor without worries of wet socks, sucked-off shoes, and muddy trousers. Perhaps I shall even buy a bright and colorful pair, just for fun.
Antique technologies
Looking for something 'mostly inside" until the rain clears, we headed for another antique technology sort of site, from Historic Scotland - Bonawe Iron Furnace. I still pronounce it bon-a-wee in my head, but I'm told the correct pronunciation is bon-awe, just like it is spelled. I like mine better, it sounds like a bad summer camp name. 'Come to camp Bon-a-wee, work in the charcoal burner and stack wood just like it was before Child Labor Laws! It will be fun! Bon-a-WEE!"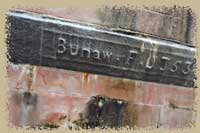 At any rate, the site is a collection of rather uninteresting buildings (storage sheds and such), but the path through is filled with detailed explanations of how they made "pig iron" in early blast furnaces, how charcoal burning was carried out and the output was used in Britain. There were a lot of "this WOULD be here, if we had it.." sort of placards (as for the water wheel, for example), but was interesting to walk through the process and poke our heads into the furnace chimney. Some of the old buildings even smell like charcoal burning and the interiors are stained red and black from the raw materials. It would have been hot, sweaty, dangerous work. This is but one of the dozens of iron furnaces in this part of Scotland -- abundant forests and the availability of easy transport on the rivers made it a prime location. From the notes in the helpful little booklet, the restored remains here are about a third of the buildings that would have existed when this was in full swing. Workers housing, a manor house, and other storage and administrative buildings would have rounded out the complement here.
And why is it called pig iron? Because the shape of the metal as it flowed from the bottom of the furnace resembled a sow and piglets -- a main channel of metal with many little side channels. I never knew that. I thought it had something to do with the make up or "rawness" of the iron. Huh.
And sometimes it's just a box in the woods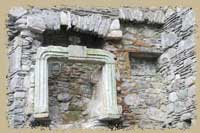 Our last stop before the ferry to Mull tonight is Dunstaffnage Castle…and we ran into the van load of Aussies again. We accused each other of stalking, and got a good laugh that we all were heading the same places today. This is a big , square fortress of a castle, slowly crumbling away around the well-restored gatehouse (which is not under the care of Historic Scotland, and thus not accessible). I like to take pictures up into towers, and there are a few good-sized round ones here, so I snap happily away while Mark climbs the wall walk. All castles (well, the defensible ones, at least) have a source of water somewhere in the courtyard and the well here is a rather ornate canopy affair in the middle of the courtyard. Someone had a bit of whimsy when they put it together (and I have to believe it's a much later addition to this very utilitarian sort of place.
Down a gravel path and a little ways into the woods is Dunstaffnage Chapel: a plain square church with very little to recommend it except the lovely setting and a carefully barred-and-gated section with a family memorial. Sometimes the walk through the woods yields a really nifty discovery, sometimes, it's just a square box in the woods.
Over the sea to Mull
Our reservation is for the ferry at 6, so we zipped into Oban to make sure that we get in line properly. We were early, of course, although too late for a tour of the Oban Distillery that would still get us to the ferry port on time. Instead, we walked along the main road a bit popped into some shopped, and ended up at Kronk's for sandwiches. Tasty, lively, and since we don't arrive in Criagnure until after 7, necessary. Mark would starve. The ferry lands in Criagnure and we have a room in Tobermorey - which is a bit of a drive. This is the first night we really had any problems finding a place to stay, we had to call six or seven B&Bs before we found a room in town. Not that it really should have been any stress at all - if we couldn't have found a place tonight, we would simply postpone our trip to the island until tomorrow. No problem, really. But, we did eventually find a place and off we went.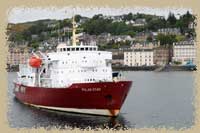 Mark saw the Polar Star in the harbor - that's the boat the Mike and Ruth took to the arctic. He also stayed above to watch the ferry captain dock and undock the enormous car ferry. It's amazing - he brings this 300 foot boat into the shallow harbor like a sports car, pulls the hand brake, and slides into the parking space sideways without even a teeny bump. I supposed doing this ten times a day gives you a ton of practice, but it's a graceful move, nonetheless.
The ferry ride is short (Mull is a very small island), which is probably good. I spent the whole time texting my sister about how my Dad is doing in the hospital. Oy.
We did warn the B&B that we'd be late (sometime after 7pm), so I didn't feel too guilty making a short detour to see Aros Castle on the way to Tobermorey. It's a crumbled ruin, but the site is on a cliff and the field below is full of blue flowers. Hiking out to the castle involves avoiding stepping on hundreds and hundreds of snails, though. Ick. I didn't really notice them until CRACK-squish! I stepped on one. After that, it was shard not to notice them all over the place.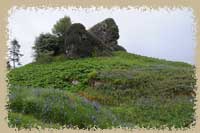 The island of Mull is like a multi-fingered hand, and, being an relatively sparsely populated island, has one main road that circles the entire island. There is a northern loop and a southern loop, but the only way to get from Criagnure to Tobermorey, for example, is to follow the coastal road the whole way. There is no "direct route" anywhere eon the island. Also, being a rather sparsely populated island, the road is very, very narrow and windy. Ooh! Yeah! More formula-1 driving!
Tobermorey is one of the most photographed towns in Scotland - the colorful harbor buildings in primary colors are very striking. IT's a charming place. Luckily we had eaten in Oban, though - by the time we arrived, everything was locked up tight as a drum. Our B&B tonight is a bit of a disappointment, but since it's been the only real disappointment so far, that's ok. Tiny, and I mean TINY room, bathroom shared with the whole floor, unfriendly hostess (who insisted very brusquely that we pay in advance, which was a first, and never said boo about anything else). I know we were late, but whoever we had talked to on the phone seemed ok with that, go figure. I should be more understanding, I'm sure - Mull is a tourist town and it was a busy night. Still, it was comfortable enough and we were only spending one night here in Tobermorey.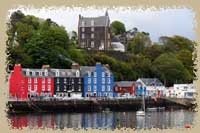 We walked along the harbor and looked at all the boats, saw jellyfish (lots of jellyfish!) and a sea otter along the dock for the Royal National LIfeboat organization. They are a volunteer group like the Coast Guard, that only does rescue in the local waters. . The weather was perfect and we even discovered that the Spar station (in an old church, believe it or not) was open and we could get snacks. Hah!
I have to wonder what people do for fun on these islands. I imagine that things are still on "winter time" and will be more lively during the summer tourist months, but there is nothing -- repeat NOTHING -- to do after dark, as far as I can see. From what I've been reading, most of the towns are built on tourism, so I don't' think that most of the people here are fishermen, but I could be wrong. Everyone was lovely, though -- can't fault the hospitality one bit!