May 17
We have seen most of the sights in Stirling before, so we decided to visit the castle and see the changes ten years had wrought on the pale-pinkish Great Hall. We also needed to do laundry desperately.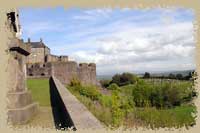 We walked into town to get pictures of the town walls this morning, but we drove up to the castle, with the intent of going from there to the Laundromat we had found he previous day. (It had closed when we arrived yesterday--who ever heard of a Laundromat that closes?)--and the flyer at the B&B said it opened at 10:30, so we had plenty of time.
The Great Hall project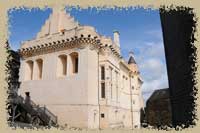 Even as early as we were, the esplanade at Stirling Castle was crowded and we barely made it inside before the half-dozen tour busses disgorged hordes of tourists. The sun is out today and it is surprisingly hot. We ducked out to the castle wall to look at the cannon emplacements and views of the city before we walked up to the Great Hall. Historic Scotland finished the Great Hall about two years after we were here last, and it was cool to see it finished. At the time, it was one of the largest restoration projects they had tackled, trying to rebuild the huge hall with meticulous historical accuracy - they spent months determining the color, the makeup of the harling, the decorations, the draperies and hangings inside, the style of the doors, everything. The hammer beam roof - built with not one nail, based on the original plans -- is a marvel of architectural complexity.
It's surprising how old it looks, though. Water stains and general dirt and grime have muted the unnaturally bright salmon color already. I would have expected an eight-year-old building to still have that shiny newness that it did when they started. But the rain is hard on everything here - and a slight miscalculation on drainage would be disastrous. The splendor of the place is hard to beat, though. Historic Scotland is just getting started on a similar restoration/rebuild of the Royal Apartments in the nearby wing of the castle. Everything is closed up, so we can't get into the palace, but it should be a spectacular project.
We did visit the military museum, wandering among the artifacts and objects of the Scots presence in nearly every war since they became a country. Mark always loves this sort of museum, and I can get lost for hours in some of the historic dioramas. Usually it's a few hours well spent. Time for lunch when we emerged, and Mark picked up food from the Redcoat café, which we shared on the sunny patio. We're on a slightly earlier schedule than most people, I think. As we finished lunch, the crowds showed up to start theirs. Sometimes being a little 'off the clock' is helpful to avoid long lines.
Our primary goal today is laundry, of course. We're getting a bit aromatic and running out of underwear, so we made our way back to the car and drove back to the Laundromat we had found the previous evening. We were a bit annoyed to see that it was actually open at 9am, not the 10:30 that the brochure and ad said and we could have come here first and wrapped things up before heading out for the day. O course, there was no way to know that it was open that early -- the only opening hours were posted on the door, which was behind the huge metal curtain that the owner pulls over the shop front, effectively hiding everything bout the place. Hah! If you didn't KNOW before, showing up after hours wasn't going to help at all. But, we've got clean laundry now, and I had enough time to read every single tabloid newspaper and magazine in the launderette. I am totally up on British scandals (most notably the MP spending scandals) and b-list celebrities. Hah!
The Tower Trail (plus some extras)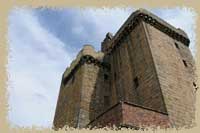 There is a 'tower trail" around Stirling that we decided to follow today. It's well signposted, and with a little walking, you can see a bunch of small tower houses in various states of repair. Clackmannan was the first stop we made. It's not a "finished" tower house, like Alloa is, but it is in good repair, albeit leaning a bit. We walked al the way up to the tower and chatted briefly with a woman walking her dog on the coast.
Sauchie Tower is not actually in the town of Sauchie (figure that out). It's locked up tight and not really accessible. It is on the grounds of an equestrian school (we think, at least that's what the signs implied) and is wrapped 'round with cables, ostensibly to keep it from tumbling down.
Archimedes would be proud
The Falkirk Wheel is a marvelous engineering feat -- poetically simple, elegant, and so surprising that has become a tourist stop in its own right. Based on the very simple idea that an object in water displaces exactly its own weight in water, the wheel solves the problem of raising boats from the Forth and Clyde canal up over a hundred feet to the Union Canal. It's quite a balancing act, with counter-rotating barge "bins" that are rotated around a huge axle, like a giant Ferris wheel. Quite cool! I figured Mark would be entranced by the thing, and I was right -- he spent a while figuring out exactly how it worked. Very little power is needed to keep things moving - the momentum and weight of the water on the two counter-balanced arms is perfectly designed to swing around (almost silently, by the way) and then teeter on the edge of returning. It's stunning, it is.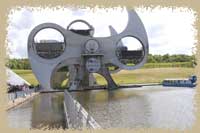 There is a huge visitors center here, although very little is done to explain how the wheel works - for that you apparently have to buy a ticket to ride up the wheel in a barge. There's enough to give a good idea of the process, though. We ran into a bunch of tour busses here (and note that the parking lot to visit is quite along walk from the wheel itself), including one from Madison WI with a lovely bunch of older couples 'doing Scotland', accompanied by their kilt-clad tour guide. They were very excited that they got to up and ride the wheel, and that the day before, they had had a 'sheepdog experience, and it was so nice to see how real people lived…" They were awfully nice, but later I told Mark that If I every start to talk in excited tones about traveling in a tour bus with a hundred other people, that he should just shoot me. Watching them being herded around (quickly, now! Keep up!) by their extra-uber-Scottish guide..It's definitely out of my realm of "fun". Hopefully I'll still be up to driving around and hiking on our own when I'm in my sixties, of course -- perhaps like the hill walking couple we met on our first mornings, ready to walk 17 miles to Melrose Abbey. I can only hope! (although I'll admit that the thought that I'd be getting up and being excited to walk 17 miles that day is just about as foreign and weird.) Adventure Girl I may be, but that might be a little too much Adventure. You never know, though. Maybe we'll bicycle or something. I've heard that there are some great horseback tours in Scotland and Ireland.
Many of the places we see are a ways off the beaten path, and sometimes that is not obvious from the map (some of the dots seem to be in the middle of nowhere, to be honest). So when the gps insisted that Torthorwald castle was definitely "in that direction", and all that went up that way was a dirt track, we left the car and hiked up the hill. The description noted a large ruin, so we were sure it HAD to be there somewhere. The road was suspiciously straight, and as we walked we kept seeing signs that the dirt road overlaid something else, something rougher - and half-decided that it was a the roman road mentioned in the book. Seemed likely, anyway - although the actual roman road was probably four or five layers down under dirt, cobbles, stones, bricks, It was the straightness and evenness that was awfully suspicious thought.
Vandals and Romans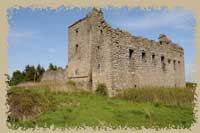 We met the owner of Torthorwald castle after walking a mile or so up the road. He and his son were burning off refuse and repairing the damage from weekend partyers who had started to vandalize the place. Apparently, the old ruins are great party sites, but instead of just having their party and leaving bottles and garbage about, they've taken to spray painting things, pulling down fences, and breaking windows. It's all he can do, he says, to keep up with the damage. The archaeologists have come and gone, and he can't get grants to restore the castle, but his family ha owed the land for a long time and he's not going to let it fall into completely ruin, either. So, every weekend, he and his son are up here doing what they can.
He showed up the foundations of the older castle, and talked about how it had been used by Robert Bruce to see the incoming British - four other towers around here were all linked. It was fascinating. We took up too much of his time, of course, and I'm sure he thinks we're annoying and weird, but I do love that sort of thing.
But he did confirm that the road was indeed a Roman road - the signs are even clearer at the top of the hill, where some of the stone have been displaced. The big square cobbled that we had seen lining the road were, for the most part, Roman stones. They'd been picked out of the road for walls and other buildings over the centuries, but some remained din place. Pretty cool.
We tried very hard to see some of the Antonine Wall as Castlecarry, which is really just a big ditch and there isn't enough in the field to show the roman fort that the placard assures us lurks just beneath the surface. It is also the place where I mooned the express train to Glasgow. I didn't mean to, but they roared past whilst I was taking a desperately needed potty break in a clump of bushes in the field. I tried to wait, I really did. So, anyone who thinks they may have seen a pale, partially bare woman in the field? Yes, that was me. Ta-da!
From reading this travelogue, you have probably come to the conclusion that I pee in public a lot. I really don't , and it's the absolutely last resort..but finding public toilets in some of the places we've been walking around and driving to is pretty hard. I duck into every single public toilet I find -- on the advice of my mother to :"try, just try, you never know when you'll find another bathroom", but I can't wait for hours. So, carry plastic Ziploc baggies and a teeny roll of toilet paper and find a weed-filled clump of shrubbery…don't leave any paper behind, be discreet, it's the best I can do. Men have it easy, I tell you. I have no idea what the outdoor potty etiquette is supposed to be, but I do my best. I figure if sheep are visible, they have already peed on the spot I have found, no harm, no foul. Yup! Adventure Girl rules!
The Antonine Wall...er, ditch
The road we followed into Dumbarton followed along the Antonine wall pretty closely -- it is not as impressive as Hadrian's Wall down south , being more of a ditch than a wall. Very little remains, only a few fields with shadows of roman camps and towers buried beneath the sod, and a few sections where you can see that the ditch by the road is manmade. The Antonine Wall, built in the second century, is a turf-on-stone wall, so very little remains in most places. There are at least nine forts long the length of the wall (including Castlecarry, Bar Hill, Dullatur, Rough Castle). Most are a substantial hike from the main road, but at a few (notably Bar Hill) bits of an actual wall can be seen. Perhaps when we come back and 'walk the wall' for Hadrian's Wall, we'll walk up here, too. Grand plans!
Our B&B for the night in Dumbarton is rather odd. The house was lovely, the hostess charming, and the end-suite room was very much like a ship's berth. The whole room was built-in cabinets surrounding a bed. Floor to ceiling, walls of shiny cherry cabinets framed the bed and the entire wall at the foot of the bed was paneled….or was it? On that side of the room, the en-suite bathroom was IN the paneled cabinet - a pod build into the room against he wall. Slide open the heavy paneled door and you had a small, windowless, modern bathroom tucked into a cabinet. It was very comfortable , although a wee bit claustrophobic. What a clever way to turn a very large room into a medium-sized en-suite room. Me, well, I'd have rather had the larger room and walked down the hall to a bathroom, but I applaud the ingenuity in getting all of this set up.
We drove back into town for dinner and stopped at a restaurant we saw on the way in - Stoneyfields, a "carvery" restaurant, like an upscale buffet. It was good, quick, filling, and very tasty. Not fine cuisine, but the standards - ham, turkey, beef and potatoes, carrots, peas, corn, Yorkshire pudding, gravy were well prepared and quite tasty. We found a table near the window and scarfed down enough food to make us all logy and tired, then back to the B&B and into our berth. Mark checked email and I updated the blog and then we crashed.
Only to wake up every couple of hours broiling in the bed. The hostess was a healthcare worker, and I think she had picked one of those hospital plastic crinkly germ-proof mattress covers for her rooms. It retained heat like nobody's business and I was sweaty and moist all night.

Absolutely great shower, though. About blasted the hair off my head. Amazing how that will make up for just about everything else. Mark came out all lobster-red and steamy and singing the praises of mains plumbing.