Falkland Palace
We had visited Falkland Palace before, but we popped in to see what has changed.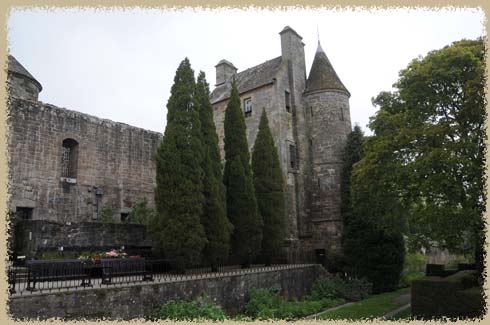 from the gardens, looking up to the main tower
14-16th century
Most of the buildings here are remodelled in a rather florid renaissance style on the inside, but it is a rare glimpse into how these rooms would have loooked, and how public rooms would have been furnished and decorated (without being a huge showplace for art) --populated, at lesat when we were there, with costumed docents.
The massive round-towered gatehouse, iconic of Falkland Palace, dates from the late 15th century. The base of a round tower may date from the 13th century, but that is the only evidence that hte castle may have been build on the ofundations of an older building, probably built by the Earls of Fife.
A large courtyard opens from the main gatehouse, and a very large l-shaped range of buildings leads off from the right. A restored block of houses contains bedrooms for the Queen and King (James V died here in 1542). The main gatehouse has two guardrooms, vaulted basements, and a large chapel with lovely windows.
The rest of the ranges of buildings are ruined or gone completely. There was likely a large hall. An east range of rooms was built by James IV, with glazed windows and comfortable private rooms. It contains a chapel and rooms for couriers. A north range was built 1511-13. The west range was never built.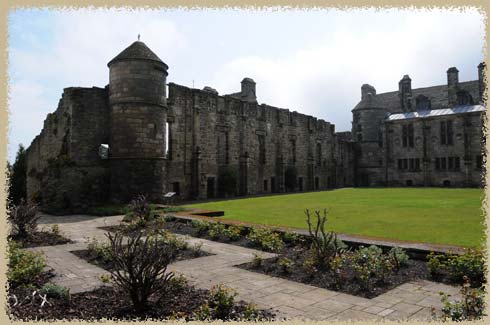 the ranges around the couryrard are mostly ruined
The north range is currently demolished, and the west range is roofless except for a small building called the Cross House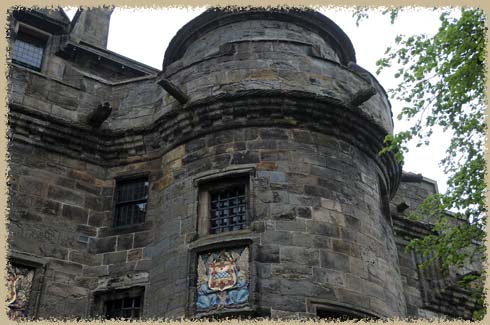 one of the round towers of the gatehouse