Falkland Palace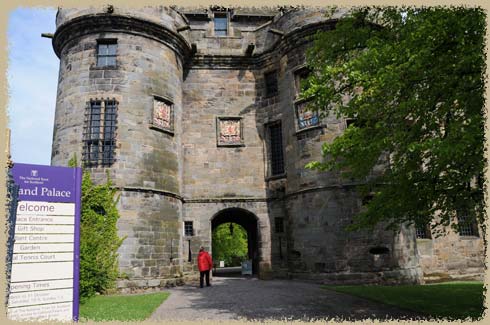 massive towers flank the main gate
Ownership
This 'palace' has always been a royal one, starting as a rough hunting lodge for the kings of Scotalnd from the 12th century.
By the 14th century, the castle was owned by the MadDuff Earls of Fife, but it was destroyed by the English in 1337. One rebuilt, it passed to Robert Stewart, Duke of Albanay in 1371. Robert had the heir to the Scottish trone, David (Duke of Rothesday) imprisoned and killed here at hte castle (possibly starved!)in 1402. Aftre that, the palace returned to royal hands.
Mary of Guilderland, the queen of James II lived here (and it is her bedroom that is highlighted on the tour). Restored to a luxurious Renaissance style, the castle was a favorite royal residence -- it was used by James III, IV, V. It was used through the 16th century, but by 1610, it was quite ruinous.
Despite much of the castle being uninhabitable, Charles I and Charles II stayed her in the 1650s. THe castle is also associated with Rob Roy in the 18th century.
By 1887 the castle was restored by the 2rd Marquess of Bute and passed to the National Trust in 1952.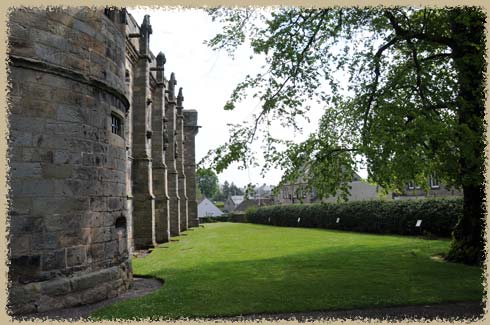 looking along the outside wall of the castle, from the gatehouse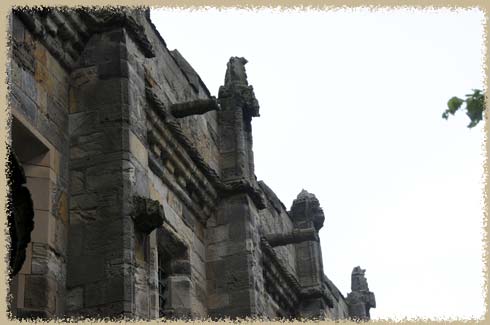 buttresses and water spouts on the royal residence