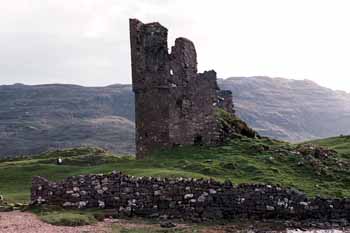 The tower and the remains of the outer wall, seen from across the stream
Ardvreck is a very pretty ruin. The ragged tower stands alone amongst the grass-covered and rolling foundation walls. From across the stream that flows into Loch Assynt, we could see the vague outline of the castle grounds, and the rubble of the outer wall down to the shore.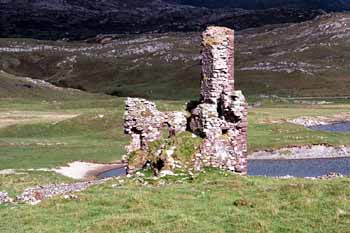 Inside of the small tower, filled with debris and grass
A view from the landward side of the tower. Most of the stones have been overgrown with grass and are slowly disappearing. From the feel of it, there were a lot of stones under the grass, and we decided that quite a bit of the rubble has simply been buried in the lush grash. It made walking a bit tricky, though, since you ran the risk of your foot slipping off a buried stone or unstable rubble under the grass. Hence, the 'Dangerous Ruins' sign, I'm sure. We were very careful walking anywhere near the tower, since I'm sure that there are other buried cellars under the hill that may or may not be solid.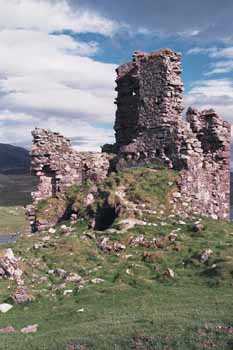 The entrance to the cellar and lower portion of the towerhouse
The buried rubble is clearer here, obviously where the walls have fallen and been left to disappear. When the sun came out, we got a wonderful view of the light stone that once made up this castle.