The oldest part of Aberdour, with a fallen tower, with a HS gentleman fixing the wall

Aberdour Castle is a rambling collection of buildings from many different periods -- it looks almost as if when one part of the castle got too old and crumbly to live in, they simply added a newer wing and abandoned the old one, leaving it to fall to ruin.
While there is a motte nearby, the earliest remnant of a castle here is from 1240-80. THe site of Aberdour was granted by Robert the Bruce to his friend and nephew, Thomas Randolph, Earl of Moray. The earliest mention of the castle is in the charter of 1351. Aberdour passed to the Douglas family in the mid-14th century. It may have been James, 4th Earl of Dalkeith, who rebuilt the tower in 1456, and added a vaulted cellar and sleeping lofts. A wing containing a wider stair (one of the largest platte staircases in Scotland) was also added at this time. Most of these additions are crumbling.
The 15th century stair wing was subsequently rebuilt when large new block was added in the 1570s. One of the added rooms was a large kitchen and bakehouse, just southwest of the old tower. There are remains of a wall around the courtyard, and a round turret in the north end of the block. The extravagant gallery, now in ruins, once displayed 46 portraits, from when Aberdour was the seat of the Earldom.

The tower, rebuilt in 1456, has long since collapsed
The castle also belonged to Regent Morton from about 1548 until his execution in 1581. In the 16th century, a new range of buildings was raised on the SE to match the new towerhouse. Yet another range of buildings was added in the 17th century, adding to the rambling footprint of this large building.
The tower house and new wing were gutted by fire in 1689 or 1715, and rebuilding was never carried out in those parts of the house. It was finally abandoned as a residence in 1725, although part of the wing may still have been lived in during 1791. By the early 19th century, the tower itself had fallen, and other parts of the now crumbling building collapsed in 1844 and even more in 1919.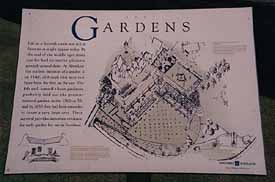 The area where the gardens used to be is still impressive, with several levels of terracing and a beautiful greenbelt down to the stream that flows nearby. When we arrived, they were in the process of trying to repair bulging retaining walls, which were braced up with wooden scaffolding. The gardens (ok, the erstwhile gardens) were blocked off from visitors, because they were worried that the walls may collapse. From the reconstruction plans, the gardens were beautiful and were complemented by a walled garden beside the nearby 12th century church.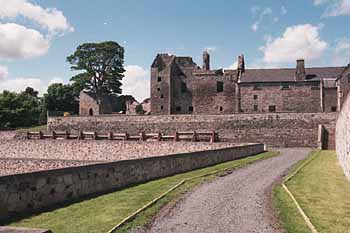 The castle from the large, terraced gardens.
The bracing for the sagging wall is still in place