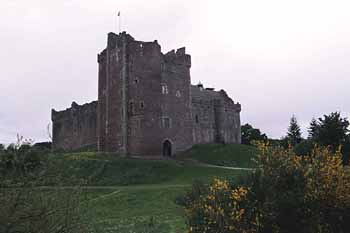 One of the few unaltered castles, Doune's 90' tower dates from ~1400

Doune Castle is named for a dun, meaning fortified town, which stood nearby. Doune was the Highland center for pistol making. There are traces of prehistoric earthworks around this stone castle. This iteration of the castle was built as a hunting lodge for Robert Stewart, Duke of Albany, who was the Regent of Scotland from 1396-1420. Much of the castle has been restored in recent centuries, but it is still one of the least changed castles in Scotland.
Albany died in 1420, and his son, Murdoch, inherited the castle. He didn't have it for long, though. He was put to death by James I in 1425, and for more than a century, Doune Castle was held by the Crown. It finally passed to the Morays.
Doune was later used as a hunting seat by James II and a dower house for Mary of Gueldres, Margaret of Denmark, and Margaret Tudor, the consorts of James II,III,IV.
In 1570, Doune was being held for the exiled Mary, Queen of Scots. Montrose occupied Doune in 1645; in 1689, the government of William III garrisoned the castle against covenanters. Finally, the castle was seized by the Jacobites in 1745 and used as a prison. The castle was roofless by 1800 but restored later in the century.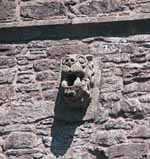 A small gargoyle drainspout.Many dot the castle walls
Doune is perhaps best known as the castle in the Monty Python and the Holy Grail movie. The caretaker told us that every year, hundreds of fans come to the castle.
Doune Castle lies between a tributary burn and the Teith River, and has probably been the site of a castle since the Romans built a fort nearby to control this waterway. The surrounding earthworks are earlier, but apart from minor repairs, the stonework is all 1390 - 1420. When we arrived, they were repointing the walls for the first time in the history of the castle.
The tower itself is irregularly shaped. The upper levels were secure private residences, and the Lord's Hall was a tremendous vaulted room. The fireplace at one end is unusual.
Doune is shaped like an irregular pentagon. On the west, a building breaks the angle between two of the sides. The front of the castle is a thick-walled rectangular block. The east is a gatehouse tower, which is an impressive 95' tall and probably was taller at one time in it's history. The entrance passes through the rectangle at a slant, and is protected by arrow loops. It had a portcullis at one time.
The kitchen of Doune is equally impressive. The fireplace is the full width of the lobby. There is no opening to the cellars, which are only reached from the courtyard. This is unusual, and must have made storage difficult? However, in the middle of the courtyard is a deep 60' well, usually containing 10' of water.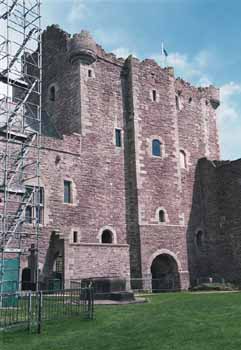 The inside wall of the huge tower, with the scaffolding for repointing on the left