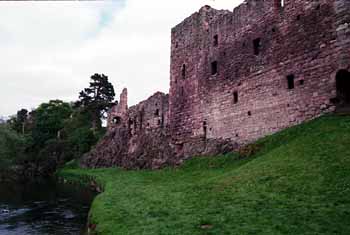 Hailes castle backs up to the river Tyne

Hailes Castle was built by Hugo de Gourlay in the 1290s, and given to Adam Hepburn after he rescued the Earl of Dunbar from an attack by horses (horses?). Sir Patrick Hepburn added the courtyard in 1388. In 1400 Hailes was attached by the Earl of March and Hotspur Percy. In 1443 the castle was captured by Archibald Dunbar and all the men in the castle were killed.
A man named Patrick Hepburn who died in 1482 was created Lord Hailes, and his son Patrick was named Earl of Bothwell in 1488. The castle was still occupied in 1548, and found to be well furnished. Castle was burnt in 1532, but in 1547 it was occupied by Lord Gray of Wilton for the English. In 1650, it was partially dismantled by Cromwell. The Earl was forfeited by the Regent after Mary abdicated, and Hailes was given to Hercules Stewart. It later passed to the Setons and in 1700 it was sold to David Dalrymple, the Law Lord, known as Lord Hailes, and well known for the long leases he offered his tenants. The castle was being used as a granary in 1835.
Hailes is one of the few Scottish castles that still displays 13th century stonework which can be seen in the lower part of the tower in the north range. The central section and lower part of the riverside curtain wall are the original 13c work. The west tower contains a pit prison in the width of the wall.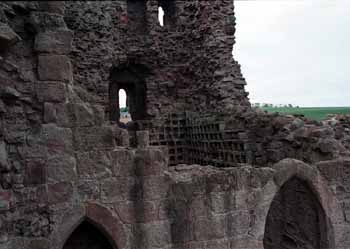 A dovecote in the vaulted ceiling of one of the castle chambers
The original building is set on sandstone on the south side of the River Tyne. Only the west half of the wall still stands, including the modernized entrance, which is quite impressive. At the west end is a tower house. Only the west and south walls of the third story hall survive. East of the tower is a postern gate to the river, and beyond, a vaulted bakehouse.
The castle is very large, nearly 240' x 90'. Great portions of the walls have fallen and disappeared into rubble, remaining only as foundation stones. A remarkable feature is the postern staircase to the river. It had a trap in the middle -- a deep pit crossed by a drawbridge that could be released from within the walls by pulling a rope or lever.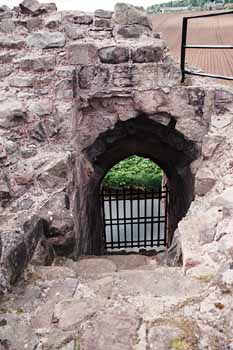 The postern gate of the castle, down to the River Tyne
Hailes
[ 1 ] 2 3

---

Lothians
River Tyne
1 &frac12 miles west and south of East Linton
Historic Scotland


---

l i n k s


---