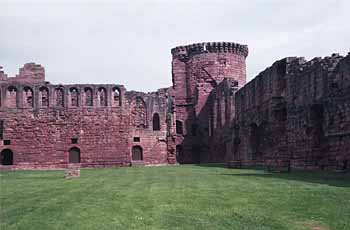 A view of the tower from within the bailey of the castle

The site of Bothwell castle was originally held by the Olifards and in 1242 it passed to the Moravia family. The great tower of Bothwell Castle was first erected in the 1270s by the Moravia family (later the Moray family), who also owned Duffus Castle and Skelbo Castle, among others. Bothwell is one of the largest castles in Scotland.
The castle stands on a rock cliff on the south bank of the Clyde, with the red sandstone of its walls quarried nearby. The tower (donjon) is 65' in diameter and rose to at least 80' tall when complete. The walls of the castle are up to 15' thick. It had been misting a bit the day we visited, the clouds are a vivid lavender, and the walls are dark with rain.
The castle fell into English hands after the deposition of John Balliol in 1296. In 1297, the Scots attacked and retook the castle after a 14-month siege. But, in 1301 Edward I recaptured it. Changing hands again, Bothwell reverted to Scottish control after Bannockburn in 1314, and may have been dismantled under Bruce's policy to keep the English from using its coveted defensive position. Many castles in Scotland are ruined, or 'slighted', because of this policy. Bothwell has a long and interesting history of being destroyed and rebuilt.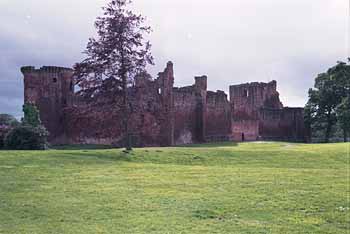 Impressive view of Bothwell from the front, showing the breach in the main wall
Restored again, Bothwell Castle was captured by Edward III in 1331 to be used as a headquarters for his forays into Scotland. Restoration work was done to the main tower, and a hall was built on the eastern side of the curtain wall, but it is possible that the work was not completed. In 1337, Sir Andrew de Moravia once again dismantled the castle. In 1362, it was acquired by Archibald the Grim, 3rd Earl of Douglas, and once again restored and rebuilt. After the Black Douglases were forfeited in 1455, the castle was given to the Crichtons (see Crichton Castle); after the forfeiture of the Crichtons, it passed to Sir John Ramsay of Balmain, then to Patrick Hepburn, Lord Hailes, who later traded it for Hermitage Castle in 1492.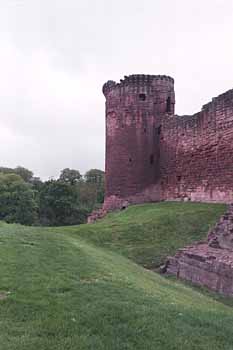 The Donjon tower and crumbling walls, looking out over the clifftop
In the 17th century, Archibald Douglas, 1st Earl of Forfar, built a huge mansion near the castle (it was completely demolished in 1926) that used much of the stone from the castle walls and keep. In 1935 Bothwell Castle was passed into the care of the the state.
Bothwell
[ 1 ] 2 3 4


---

Uddingston
Strathclyde
3 miles NW of Hamilton
West of B7071
½ miles south of Uddingston
Historic Scotland


---

l i n k s


---

Heritage Castles
Edu-web