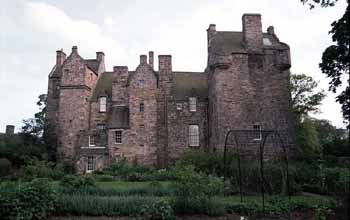 Kellie Castle is a large series of towers and halls

An earlier castle on this site belonged to the Siwards, but the present castle was built by the Oliphants, who held the land from 1360 to 1613, when the 5th Lord Oliphant had to sell the property.
By the late 15c, there was the original tower and barmkin on the site, which has since been replaced by the amazing walled gardens. The L-plan tower now forming the east end of the castle is dated 1573, and bears the initials of Margaret Hay and Laurence, the 4th earl. The stone may be reset, but it is likely that the tower was built then for Margaret as a jointure-house.
These upper works on the towers probably date from 1603-6, when the new main block was built and the older 15th century tower was heightened by a new top story with round bartizans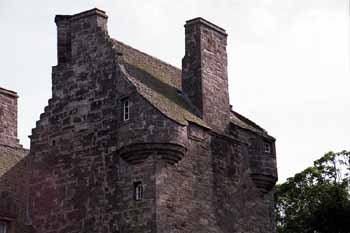 The bartizan roofs are mostly gone, roofed over by the main tower roof
The 5th lord Oliphant succumbed to financial difficulties and in 1617 sold Kellie to Thomas Erskine. The hall and dining room windows were enlargee just before 1661. Kellie passed to the 9th earl of Mar in 1829, but was mostly used as a farmhouse.
Kellie was abandoned in 1829, but by 1878 James Lorimer leased Kellie as a nearly roofless ruin and proceeded to restore it. Robert Lorimer, his son and a well-known architect, spent most of his childhood here. In 1970, Kellie came into the hands of the NTS.
Kellie may be one of the finest castles in Scotland. A very large E-plan, it consists of a three story main block with three large square towers that form the arms of the E. The towers are five stories, and two have bartizans.Two smaller stair towers project from the side of the main block.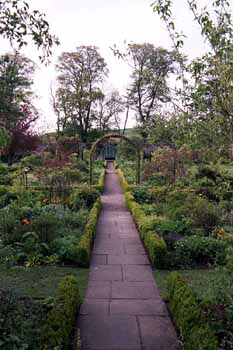 The gardens at Kellie castle are phenomenamal, including formal gardnes, knotwork, and orchards
Kellie
[ 1 ] 2

---

Kellie
Fife
4 miles northeast of Elie
North of B7191
East of Newton of Balcormo
National Trust for Scotland


---

l i n k s


---