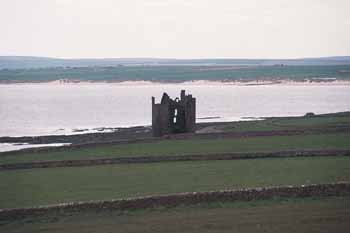 Kiess castle, from quite far away, since Mark wouldn't hike over!

Keiss is a very ruined 16th century Z-plan tower. The tiny tower was the property of the Sinclairs, who recovered the Earldom of Caithness from the Cambells in 1681. This tower on the cliff was abandoned in 1775 for the new Keiss Castle.
It stands in the grounds of the new castle, and there didn't appear to be any clear access to the tower. This was one of the towers that I was really interested in seeing. The castle is actively collapsing into the sea, and one of the towers has fallen off the cliff. The ruin is very dangerous.
The castle consists of a central rectangular tower with round towers on opposite corners. The walls are not very thick.
---

Keiss
7 miles north of Wick
East of A9
East of Keiss Castle


---

l i n k s


---