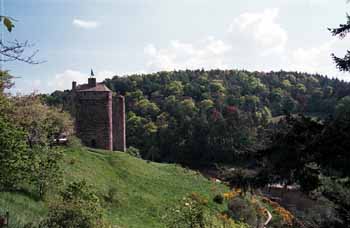 Niedpath sits on a bluff overlooking the Tweed River

Neidpath Castle originally belonged to the Hays of Yester. Probably built for Sir William de Haya, Sheriff of Peebles, who died in 1390. The 3rd Earl succeeded as the 4th Duke of Queensberry, and let Neidpath to tenants. It was sold to the Duke of Queensberry in 1686 and given to his son, the Earl of March. The new owners added gardens and trees to the estate. An earlier castle here belonged to Sir Simon Fraser. It passed by marriage to the Hays in 1312, who built the existing castle. Neidpath was known as Jedderfield until the 16th century.
However, the Hays were royalists, and Neidpath has the notable honor of withstanding Cromwell's attacks longer than any other fortification south of the Forth. Cannon finally damaged the castle, and it was surrendered. It was partially repaired and sold to the Douglas Duke of Queensberry in 1686. The Duke allowed the estate to fall into ruin by cutting down the ornamental trees and allowing the gardens to be overgrown. It was neglected, and the upper part of the wing of the tower collapsed by 1790. When the earl died in 1810, the castle passed to the Earls of Wemyss, the current owners. Only the tower main block and rebuilt south range remained roofed.

The tower and remaining outbuildings, from the riverbank
Sir Walter Scott and William Wordsworth visited the castle in 1803. More recently, it has been used in the filming of movies such as The Bruce, Merlin, and filming Joan of Arc.
Basically a 14th century tower house adapted to 17th century usage, Neidpath is a tradition l-plan house, and privately owned. It is unusual in that the tower is not actually square, but each wing is a parallelogram, with rounded corners. It is built with a peculiar hard mortar not usually seen in scottish castles, and is presumed to be of Norman construction, like the tower of london. It is so hard that a staircase was dug out in the exterior wall in the 17th century without damaging the structure.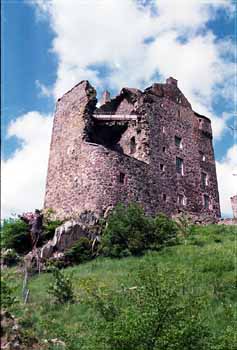 The crumbling corner of the castle, long since roofed over
Neidpath
[ 1 ] 2 3

---

Neidpath
Borders
1 mile west of Peebles
On A72
North of River Tweed


---

l i n k s


---