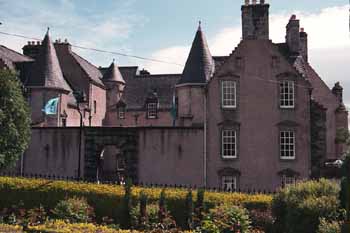 The block long, salmon-colored facade of Argyll's Ludging on the Castle Wynd
Argyll's Lodging is a well-preserved town mansion built in 1632 by Sir William Alexander, who later went on to found Novia Scotia. When Sir Alexander died, the house was passed to the Argyll family, who continued to add on to the sprawling building. It really is this rather odd salmon color on the outside. It's rather startling, especially when you look up the hill towards Stirling Castle and see the same pinkish-orange hue (is it puce?) on the Great Hall.

The house was added to in 1666, when it was bought by Archibald Argyll. It has been used as a military hospital and as a very luxurious youth hostel, prior to being restored and handed to Historic Scotland, who have done a wonderful job of creating an historic museum. The house was reopened in February of 1997 after the interior was finally completed.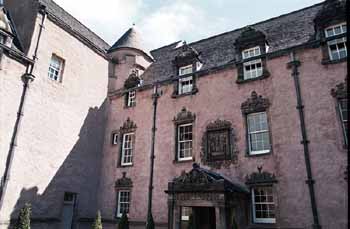 The inner courtyard, with the elaborately decorated windows and doorways
Furnishings and materials in the house are meticulous reproductions of how the house would have looked in the 17th century, and are based on an inventory of the house from that period. The main hall has been finished with beautiful trompe l'oeil wall columns, the original painting is protected behind canvas, but can be seen on one wall, on the cabinet doors.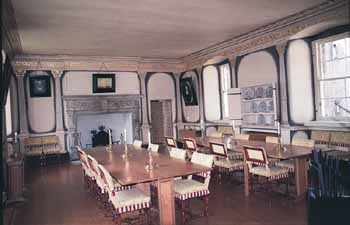 The walls are actually trompe l'eoil columns, in this grand dining hall