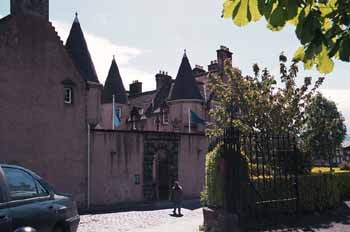 From the Stirling Cemetary, the conical towers of the house are easily seen
For just a moment, as we crossed the cobbled road from the cemetary, this building looked like something out of a Disney set-design. The conical towers, which actually do fly pennants on occassion, and the odd color, certainly add to the image. We were suprised to find a luxurious and well-appointed house tucked in behind the facade.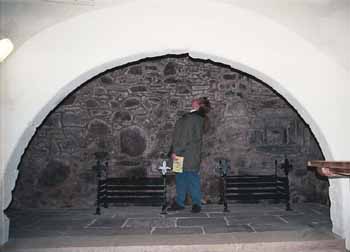 Standing in the enormous kitchen fireplace
I have a strange and irresistable urge to stand in the huge fireplace. I can't imagine actually having a fire in one of these monstrous hearths--the heat would be enough to drive people out of the room! A later visit to Linlithgow Palace revealed two enormous kitches with fireplaces like these. And, the house was boasting all the latest in interior accoutrements: indoor bathrooms. Still just a chamber pot in a nice box, but a bit more comfortable.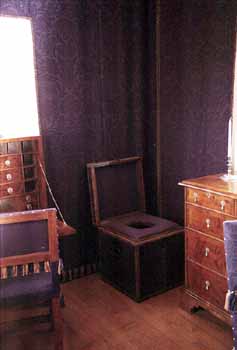 A small, padded, purple loo. Indoor plumbing for Lady Argyll