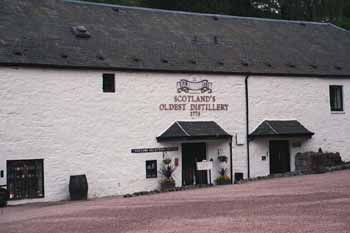 The main building of the Glenturret Distillery
Glenturret is the oldest distillery in Scotland, established in 1775 and still using traditional methods to produce and bottle single malt scotch.
We were too late to take the tour -- although we peered into the huge buildings -- but we did get to see the audio-visual display, a video called 'The water of Life' and walk through the museum portion of the distillery. There is a very good restaurant here, and we did a quick taste test of some 12 year old Scotch.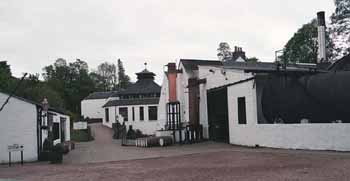 The entire complex of the Glenturret Distillery, including storage and restaurant
The distillery cat was quite famous, reputedly catching something like 63,000 mice in her reign here. Many of the items in the gift shop have her picture on them. I think that the current cat is doing quite well.
---

l o c a t i o n

---

The Hosh, Crieff
Perthshire
Off the A85
1 ¼ mile south of Crieff
On A85


---

o t h e r l i n k s

---