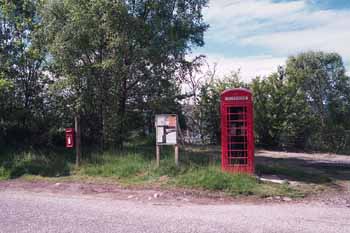 What appears to be the town of Inverfairigaig, on the east side of Loch Ness

Ok, it's a strange picture, but as far as we could tell, this was the entire town of Inverfairigaig. A postbox, a phonebox, and a bulletin board. There wasn't anything for miles in any direction. Trust me. We tried!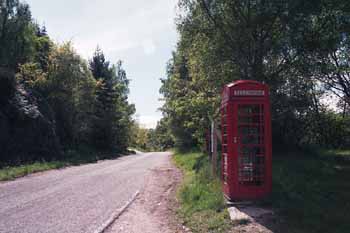 Looking back down General Wade's road from the Inverfairigaig postbox
After stopping at Urquhart Castle on the far shore of Loch Ness, we drove all the way around the bottom of the Loch and then up the eastern side of the Loch on the old military road built by General Wade. We ran across this tiny outpost of civilization along the way, and mailed all our postcards.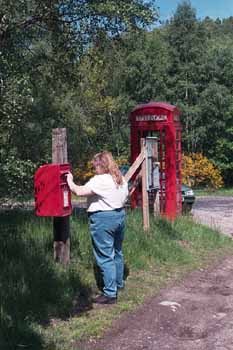 Mailing our postcards from the lonely postbox at Inverfairigaig
---

l o c a t i o n

---

South of Inverness
On the East side of Loch Ness
Off General Wade's Road


---

o t h e r l i n k s

---