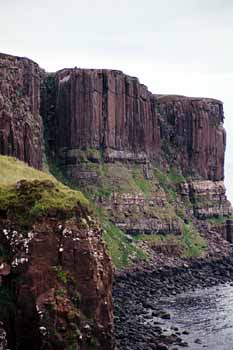 Kilt Rock (and tiny little climbers) on the Isle of Skye

Named because of it's appearance, which really does look like a carefully pleated kilt, this rock formation on the Isle of Skye was quite popular the day we stopped, even if it was raining a bit. There are those who say that Skye is the most beautiful part of Scotland, and I'm inclined to agree with them -- it is breathtakingly gorgeous. The mist was coming in from the sea, and rolling over the mountains in all directions.
You can't really see it well in the picture above, but the tiny little splotch on the top of Kilt Rock is really two climbers.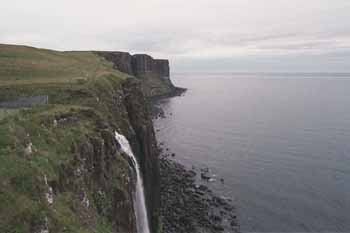 A small waterfall into the sea, with Kilt Rock in the background, Skye
---

l o c a t i o n

---

Isle of Skye
Trotternish Peninsula
Off A855
17 mi north of Portree


---

o t h e r l i n k s

---