Temple of Kalabsha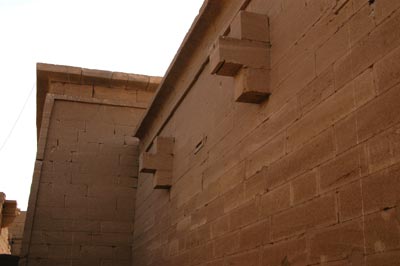 brackets on the outside of the temple. Water spouts? For walkways?
The hypostyle hall is roofless (one of the only complete temples is Dendara, by the way) and the columns have ornate capitals. The walls are decorated with the same type of symbolic images -- the king offering to the gods, the king being crowned by the gods, the king smiting his enemies -- that are in nearly every temple. AFter a while, it's easy to see the "standard" images.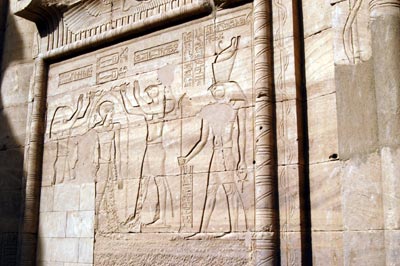 the gods blessing the pharaoh
Beyond the hall lies a series of vestibules and the sanctuary. The images here contain figures that personify the nomes of Egypt, and an image of the deified architect Imhotep (on the left--hand wall of the inner room. The statues that would have graced the sanctuary are gone. They were probably destroyed by the early Christians who used this temple as a church.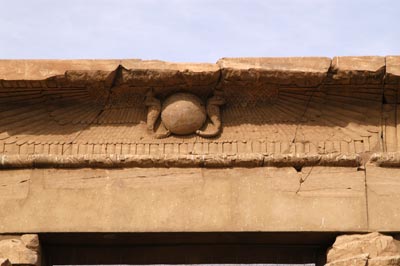 cobras and the sun disk protecting the huge entrance
There are two other monuments on the small island, The Kiosk of Qertassi and the small temple of Beit el-Wali -- neither of which have any real relationship to the larger temple here.