May 20
When we arrived last night, there were seven or eight cars at the B&B that we all slotted in like jigsaw pieces to fit into the tiny private parking area in front of the house. Since we were quite late, I think we were the last car in place, and we just barely squeezed into the end of the driveway, blocking in four other cars to the side and a row of them ahead of us. I had to get out before Mark pulled the car into the driveway, or I'd never have been able to get the door open.
Not so bad, actually, since we're early birds and will be out of the way before most of the other guests want to get into their cars. And surprisingly, even though we were all squished in with only inches to spare, no one got dinged or banged at all as we all maneuvered our way out.
Fresh strawberries for breakfast, too. The day is starting out pretty well!
More Scotch for breakfast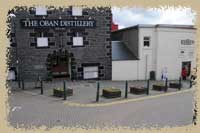 Mark wanted to visit the Oban Distillery, so we parked up near the distillery and wandered around town to kill a bit of time before the tours started. Found a bookstore (which I can do in just about any foreign city you drop me in) and poked about some other shops. The tour at Oban was actually very interesting , despite me being a bit blasé about our fourth tour. Oban is a very small distillery wedged into a warehouse on the main street -- it really can't grow any bigger and remain on the same site, so they're really condensed their production line. They have a few quirks in their process, too --they ferment their wort for four days, not just two; they use only 'refill' casks --that is, they only use bourbon casks that have already been used once by another distillery, never new casks or second fill. As a result, their whiskey is quite pale, because the casks are almost "out"; it's a delicate flavor, nothing really smoky or peaty, like some of the other distilleries. They age everything 14 years minimum before bottling. Compared to some of the large-scale commercial-sized distilleries (Glenlivet, Macallan, etc), they are barely noticeable, but the whisky they produce is lovely stuff that ranks up there with the big ones.
We got to taste a cask-strength dram in the bottling shed - a single cask that they tapped and let everyone taste, just to see how tings are different. It's only 13 years old, and for a moment, we wondered why they'd open one of the precious casks (since they really don't produce that many) for tours, and if there was something 'off' about it We think it may not have had the right flavors. Remember that single-malt means that they whisky all comes from the same distillery, not that it comes from a single cask. A lot of distilleries are doing single-cask or cask-strength bottlings,as novelties - these are higher alcohol and are often not as subtle and balanced as the normal blended casks they would bottle for their 'regular' expression. One of the reasons they do blend casks together is to mediate the highs and lows of an individual cask- one might be too harsh, another too sweet, that sort of thing.
We bought a bottle of 21-year old in the shop before we left. Yum.
Everybody loves dogs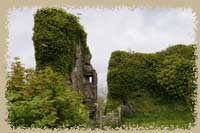 Only a mile outside of town, Dunollie Castle sits on a rock outcrop. We parked the car as far over to the side of the road as we could and climbed up. You can't really see the castle from the road - only a hint of the tower, and only if you new where to look. It's a steep climb - and with the recent rains, it's a bit muddy, but easy enough. The castle at the top is reduced to a small tower (covered in ivy) and the remain of a curtain wall that would have enclosed the whole cliff top, I think. We met an English couple at the top, they were traveling around Scotland bird watching. They were very nice in that sort of brisk English way (so different from the Scots, if you ask me -- the people in Scotland are warm and likely to invite you to join them in a pub. The English seem s a bit more reserved; friendly, but not as effusively so. We Americans tend to assume a closer or more intimate tone with strangers (especially 'fellow travelers') that might put them off a bit I guess.Definitley not their style. Still, they were quite friendly and the fact that we moshed all over their very sweet yellow Lab gave us a few extra brownie points.
A lot of people here travel with their dogs. We see them all over -- rarely with leashes -- walking in town, out in the fields, hiking around with people. It's nice, really. We are definitely "dog people", and it's always fun to meet people and their dogs when we travel. In general, I think the Scots/Brits are even more enamored of their dogs than we are in the US. Everyone has dogs -- many are working dogs, herding dogs, others are just house pets. Lots of border collies and lots of labs. Most are sans leash (and remarkably well behaved) and we see dozens of people every day out walking their dogs. Even the most dour and unfriendly person opens up almost immediately if you express interest in their dogs -- or, even better, scrunch down and make a fool of yourself over a cute puppy. (of course, as always, ask first and don't approach strange dogs without their owner's permission). We've met some of the nicest people when we said hello and commented on how beautiful/well-behaved/sweet their dogs are. We're all suckers when you compliment our kids, eh?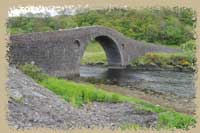 We drove off aimlessly today, down along the coast and found the Cranach Bridge - apparently quite a famous single-arch bridge which we knew absolutely nothing about. It is actually billed as the 'Bridge across the Atlantic" -- despite the fact that the bridge spans a tiny trickle of water, perhaps 10" deep, between the mainland and Seil Island The stone bridge is a bit overkill - I think even on a bad day, fording the water wouldn't be too hard! The fun thing about the bridge, though, is that it is just humped enough that you can't see oncoming traffic very well, and it Is barely wide enough for two cars to squeeze by, if they are narrow. Whee!
Since we made it this far, we decided to drive the length of Seil Island (all five miles or so) to see if we can find Cruan Castle. No go. Not a sign of it and the one-track road we were on ended abruptly in the line for the ferry! We turned around and hightailed it back to the mainland. It's been drizzling today and we're both a wee bit crabby (it is the middle of the third week - our normal period for starting to hate each other on vacation).
We actually travel very well together - we have compatible styles, we like each other's company, we are pretty sensitive to the other person's mood. I can't imagine traveling for any period of time with anyone else, but Mark and I do well together. As long as I remember that he needs to eat every few hours (like a hobbit, my husband!) and he remembers that I am inordinately fascinated by the "out of the way" stuff. We often spend too much time in the car going thither and yon, but we also spend a lot of that time laughing, so it's a good tradeoff. We try to make up for the 'tied-to-the-car' vibe by hanging out at night and working very hard to stop and smell the roses. It does no good for me to criticize the tour bus travelers if we end up doing the same thing, just in our own pod. Mostly, we love the car because we CAN go off the beaten path and see things that normally wouldn't be on the list. I get a thrill when I snap a picture of a castle that no one else has gotten pictures of. Even more if even Mike Salter doesn't have a picture! (By the way, there is a guy in Scotland who has set out to take pictures of every single castle in Scotland -- I'm not even close, but that's the sort of thing I could totally do!
The GPS is not always the problem...sometimes the roads are
Around lunch time, we saw a sign for the arc-something gardens and café, and pulled in intending to grab something for lunch. The fact that as we decided to do this, the skies opened in a true downpour was, we figured, a sign. It was raining so hard we had to sit in the car for a bit before even trying to go inside. Finally, Mark was hungry enough to risk a complete soaking and we dashed inside the Chart Room restaurant - I had a bowl of soup and a sandwich, Mark had a very tasty steak and ale pie and we just steamed companionably with the half-dozen other people who had taken refuge from the rain. By the time we dried out and were ready to keep going, it had stopped raining. Ah-hah!
A few times when we've tried to find a specific site, we have approached from the wrong direction and just can't see how to get there -- in some cases, it's been incredibly frustrating, since we can SEE the castle that we want to get to, but we can't figure out how to get there on the roads. The maps are pretty detailed, but a lot of the sites aren't on improved roads, which may not show up. At least once, we've ended up on the wrong side of a stream or ravine from the site, without any clue how to get to the other side! So, when we drove down the road that we THOUGHT would lead to Carnasserie castle and came up against a gate and an abandoned stretch of road, we just had to laugh.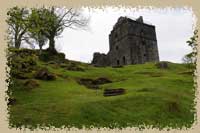 Thinking that perhaps we could walk through, we climbed the gate. The road was indeed abandoned, although we can't figure out why -- it's paved (although grown over now) and seems to connect two rather main roads. Did someone just petition to get rid of the traffic? There's a gate on either end and the road is obviously closed…we kept wondering if we had missed a sign somewhere that this was an artillery range, or they were testing bombs or something. When Carnasserie was not on the other end of the road, we trudged back, reset the satnav, and tried again.
It was just a matter of coming from the other direction - turn around entirely, and the little gps got us right to the parking lot.
It's a bit of a hike up to the site, along a nice, wide farm road from the parking lot. The sun is out and the breeze is cool - the day turned out quite lovely. A bit muddy, if we weren't careful. Carnasserie is a large tower, on the top of a tall hill (requiring a bit of a hike to the top). About half-way up, my calves seized in one of those charley horses that makes you think your toes will snap off. Ouch Ouch Ouch! I'm sure sitting for an hour and a half on a tall barstool and letting my feet dangle (the perils of being short) was the culprit. Then walking up a slight incline for half a mile…I spent quite a bit of time sitting on the bench trying to stretch out my legs enough to get my toes to unkink.
A fellow traveler joined me for a moment -- after making sure that I wasn't in any sort of immediate distress, I must have looked quite pained--and sat with me for a bit while I wiggled my toes. She'd been traveling around by herself, doing much the same thing that we had been: stopping in at things that sounded interesting , without much of a plan or itinerary. She had two weeks to wander about and she was just walking, shopping, eating wherever she ended up. We compared notes on travel styles, the highlights of our trip so far. I think based on our conversation, she decided to go to Oban and then on to Mull (where she had never visited before). I gave her the name of the B&B we stayed in in Oban.
I think we're controlling the weather
We are laughing about our luck today - every time we get IN the car, it pours rain. Every time we get OUT of the car, it stops. Perhaps one of us is a weather god. We used to think that the weatherman in Minneapolis (Paul Douglas) was a certified Weather God -- whatever he said, happened. Most meteorologists freely admit that this is all guesswork, really. Educated guesses, but guesswork nonetheless. And they are wrong a lot of the time. Not []. If he said rain. It rained. If he said 83 degrees, it hit 83 degrees. Not 82, not 84. It was eerie.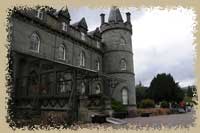 It's been a slow day, and we decided to stay in Inverary tonight for dinner. It was still a bit early to show up at the B&B, so we drove into town to see Inverary Castle first. We conferred a bit in the car and decided that we really didn't need to go inside -- antique overload -- so we walked a bit on the grounds and took pictures of this very castle-looking castle. Four corner towers, conical roofs, all very perfect and oh-so-formal. There's a real castle in there somewhere, I know, but the building is more of a turn-of-the-century mansion house than anything actually medieval, despite the trappings of a castle.
Ah-hah -- actually I'm wrong. A bit more walking around reveals that there are markers in the field across from the main courtyard that show the location of the original Argyll fortress -- the current mansion is entirely new and doesn't incorporate any of the earlier stone tower. Foiled!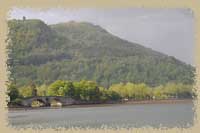 The harbor in Inverary is small, and the sun came out perfectly to take pictures of the boats moored there. The ARCTIC PENGUIN is tied up - a research ship, I think, and now being used as a maritime museum. It's not open, and Mark is far more excited about the rigging and the ship itself than the contents.
And sometimes, it really IS the gps' fault
When it finally came time to get to the B&B, we set the address in the gps and had just about the funniest "bad GPS direction" experience of the trip. It was definitely the Adventure Route -- we have two options, as I've said -- quickest or shortest. Shortest usually is the adventure track, but this time it was the quickest route that had us going through a farmer's field, into a tiny, rutted road through the small patch of woods, to a heavily-rutted, mud track around another field, through a farm-yard, on a dirt road, and finally to the back side of the B&B that we had chosen.
About half way through, it was getting pretty hairy (a sedan is not meant to traverse a mudhole) but when I suggested that we bail, Mark started laughing maniacally and pointed out that it would mean BACKING OUT of the road we had just nearly gotten stuck on. I just braced myself and hoped we didn't tear anything off the car.
We did get there, of course. But it took 45 minutes and put the shocks to the test. Had we simply ignored the GPS and turned onto the main road of Inverary from the harbor, it would have been approximately two miles, on main roads, and one right hand turn to get to the same parking lot. Instead, we listened to the GPS, turned left out behind the shops and into the alley. We should have known. I was figuring we'd have to get out and dig the car out of the mud at least once. We have learned o trust the GPS in most cases - within a 100 meters or so, we've been pretty lucky. It's wrong on the left/riight side of the road more than half the time, though. Uncanny.
Once again, the B&B is in a dense residential area, which is always a bit of a surprise. This is a row house, in a middling development, lots of little two-story bungalow-type houses. But the room is large, comfortable, and absolutely charming. The floors squeak a lot, though - everyone in the house can hear it when we go anywhere. Our host suggested walking back into town to the George Hotel for dinner, and we set off along the beach back into town. It' s a nice walk, past old hotels and restored town houses, and crossing into the main town. The George is an old coaching inn and has an award-winning pub restaurant (a gastro-pub, according to the awards) and we had what might be the best meal we've had so far. (Hey, they just keep getting better!).
The pub is a huge, sprawling set of rooms on the first floor of the hotel, all dark wood and dim lighting, with tables and booths of varying styles and sizes, a hundred different chairs, and various snugs tucked around the sides. It's a cozy, eclectic place, and the food is stunning. We started with oat-crusted Brie bites and a couple of Tennent's lagers, before Mark had mustard-crusted lamb chops with duchesse potatoes and I had chicken stuffed with Old Mull Cheddar, wrapped in bacon with a morel mushroom and whisky sauce. I was nearly licking the plate to get the last of it. We don't' usually have dessert, but the lemon tart with strawberries and ice cream was too much to resist. The pub has many awards from the Taste of Scotland, Michelin, the Slow Food movement. Kind of a surprise in such a small town, but absolutely recommended. We just lazed about, enjoying the ambiance, until we got too tired and had to go back to the B&B.
Mark was asleep instantly. I, faithful reader, stayed up to write the notes for this travelogue. I am committed (Or "should be", as Mark commented later)