May 21
We weren't the only guests at the B&B last night, and I rather sheepishly apologized to the other resident at breakfast for the excessive floor creaking as I kept getting up to go to the bathroom. I can't drink beer. Goes right through me. He was a nice guy - a civil engineer, on a nine-day trip around the Western Isles. We spend way too much time at breakfast talking to him - he was heading up the coast for the day, and was looking forward to hiking around some of the smaller islands.
We've only been to Skye and Mull, as far as the Western Isles go -- although I would love to spend more time on the western coast. It's probably the most beautiful part of Scotland (well, in my opinion) and it would be easy to spend weeks just going from island to island and driving along the cirrulated coast. I loved Skye when we visited on our last trip - it's almost like another place altogether. The weather is mild, it's almost tropical, and the cliffs and beaches are second to none. And, as you may have guessed, we loved Mull.
Off into the world today, to see castles along the coast of Ayrshire. We didn't spend much time in Ayrshire last time, and it's quite different than the more northerly parts of the coast. More, larger towns, and everything is clustered right along the coast. We decided to see Carrick Castle first, on the shore of loch Goil..
Descending Hell's Glen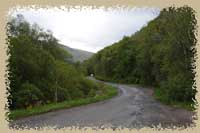 The primary road down the peninsula does through Hells Glen -- named for the very, very steep grade (20%) in the valley down to the bottom of the deep glen, lined with oak trees and filled with lots of ess curves. It can be quite exhilarating in a car--when it was named, the route was down by horse and carriage twice a day (17th century). I can't quite imagine how, actually, especially in inclement weather. The road slithers down one side and then follows the floor of the glen for a while before swooping back out the other end, and back up about 700 feet. Doesn't sound like much (we're used to driving in the mountains of Colorado), but the single-track road and corkscrew turns are kind of run. And it's incredibly, almost violently green.
At the halfway point, at the bottom of the glen, is a strange well. Called the Moses Well by the locals, it's a water spout that seemingly comes out of a rock. There is no water aboveground anywhere near, and the rock is just a jutting slab of something sticking out of the ground. It's not cracked or broken, and yet water comes out of the top of the rock (which has a decorative lion's head now) in a steady stream. The notes by the well say that it is not "man made" - that is, no one drilled down into the rock. We didn't drink any of it, but I've been told that it's ok to drink and has been pouring from the rock for years. I can't find any reference to show if it was seeping out from the rock back in the 17th century, but it's quite possible.
You're looking for WHAT? Why?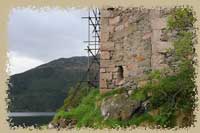 We finally found Carrick Castle at the end of a very long, very narrow road along the loch side. Lots of 'summer homes" here, and summer rental cottages (read: mobile home parks), but the views are stunning and the castle is pretty cool. It's currently being repointed (so more scaffolding). It's position here at the end of the loch is quite dramatic. There were a couple of guys fishing off the short pier near the castle. When I asked if they had any luck, they both startled, and replied, "not a bite". But, don't fish like the rain? One of the chuckled, "yeah, but WE don't!". They seemed a bit taken aback that we were there to see the castle ruin. It was just a derelict tower. It just ..was. NO one really notices it much any more and certainly not many tourists come down all the way to the end of the loch to see it.
We're often faced with that sort of bemusement from the locals when we show up, camera in hand, to track down some derelict castle ruin somewhere. The piles of rocks--towers and castles and walls--are so ubiquitous here that they honestly don't seem to be much noticed. Unless they've been completely restored ,or are in the care of Historic Scotland (and thus large and well-known), the towers are just there. Used as storage, incorporated into a newer house, standing empty in the middle of a field - they are everywhere. Some people can't quite understand our fascination (ok, MY fascination) with the older, crumbling ruins, even if they can understand why I'd like to walk through the showpieces with all the antiques and the historic art. I like those, too, but it's the crumbling ones that are so evocative for me. I often wish I could draw or paint to capture the feel of places (and not juts the images). But, most people react with puzzlement, then with enthusiasm as I ask them for details. IN a few cases, we've even been lucky enough to meet the owners of some of the castles.
Back in the car -- and back up the same road we drove down on -- and we had a long conversation about British Royalty and how we, as Americans, just don't get it. We really don't. I can't imagine having my life a) set out before me in specific steps, with specific actions expected and b) living that live under the microscope. You can't be normal, you can't relax for a moment, because you are constantly being watched. There are so many expectations - men will go into the military, women will marry well and do charitable things, all that pomp and circumstance. I almost feel sorry for them. There have been murmurs for decades about abolishing the monarchy - they are much minimized in power from the line of kings from whom they have ascended from -- but there seems to be a deep-seated fondness for them in the UK. They're expensive, they often do embarrassing things, but that just seems to make them contrarily popular, in a "but they're OURS" sort of way, just like you can call your sister ugly, but no one else gets to.
ON the way back up the coast, we passed an overlook called Rest-and-be-Thankful. Seriously, it's on the map. The view was absolutely stunning and amazing and we wanted a few photos. We even got out the tripod and took some timed photos of us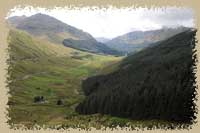 against the magnificent backdrop. Well, after we took a series of 20 or so photos on interval of me clowning around as we tried to find the setting to do "timer". Obviously, we should have read the manual on the camera a little better. We'd set the camera, dash out to both be n the picture, and then laugh at the off-kilter poses we did. Mark had a bit of fun with me and photographed me singing operatically about Adventure Giiirrrrrrrr-l, out in the wilderness! It was pretty funny, and since I'm the one who sorts the photos, they will never see the light of day. Hah.
We skirted Glasgow - although we did think we'd come close tough to have our one McDonalds lunch, but no go. We gave up to soon to avoid the endless connection of roundabouts, and had sandwiches again. On every trip, of course, we try to stop once at a McDonalds, just to see how that quintessential American export survives the local cuisine. We've had some interesting experiences - the burgers in Egypt were huge and sausage-y and there was table service, Ireland had a mcLamb and the sweetest ketchup we'd had. France has the Royale with Cheese and sells beer. We don't search out a McDonalds, by any means, and certainly avoid fast food most of the time, but it's a fun touch point. You'd think a burger and fries would be the same - given McDonald's penchant for standardization.
But, we ate our sandwiches, and of course, a few miles down the road was the Golden Arches. OH, well.
Castles along the Coast
Off on a trail of dots - Fairlie, Law, Portencross, Weymss, Kilburn, with a few misses today. First top, though, was the Historic Scotland site of Newark. You will notice immediately that there are dozens, perhaps hundreds of castles called 'newark' -- New Work, the new castle replacing the old one. Not the most original of names, but I suppose it's a good solution when most people did not travel far from their home town. You might know a couple of castle nearby, but probably only one 'new work'.
Newark is under repair, like many of the Historic Scotland sites. They are rebuilding part of the roof to repair leaks, and stabilizing the exterior. The castle is tucked in a little office park, right off the main road and on the water. It would have overseen the main port here (Port Glasgow) when it was built, but now is just a small afterthought. The castle was inhabited until fairly recently by a variety of tenants, although costly still bare stone and unheated spaces. There's plumbing, though, and one of the rooms still has the original bedroom paneling in it - oak panels and cupboards lining the walls dating from the 15th century. That's a new detail we haven't' seen before. Usually any wooden bits in a castle are long gone by the time we see them. The caretaker here keeps popping up and scaring the crap out of us - we'll be poking down some back corridor and suddenly he's there, all chirpy and full of info. It was kind of funny. He knows all the back passages, I'm sure, and it is his job to keep track of us, but it felt a little like stalking!
Castle Leven (not Loch Leven) is tucked away in a suburban development and is currently being used as a B&B. We snuck around behind for a couple of photos, but we didn't bother anyone. I balked at walking down the pathway to the door.
Another castle we saw only from afar (well, we TRIED to get closer, but this was one of those "it must be on a different road" situations. We think it was Inverkip, and it is an entirely remodeled and baronial style mansion with the stubby bit of a medieval tower at the end. Mark did finally find the actual road to the castle and we drove up to snap a picture from the back. I think it's being used as a school, and from what we can see, very little of the original fabric of the building remains. Lots of big windows and brickwork.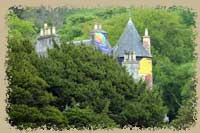 We took a wrong turn -- blame the GPS! It told us to! -- and ended up driving all the way around the entire demesne for Kilburn, walled with 10' of brick on all sides. We kept seeing "back gates", but they were chained up and signs warned us not to trespass, so we handed back into the town and followed the actual signs an not the GPS. Upon entry, we realized that Kilchurn was a "family center" that was even more cheery and Disneyfied than Happy Brunrattyland in Ireland. Kid's activities, a secrete garden, a magic fairy forest…and, the piece d' resistance, someone has PAINTED THE CASTLE like a giant PlaySkool soldier, and the rest of the castle in bright primary colors. It looks as if they let graffiti artists loose on the place and it's…HIDEOUS. We read the signs for the play park and magic forest and couldn't get out of there fast enough. Talking to someone later, they explained that the castle is painted in a n attempt to gain attention and funding for restoration work, and that the Happy Kilchurn Playland was actually a great place to take kids. Takes all kinds, I guess.
We hiked up to Fairlie Castle - a teeny little tower house a mile or so from the main road, and poked around a bit and ran into a ex-IBM engineer with three "loaner dogs", and stopped to talk a bit. He at first tried to warn the dogs away, but as soon as we said we were dog people, he warmed right up to us and we stood talking for a long while. - he was walking them for a neighbor. Really nice guy, and we chatted for a bit while we threw balls for the dogs and chased them off from hunting pheasant. We failed, and they not only flushed a pheasant along the wall, but ate all the pheasant eggs before we could retrieve them. Ick. The three dogs (labs- one black and two chocolate) were a hoot - chasing balls and sticks and hunting pheasant all along the alleyway. We got slobbered on and jumped on and it was quite a nice visit. I miss our dogs now. Sweet dogs, though. The Engineer had traveled all over the world, but had returned home when he retired - said he hadn't found any place he liked better. I'm inclined to agree. I want to return here. (Scotland, not specifically Fairlie, I guess!)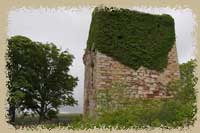 We're down to the last packet of chocolate chip cookies form Mark's and Spencer. We've been rationing them a bit, not knowing when we'll see another M&S to dart into. We were driving along and Mark took a cookie from the bag and ate it. All I saw out of the corner of my eye was that he popped the whole cookie in his mouth. "Seriously? Did you just put that whole cookie in your mouth?"
He nodded, chewing, and mumbled a crumb-filled, "uh-huh…"
'Are you a grouper?" At which point he sprayed cookie crumbs all over the dash. I'm probably lucky he didn't choke!
Where I want to live...
I was looking t our pictures of Portencross Castle from the last trip - it was blustery and raining, and the small tower stood on a flat outcropping of rock looking as if it might succumb to the sea at any moment. I didn't remember the houses lining the road up to he castle at all (on both sides). We parked at the local beach and walked along the coast to the castle, which is--you guessed it--entirely encased in scaffolding. New rood, new pointing, and, I think, new windows. We couldn't get close enough to see what they were doing. I don't thin kit's in private hands, so it's not being re-done as a house, but the local society for its preservation are trying to make sure it stays standing.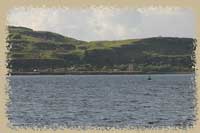 From here you can see the island of Wee Cumbrae -- which was recently for sale. I want to live there. An entire island! For sale! We'll need a lot more money, of course. It was bought by a resort company, but it's the second sale of that type in ten years - they can never get building/planning permission from the historic society and local governments to do what they want to - nearly every building already on the island is a listed, grade-A building and can't be mucked with. I figure it will be on the market again in a couple of years when they can't get building permission to put up a huge hotel and add docks and piers and electricity and all that. I have hope! I'll need to recruit more people willing to live on an island with generator-driven power, boat-only access, and a 14th century mansion and 17th century manor house, all needing lots of repair. And a lighthouse…..sigh. I can dream.
We walked along the waterfront for a while, and I stopped to talk a local man out walking his dog. He was rather gruff to start off, but warmed up a lot when I started asking about his dog and the island and the castle. He dislikes "tourists" and all the foofaraw ("it's all haggis and heather and bagpipes and total rot!" but seemed happy enough to talk to me about the wind and the weather in his little corner of the world. He pointed out the different islands that we could see (Lewis, Cumbrae, Wee Cumbrae, among others) and laughed when we said we'd like to buy the island (if we only could afford it). Why? What would we do? When I explained that we'd just live on it, he told us that the previous resident used to drive off boats with a shotgun and never left the island.
While I talking, Mark walked out on the pier to get closer pictures. He mentioned later that his goal for the rest of the trip (perhaps for the rest of the years) was to do nothing as mind-numbingly stupid as walk out on the pier (that he had just walked out on). It was completely rotten and wobbled alarmingly when he walked on it, and things kept falling off the underside into the water. It didn't look any too solid form where I stood, but it didn't look all that bad. But he was quite shaken and a little twitchy from the adrenaline.
Pub food, Gastro-pubs, Slow food and Takeaway Vans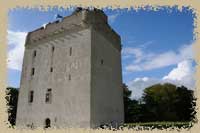 Our last stop before heading to the B&B was Law Castle, which is completely refurbished tower house in carefully manicured grounds. It looks like a home, but I didn't really seen any signs of someone living there. The harling is white, and the square tower has tiny little windows and a wall walk. Mark didn't even get out of the car, he figured that if I was going to get chased off someone's properly, he should be there as a getaway driver. I think he napped.
It took a few tries to find a B&B for tonight, so we sat in the car making phone calls and watching the clouds roll out over the water. We made half a dozen calls before we found a place, but it wasn't that hard. We found High Smithstone Farmhouse-- out in the middle of NOWHERE, really but with a huge bed, larger room, nice bathroom. Very comfortable. After a few nights on smaller beds, we appreciate the whole two-twins-to-a-king thing. We have actually stayed in a number of farmhouses this trip - one of the books we picked up (Farmhouse stay UK) has been invaluable. I really like them - most of the rooms are large and the breakfasts are uniformly fabulous - fresh eggs, fresh baked bread, local (or even homemade) sausages.
We drove into town to have dinner at the Dungarvan House hotel. (I should make a side note that our instructions to find the hotel included: drive out past the farm, turn right on the dirt road, take the first two jogs left and you'll drive right into it - don't mind the cows or the corn field, if that wasn't there, you could see the hotel from here…") Other than a very short loop of Motown hits on the sound system, the dinner was lovely. I never realized that trout is a pink fish (Mark had trout for dinner. I usually avoid it because it's always so full of bones, no matter how well its prepared) and I have parma-ham wrapped chicken in cheese sauce. I sneer at anyone who says that th4 food in Scotland is "awful" or makes disparaging comments about the state of English cuisine. With the advent of the slow food movement, and the influx of a bunch of new, edgy chefs into the food scene, there is a lot more here than bangers and mash and fish and chips. The salmon here is phenomenal, as is the lamb (how could it not be, they're frolicking in nearly every single field) and Scottish beef. The style is sort of nouveau Scottish-French in most cases (with the chefs training in France), but we have had some absolutely wonderful meals here - each better than the last. Oh, we've had our share of soggy chips and the staple steak-and-ale pie (which I'm sure comes frozen everywhere) but meals have been a high point of the trip.
Pubs seem to have a "generic pub menu" of staples that I'm sure are mass-market frozen foods, or indifferently prepared staples -- fish and chips, steak-and-ale pie, chicken fingers, ham and cheese toasties, deep fried mushrooms, some roast beast-of-the-day. They're in every single pub, and we imagined with a laugh that there was some sort of generic Pub Food Delivery truck that stop at every single pub across the country and unload boxes of frozen fish and chips, steak pies, mushrooms, and pizza. Either that, or there's a generic food re-sequencer in every pub that pops out the same food for each one. Mind you, it's not bad food, just common.
If you want something other than the 'generic pub menu', opt for a larger hotel or an actual restaurant in town -- our host/ess at every place we stayed had good recommendations for food. Another time-honored tradition is find the takeaway place that has the line going out the door -- the locals know what's good and what's not. Sometimes the best fish-and-chips come from a grimy little chippy on the corner with a single counter and newspaper cones. But that's just common sense - eat where the locals do, not the tourists (if there are even any tourist sin the area) and you'll likely find some pretty good food!
Avoid the deep-fried pizza in Glasgow, though. And while you might want to dry a deep-fried Mars bar, they really aren't that fabulous.