May 30
Sigh. We have to check out of the Witchery today (and believe me, we did check for any last minute cancellations so we could stay another night). We got a chance to walk through The Semphill Suite as we left -- we will DEFNITELY stay there next time we're in Edinburgh. Maybe for a while week. Maybe we'll never go outside! It was lovely - a relaxing, decadent hideaway in the middle of everything. Oh, we paid for it - the rooms are, as expected, very expensive, but we're just going to ignore that and book them again next time we come to Edinburgh. Wow!
We packed up and dropped everything off at the car this morning, instead of leaving it with the hotel and having to hike back up here to retrieve it), but we left the car in the parking lot for the day. Up on the main level, a farmer's market was in full swing, so we walked up and down a bit looking for something tasty, but agreed that we probably couldn't smuggle bacon back into the States. Damn.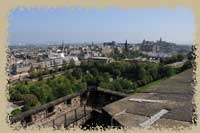 I decided that the two little helmets that I had bought before were not enough and they were still on sale, so I dragged Mark back to the armory and haggled for another three of them for forty pounds. Now I have a roman helmet, a sutton-hoo helmet, a pig face helmet, a Spanish helmet, and a medieval English helmet. Yes, I'm a bit weird.
Seeing more of Edinburgh- from behind the cones
I wanted to see the Museum of Scotland and the Royal Museum, so we pulled out the map and started walking -- noticing that they were setting up ropes and barriers and such all over town. We realized later that was for a race, one of several this weekend. I'm just bone-tired at this point -- I don't know how Mark was up walking for miles yesterday, but oy, he's got more stamina that I do. I think that once I DECIDE to relax and be "done", everything just stops. I just want to sit in a café and watch the world go by. Mark wants to see a bit more of Edinburgh, so for the moment, I'm trying valiantly to keep up.
The museum is great, by the way. Lots of Neolithic and Pictish remains, lot of Viking and roman stuff, church bits and military history stuff. We wandered through only a couple of the floors -- the place is HUGE -- and then decided we needed lunch. Too humid and too hot, which ads to the schlumping. I don't think most places here are air conditioned -- and today is another 80+ degree day, which is pretty close to Hellish in Scottish weather.
We went up to the roof terrace, which is a much-vaunted addition to the museum (although we can't figure out why they planed trees directly in front of the best views from the buildings) and then down to the Tower Restaurant. IT is owned/run by the same people who do the witchery, and has absolutely rave reviews. It's very avant-garde, all metal and sleek white and black tables and chairs. Absolutely nothing on the (rather pricey for lunch) menu really rang any of our bells, so we just had coffee and desert. Which was still spendy enough, and frankly, not that fabulous. We were both unimpressed with the food, the presentation and the glacially slow (even for Scottish standards) service. We have gotten used to 'slow food' here in Scotland, but this verged on ridiculous. I think they had decided that we were not going to tip well, since we had just ordered desert and they assumed we were put off by the prices, and ignored us. Or maybe it was calculated…we actually tipped extravagantly because Mark went from slightly annoyed while waiting for change to 'we are leaving NOW" . Perhaps that was the plan. Oh, well. Nothing to write home about, in any case. Perhaps if we'd shown up for dinner for a special occasion, the foofy-snooty air of the place would have been more understandable It was just odd, since the Witchery --the first in the pair -- is at least as expensive, at least as exclusive, and we felt welcome and warmly treated there when we had dinner.
Despite our attempts to not buy so many books, we still has to buy a piece of luggage today, in order to pack the whisky we bought and the various guidebooks and pamphlets and such. We've got so much stuff we need to spread it out among our existing luggage and a new piece. Well -- the tiny helmets that I bought aren't so tiny and take up a lot of space. And the bottles of liquor have to be well-padded. SO, off to find a) real lunch, before Mark gets crabby and b) some sort of hard-sided rolly thing.
Braving the grounds on Princes Street
Lunch proved easiest - a chocolate shake, burgers and fries at the Wannaburger, which was extremely popular right on the Royal Mile. The burgers were good (albeit with some sort of homemade tomato relish that was sweetish instead of tangy on them), and the fries and onion rings were very good. One thing I've discovered is that the Scots have figured out the magic to make 'chips' - they seem to have a knack for fried stuff, which is perfectly all right with me. I asked the waiter if they did malts in addition to shakes and he stared at my quizzically and asked what it was. I just laughed and said they probably didn't have them if he wasn't sure what "malt" was. I don't think he was offended at all, although I did think afterwards that I was probably unintentionally rude. Mark was much happier with a bit of food (well, to be more precise, a bit of MEAT) in him and we walked down to the North Bridge to cross over to the main shopping area in Edinburgh, Prince's Street.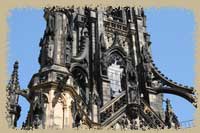 I would like to brag slightly here, that I managed to get us down the hotel to the car, to the museum, back up over the Royal Mile and to Prince's Street without have to CLIMB BACK UP again. Hah! We circled the mound almost perfectly and only had a slight incline to deal with on the way to lunch. This is better than Friday, when we climbed straight up the hill to the castle at least three times.
Prince's Street is under construction to add a tram service in 2011, so all sorts of barriers and one-way pedestrian lines are up. We walked all along the gardens (which used to the Nor' Loch - the sewer for the closes on the Royal Mile--and poked into a few shops. Mark finally spotted a Mark's and Spencer's, which I argued was going to be 'more expensive" than anything else. I was wrong, he was right, and we found a mid-sized rolly bag with hard-sides on sale for 23 pounds. Plenty big enough for stuff and he got to gloat that his "shopping radar" is better than mine. I was just irked that we didn't buy ay cookies!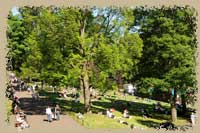 We strolled around the gardens -- looking at the Scott Monument and the floral clock, the open auditorium -- all the stuff in the Queen's Gardens and rounded back down to the lower part of the car park and we were off.
…to immediately get stuck in traffic stoppages and road closures that were in place or the parade at noon and preparing for the bicycle race tomorrow and Edinburgh Marathon (tomorrow)…no WONDER things were so crowded! We arrive in time for Event Central! We circled around a few times in the one-way and single-lane passes and then just turned din the opposite direction and headed for the hills in an attempt to get out of the city center. Once we did, the GPS got us to Linlithgow with no problem.
Ending the trip on the perfect note - the perfect meal
Our B&B tonight is the Bankhouse Farm B&B, near Linlithgow, just half an hour from the airport, so we can get there tomorrow morning without any problems. We're in The Byre, which is normally self-catering for them, I guess, but they were happy to put us there as B&B guests. The room is big, the bed is comfortable, everything is purpose built (or remodeled, I guess) for B&B. We arrived a bit early, and unloaded EVERYTHING from the car to repack and get stuff settled for tomorrow. We were mostly repacked by seven and followed the printed instructions to head into Linlithgow for dinner. Our hosts had provided a list of about six restaurants in town that were highly recommended.
We checked out the first listing (Star and Garter) and were put off by the very drunk man and woman in front of the bar (nothing like enticing customers in with a man throwing up behind a potted plant), looked in on the Four Maries bar and decided we wanted something a big quieter than the madhouse there for the Ale Festival. We walked up and down the main street a bit and finally spotted the teeny sign for Livingstons, which also had a taste-of-Scotland logo. Score!
It's a teeny place, but they quite graciously squeezed us in, despite not having a reservation. We must have looked pitiful.
BEST meal of the whole trip. So good it made me forget what I had at the Witchery. When I told the proprietress, and asked her to tell the chef, she was so pleased she did a little happy dance. I assured her that it was, in act, the best meal I'd had in a month. Great bread, a little amuse bouche of roasted tomato and pesto soup in demitasse soup, and we both ordered the scallops for a starter (which was served over a bit of pork belly and pureed red mullet). Delicious! I initially ordered the chicken dish on the menu…but as soon as our waitress walked away, I realized that no, I really wanted the steak and Mark actually leapt up and caught up with her before she could put in the order. Yeah for him! I'm glad he did -- the roasted filet of beef with beef shoulder and smoked potatoes was faintingly good. Mark had roasted black-faced lamb chops, a lamb-shoulder fritter, and garlic potatoes.
I know that my dear husband loves me, too -- he COULD have told me that the little blob of "beef shin" that I was poking experimentally with my fork was actually gross and blobby and he would have gotten to eat the whole thing after I made him taste it first. (I really don't like any sort of meat that is 'fatty') But he didn't. It was divine and I ate the whole thing before he could ask for another bite. Like the best slow-roasted beef roast ever -- juicy, meaty, perfectly seasoned. We ate poached rhubarb and chocolate mousse for dinner with coffee, and I ate most of the "Mrs. Livingstons Tablet", which is a traditional sort of sweet desert and is, as far as I can tell, pieces of solidified butter cream frosting, or grainy fudge. The recipe is butter, carnation condensed milk and powdered sugar. Lovely stuff that made my teeth hurt.
What a perfect end to the trip!
Back to the B&B and to bed. Tomorrow we fly home.