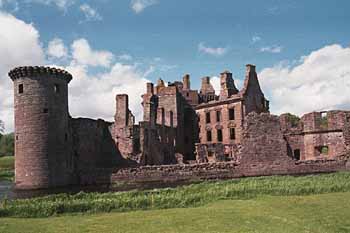 The smaller towers at the rear of the castle, and the destroyed rear wall
The walls are over 2m thick, and rise directly from the waters of the inner moat. The south side has a round tower of 6.5m at each end, and is roughly 42 m long. This is one of the earliest parts of the castle; only the lower part of the west wall and the towers at either end survive.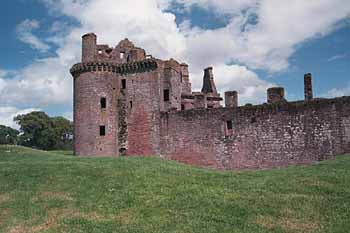 The side curtain wall is markedly lower than the gatehouse
It's easy to walk around the entire perimeter of the castle, and I must admit that Caerlaverock is my favorite caste. The strong front towers and moats make it a truly fantastic example of castles in Scotland. The earthwork between the two moats offers a good view at the crumbling side walls of the castle, demolished by cannon and ballista fire.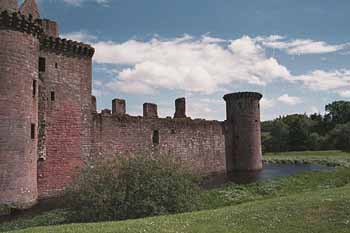 Looking from the huge gatehouse tower to the smaller rear tower of this triangular shaped castle.
The rear wall is most damaged, with the two rear towers only foundations. When it was complete, the high curtain wall surrounded the entire caste. I never did find out how far down the stone walls went into the marshy inner moat. It could be only a few feet, it could be twenty before the stone rests on solid ground. I don't know, but considering that the stone from the walls had to fall somewhere, and we didn't see any in the water, I think it must be quite deep.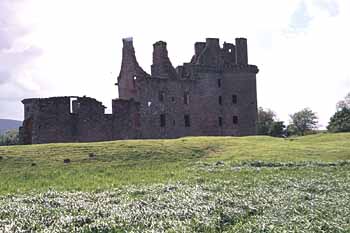 The south side curtain wall, progressively more damaged, from the outer ravelin
Caerlaverock
1 [ 2 ] 3 4

---

Caerlaverock
7 miles southeast of Dumfries
south of B725
½ north of Solway Firth
Historic Scotland


---

l i n k s


---