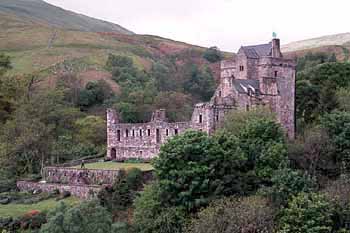 Castle Campbell is one of the most stunning locations in Scotland

Castle Campbell has to be one of the most picturesque castles we visited. It is an impressive ruin built where the burns (streams) of Care and Sorrow join, and is overlooked by Gloom Hill. The castle was originally known as Castle Gloom.
The castle was originally a property of the Stewarts, but passed by marrriage to Colin Campbell, 1st Earl of Argyll, and Chancellor of Scotland. He had the name of the castle changed by an act of Parliament to Castle Campbell in 1489. The Marquis of Montrose tried to take the castle in 1645, but failed. Despite his failure, the 8th Earl of Argyll had Montrose hung, drawn, and quartered in 1651 for the attempt.
Cromwell's forces occupied the castle in 1653, and only part of the castle was restored after it was burnt by Monck in 1654. Shortly thereafter, the 9th Earlof Argyll was condemned for treason. He escaped to start a rebellion, but was captured and executed in 1685. Campbell Castle was sold in the early 19th century to the Taits, who then sold it in 1859 to the Orr Family. In 1948, the castle went to the National Trust, although it is administered by Historic Scotland.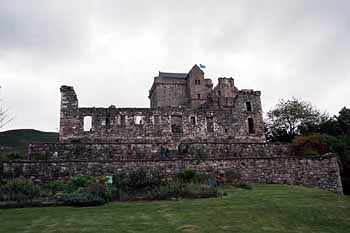 The much ruined, older parts of the castle, seen from the gardens
Castle Campbell was quite obviously built in three stages. The rectangular tower was the earliest stone building (from the 15th century), and was built on the site of a much earlier motte castle. The tower has four stories, of which three were vaulted. The original tower had two entrances, one of the ground floor and the second on the first story. The north wall has no openings at all in the first two stories, not even windows. In the 16th century, a second, square tower was added next to the original tower, with a spiral staircase allowing access to all floors.
The second period of building was in the late 16th century. The main work was a range of buildings on the southern range. Later, a shorter range of buildings was added to the east and the curtain wall completed the courtyard.
The hall on the first floor of the rectangular tower is vaulted and has a prison in the thickness of one wall, reached through a hatch in the stone floor of the room above. The current roof was added during one of the restorations and is not original, but it has helped keep the tower in good condition.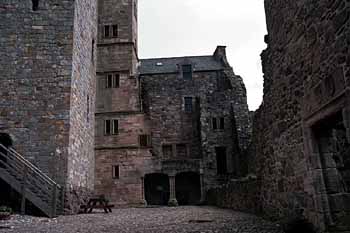 Inside the castle walls, where the oldest hall meets the tower
Campbell
[ 1 ] 2 3 4

---

Dollar Glen
½ mile north of Dollar
north of A91
west of Gloom Hill
National Trust


---

l i n k s


---