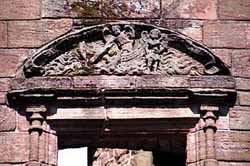 The windows are ornately carved with scenes from Greek mythology
The Nithsdale apartments must have been quite a sight when they were first built. They are very ornate, and certainly not in keeping with the stark stone of the walls of Caerlaverock. It is possible that they were plastered, or harled, to a smooth surface, with the stone decorations surmounting smooth, shiny walls. There is not much left inside to give any indication of the rooms, but the interior of the castle is not very large.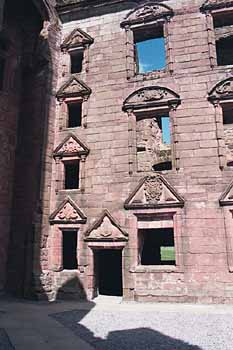 Elaborate decorations distinguish the comfortable apartments added to the castle in 1634.
Historic Scotland is running an archeological dig to the rear of the castle, about a half mile away through the marshy forest. They've had to lay down planks to walk on most of the way for the visitors who want to see the original site of the castle. Actually, they're not sure if this was the original site of Caerlaverock, or a temporary site, or another camp, or an even earlier fortification. So far, they have uncovered the foundations of walls, but no one was manning the site the day we visited, so I don't know if they found anything else yet.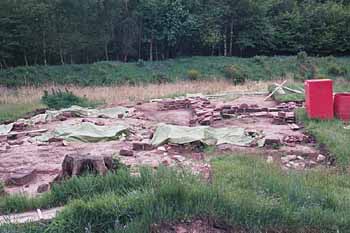 Excavations to the south of the current castle show original fortifications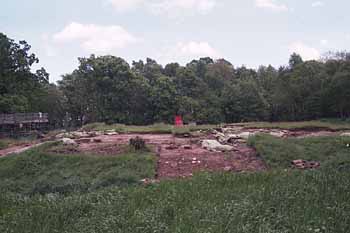 Archeological dig at the original site of Caerlaverock
Caerlaverock
1 2 [ 3 ] 4

---

Caerlaverock
7 miles southeast of Dumfries
south of B725
½ north of Solway Firth
Historic Scotland


---

l i n k s


---