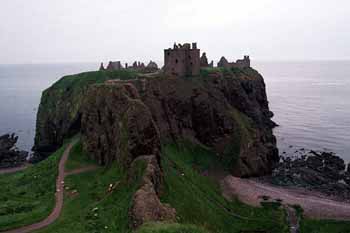 Dunnottar Castle on the rocky cliffs jutting out to the sea

An early castle on this rocky outcropping was captured by Wallace from the English in 1296, one story relating that he burned 4000 Englishmen during the siege. Edward III took the castle in 1330s although it was quickly recaptured by Moray. Dunnottar has a long and exciting history.
The Keiths acquired the property in 1382, exchanging Struthers in Fife for it. The first structure here was an earthwork and clay castle of the 12th century. Nothing remains of this earliest fort. By the beginning of the 16th century, it was one of the most formidable fortresses in Scotland.
Dunnottar was besieged by Montrose in 1645, and again in 1651 by Cromwell. The castle was held for William and Mary in 1689, but the Earl Marischal threw in with the Stewarts during the first Rising in 1715 and it was forfeited. The Duke of Argyll partially destroyed the castle in 1716, and it was more fully slighted in 1718.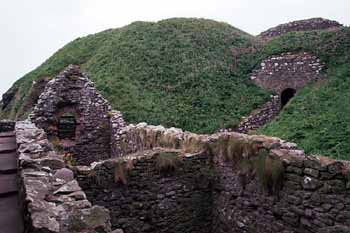 The remains of the guardhouse and the second, smaller tunnel to enter the castle
The castle is built on an excellent defensive site, 160' above the sea. The entrance is down a narrow pathway through a single doorway, defended by a portcullis and several rows of gun ports, then up the steps and through a tunnel into the main courtyard. This would have been an impossible trip for horses, I think.
The very large site has a rambling collecting of many buildings that were never really an integrated castle, but more like a small walled city. A 15th century L-plan tower of four stories and a garret stand in one corner of the quadrangular courtyard. Other buildings include a chapel, priests house, a stable, a forge, barracks, and other residences.
Some of the ruins have been restored in the past century by the private owners, who use the site for picnics. The site, on a promontory jutting into the North Sea is surrounded by the sea except for a small isthmus connecting it to the mainland. The cliffs plunge to the sea, 160' below, and only a small beach, reached from outside the gates of the castle, is nearby. Even at high tide, the castle itself would not be accessible.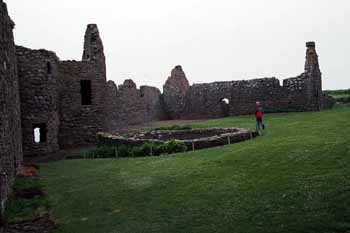 Mark, near what we believe is the castle cistern or well, in the courtyard of the castle
Dunnottar
[ 1 ] 2 3 4

---

Dunnottar
2 miles south of Stonehaven
east of A92
½ east of Dunnottar Mains


---

l i n k s


---