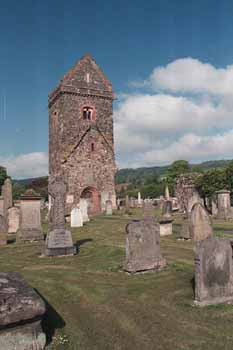 The ruined tower in the Peebles kirkyard

We stopped by this little ruined churchyard on our way out of Peebles to find Neidpath Castle. The tower is pretty noticeable, but I've always like to wander around in cemetaries -- I love reading the stones, and the stones here are so much older than anything I've found in the US.
Many of the gravestones were missing, or pushed over, or leaning against the walls of the churchyard -- a tiny paper notice on the gate said that the city was doing it on purpose. Too many of the stones were loose and posing a hazard to people walking in the churchyard, so they were lowering them on purpose instead of trying to replace them. That explains a lot.
---

l o c a t i o n

---

East of Peebles


---

o t h e r l i n k s

---