Roman Amphitheater, page 2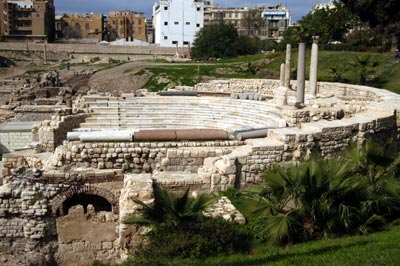 another view of the theatre, buried until 1963
The half-round odeon seats 700-800, with 12 rows of marble seats facing a small stage. The stage still has some of the original mosaic paving, and the passages and rooms under the theatre seats for the actors can still be seen.

I would make a good audience member, but the seats are hard
The theatre is still in use, sort of. While visitors do not sit on the marble seats -- some still with visible numbers on them -- a new set of concrete and stone galleries have been built into the hillside, and a new stage erected before the original. The Roman Amphitheater is now the backdrop for a modern theatre company, and plays and lectures are performed here regularly.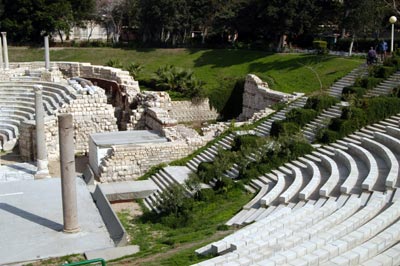 the modern theatre overlooking the original
Nearby are the remains of the Roman Baths, and the Villa of the Birds. ALso mentioned is an earlier structure, the Great Theatre from the ptolemaic period, which was probably further north and as yet undiscovered.