May 09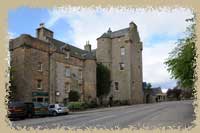 We must have really needed the sleep! We even woke up late this morning and didn't get down to breakfast until almost nine. The hotel has added a huge conservatory to the original cellar restaurant (which is now the reception area) and we enjoyed breakfast as the staff tried to set up for a huge wedding later in the day. Still, everyone took the time to stop and chat, and our waitress gave us the short-and-sweet travel guide to Glasgow, and a long list of places to see around Dornoch. We've never been in to Glasgow. Our last trip, we avoided most of the big cities, so on this one we planned for a couple e of days in Edinburgh. I'm not sure we'll spend much time in Glasgow this time around, either -- the city is so large and so spread out and there are so many things to see that we would have needed to plan a little better, I think. Perhaps on the way back down from the Orkneys?
Mark packed up the car while I trotted across the street to snap some pictures of the cathedral and the castle and then we're off to the North. The main road up the coast passes through dozens of tiny towns as it follows the serrate coastline. In some places, the land slopes gently down to the ocean to end in a sandy beach; in others, the land drops off precipitously in jagged cliffs. Most of the fields are fenced with stone and populated by sheep. In a few instances, we can't figure out how they get the sheep out into the field. The field looks like s tiny postage stamp of green stuck on the end of a peninsula. Perhaps they air drop them?
Tracking down the elusive dots
On the map, the coast is filled all the way up with dots. Almost every little town here has a castle. Most are gone now, of course, or just a few stones in someone's garden. Some have a few feet of wall remaining, but that's about all there is to see.
Skelbo Castle, the first on the way out of Dornoch, is a short bit of wall and a few windows left on a badly sloping motte. The views from the hill out over Loch Fleet are quite pretty though, and we even saw a few seals basking in the shallows. We saw no signs of 'piles of rocks' in most of the towns, but stopped at Knockinnan and at Forse. We nearly got the car stuck trying to get down to castle at Forse--it sits at the end of a farm track and over a narrow causeway, on a small rocky outcrop. Most of the castle is gone, fallen into the sea. From the size of the crumbled remains it was a teeny little tower house. Mark jumped the fence to take a look at the castle itself, so I tried for a few different angles. I walked along the cliff top and discovered a rope tied to a flimsy fence, obviously meant to be used to get down to the beach. Even Adventure Girl wasn't brave enough to sling herself over the edge and walk on the shore! I was fairly certain that I could get down, but not so sure I'd be able to scramble back up! I also wasn't able to convince Mark to try it. It would have been a cool picture, but we might have spent the rest of the afternoon there trying to rescue him!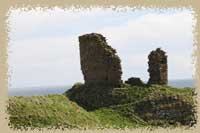 I we getting quite frustrated at our inability to find some of the 'dots' on the map -- I am assuming that most of them are either too small to see, or tucked back somewhere behind the houses and in the trees. We weren't excited enough about some of them to hike off into the town looking for them (or, well, Mark wasn't excited enough, I probably could have wasted a few days tracking them down), so we kept on up the coast. We made a few backtracking attempts when the book said that the castle was worth seeing, and we saw a few sparse remains from afar. Mostly we just gawked at the stunning scenery along the coast.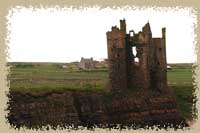 One of the castles that I did insist on going out to find was Keiss Castle. This is a small z-plan tower that has mostly fallen into the sea and it has a spectacular setting. We parked in town and while Mark sat in the car (probably napping), I climbed two fences, hiked through three different fields, got soaked up to the knees in the wet grass, and got some really cool pictures of the castle. I still didn't get right up close --the castle is on the walled grounds of the newer Keiss house, so unless I wanted to actually climb over the rocks to get there, I was stuck taking pictures from the nearby field. I probably could have gotten a bit closer than I did, but I'd already been walking for twenty minutes and the looming storm clouds were moving in quickly, I wussed out and headed back to the car (just in time to get in our of the rain). It's still a very cool castle, though.
Neolithic stones and patterns
While we usually stick to medieval castles and more modern architecture, Scotland has hundreds of Neolithic and iron-age sites. Stone cairns, stacked tombs, standing stones, ring forts. They are particularly common up north and a number of the sites are under the care of the National Trust, so the coastal road had a number of their brown signs pointing us off to see the better known sites.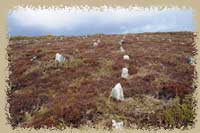 We pulled off to see the Hill o' Many Stanes -- a Neolithic standing stone field. I simply cannot figure out how someone discovering this field (probably while plowing it up) would have any idea that this was a site at all, and not just a really, really rocky field. It's just a small field with a hundred or so knee-high upright stones. It's amazing that this survived at all -- or was even recognized. No one know exactly what these were for; many experts suggest that they were astronomical maps, or sighting stones, or that they served some ceremonial purpose but it's all guesses. I'm more confused by this, actually, since it's not really a henge, just concentric circles of teeny stones. I can't figure out what they would have been sighting off this collection of stones. I even wondered if this was really just a destroyed cairn or something, that some joker decided to arrange in rows, just to mess with future archeologists. They are definitely a mystery. The field is surrounded by gorse bushes and, since I had to pee something fierce, so I found an out-of-the way bit of shrubbery in the next field and peed on nature. Hey! Adventure Girl is pretty all-terrain.
Why we know we've been married too long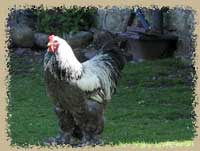 In search of another dot, we drove up the coast--and had one of the funniest moments of the trip. And, as I've told many people since, it absolutely proves that Mark and I have been married long enough to SHARE A BRAIN. We have one good brain between us, I swear. So, as we take a rather abrupt turn up the road, as prompted by the GPS, we both notice the farmhouse on the other side of the road. In the stone-walled yard is one very large, very tall chicken (seriously, like Godzilla-sized chicken!) with long, feathered legs. We both did a double take, and then--at the same time--said, "Why is that chicken wearing PANTS?". It definitely looked like this chicken was clad in a pair of long, dark pants and spats.
Seriously, what sort of comment is that to come up with once, not to mention both us at the same time? Really? Pants? On a chicken? We giggled about it for most of the day, after recovering enough from our snorts and wheezes of laughter to continue driving.
The GPS led us on a merry chase down a narrow, one-lane road (and nearly got wrecked by a huge truck barreling along the other way--we barely missed a head-on collision as it turned a corner and whammo! We were right there. Luckily everyone was paying attention. We skidded to a stop about an inch from the stone wall and had to back up a hundred yards for the truck to pass. No harm, no foul, though, and we continued on….to reach a FORDING place across a river. Definitely not suitable for a car, I can tell you that! The road just ended in the water, with a tiny lettered sign noting "fording place". The GPS was insistent (despite my printed map not showing the road actually crossing the water), but we weren't going to risk it. We turned back, sure that the GPS coordinates must be wrong, or the dot in the wrong place, since it surely seemed to indicate that Loch Brore castle was up there just a bit further. We must have come at it from the wrong direction, or something. Next time, a four-wheel drive vehicle!
Back on the road (with another glimpse of Pants Chicken) and we stopped only a mile or so further on to see the Cairn of Get. We started walking, assuming it was just over the hill and had gotten fifteen minutes down the narrow path and over the bog on the wood pontoon bridge and the rain started coming down in buckets…then the HAIL showed up! Mark was smart enough to wear his raincoat, while I, looking the gray clouds and assuming the walk would be short, had just put on a fleece. Nope. The walk was LONG and I was soaked and freezing and mark had gotten far enough ahead of me that I didn't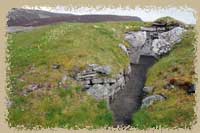 just turn back (figuring he might not know that I had gone back to the car, since the path forked and wound quite a bit. I got most of the way out to the cairn, but when the hail started, I went back over the wooden bog bridge and crouched down against the side of the ditch to get out of the sleet and hail. He had the good grace not to laugh at me, all bedraggled and dripping, when he found me sitting there. We were both soaked by the time we got back to the car. I changed my shirt in the car and we both sat in our soggy jeans for an hour as we headed north into Wick.
It did, of course, stop raining/hailing/sleeting as soon as we got back in the car. Go figure.
Wet and stinky
We arrived in Wick in search of a launderette -- we're both running dangerously short of clean clothes and dry socks, and getting caught in the rain had upped the ante for dry, warm clothes. We stopped at the post office for directions, and even set off correctly in the maze of one-way and pedestrian-only streets in town, but we actually found the place entirely by accident as we attempted to turn around and get our bearings. We did a couple of loads of laundry, and got tons of suggestions for hotels, restaurants, and places to see up north from the other laundry customers. The hour and a half we spent watching our clothes also gave us time to track down the ferry schedule and book space on the ferry tonight to Orkney, and find a place to sleep on the island.
Mark is much happier with clean clothes. I keep trying to argue that the only person he's going to really offend is me, so a day or so wearing the same shirt isn't going to be too bad, but planning laundry once a week certainly isn't too onerous. We usually try to find a 'drop off the laundry and get it done' sort of place, but starting our trip on a weekend makes that a bit harder, and it also requires a two day stay somewhere, unless we get really lucky. Most middle-sized towns have a launderette; I think it's because a lot of houses don't have their own laundry facilities, and the myriad B&Bs need commercial services sometimes. IN any case, they are usually easy to find and it can be a fun two hours or so hanging out with the locals doing laundry. I'm not one to try to travel with only enough clothes for a few days and to wash things in the sink every night (and if I'm not, boy, is Mark not!). It's one thing to rinse out a shirt or wash a pair of socks or something, but planning to wash your clothes every night in the bathroom sink is not very appealing. I picked up a book on world travel recently, where the packing list for someone traveling on their own around the world included ONE outfit. Period. Pair of quick-drying pants and a quick drying t-shirt and underwear that you washed each night. An over shirt or sweatshirt was suggested, but that's it. I can't quite imagine traveling THAT lightly.
We do pack pretty lightly, though, especially compared to al lot of the travelers that I see hauling enormous luggage and four or five bags apiece. We both pack 3-4 pairs of pants,6 or 7 shirts, enough underwear for a week, and a sweatshirt, a fleece and a coat. And two pairs of shoes -- having a spare pair, as I noted before, is pretty smart. I also packed a light, dressy pair of pants and sweater for when we go out. But that's it. It all fits in a Lands End carry on bag. Add in all the other stuff we end up traveling with (the electronics list is definitely extensive) and we each had a main bag, which we checked, a backpack to carry on for books, maps, camera, computer, etc, and we loosely packed another duffle bag with the coats and shoes and such, planning on having some extra space on the way home -- you will ALWAYS need more luggage space! To put it in perspective, my sister packs the same amount, in a bigger bag, for a weekend trip. Heh.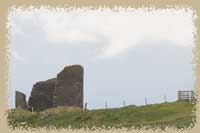 The sky was clearing and we got a couple of pictures of the Old Castle of Wick (is there a New Castle of Wick?), but didn't want to slog through he thoroughly soggy field to get there. We could see the stump of the tower and frankly, it didn't look interesting enough to warrant soaking my shoes. A little ways further, we spotted Freswick castle on the coast and snapped a few pictures, but Mark was concerned about making the ferry on time, so we kept on. Since we aren't sure of where and how the ferry is set up to the Orkneys, we both agree we should be early.
On to the Orkney Islands
The ferry is expensive if you bring your car, by the way, but you should have guessed that! A lot of the guidebooks recommend that you rent a car on the island and leave your car on the mainland -- it might be cheaper, actually, but we have spread out in the car and our stuff is all over. It was worth the premium to have our own space and stuff. The islands are quite small, and most of the major archeological sites are reachable by bus, but if you want to be able to see some of the other areas of the island, you really do need your own transport. At least one book says that biking can be a good option--just keep in mind that the wind and weather up her in the islands can be a bit overwhelming. I would not have wanted to pedal a bike into wind, even though the landscape is quite flat and easy.
With an hour to kill before we are supposed to be in line for the ferry, we set off in search of food and found the Tea Cozy, a little café a few miles away from the ferry. It was supposed to close at 5:30, but we arrived with a few minutes to spare and the very nice woman was kind enough o make toasties for us so we could have some dinner before heading off. She even sent us off with cake! One whole wall of the café is a collection of world and country maps -- world map, us map, Europe map and a few others, where all of her visitors put little dots to how where they had come from. She had people from all the continents (well, not Antarctica!), most countries in Europe, and they even had someone else from Colorado -- only a few miles from us! We dutifully stuck out little red dot on the US map and signed the guest book. Small world, eh?
I've only been on a ferry once before, on a 2 minute crossing in Ireland -- basically drive on, cross the tiny expanse of water to the next peninsula, and drive off. We barely had time to turn the car off, and sat in it the whole time. This is a bit longer (about and hour?) and there was a semi truck on the ferry in addition to all the cars. For some reason, this makes me very uneasy. I'm not a huge fan of boats in any form, and having a huge boat with a hinged back, carrying about forty cars and a fully-loaded semi truck doesn't make me feel too safe. The ferry is tall and fairly wide and flat-bottomed, really an open car deck with a closed-in passenger deck above and an open-air viewing deck way up top. It's too hot to sit inside and too cold and windy to stay up top for very long. Mark stayed outside long enough to see us pull away from dock, then immediately fell asleep in the lounge.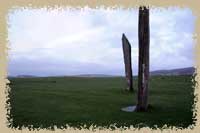 Our B&B for the night is in a residential area outside of Kirkwall, about a half-hour drive from the ferry port. It's quite comfortable, and we have the family room with a tiny kitchenette. We got a rather brusque reception from the owner, but we did get in really late, We did warn her that we'd be in after the last ferry, but I'm sure it's disruptive. We apologized and hauled our things upstairs and then, since it was still quite light outside, decided to go to the small henge of stones (The Stones of Stennis, which is a name right out of the Dept of Redundancy Department -- 'stennis' means 'stones'). The slightly misty twilight was a perfect backdrop for the ring of flat slabs of stone, looking out over the loch. The clouds started rolling on from the loch and we rushed back to the car to see if we could make it to the Ring of Brodgar, which is on the next little islet. We arrived just in time for the promised rain to start in earnest so we snapped two pictures just in case we didn't make it back tomorrow, and went back to the B&B.
Despite the sandwiches at the Tea Cozy, Mark ate our 'backup sandwiches' (we'd stopped at Tesco's and picked up sandwiches and chips and such. He finished off another ham and cheese sandwich and we ate Cadbury chocolate rolls while watching a BBC production called 'Voices of the Symphony'. It's the first time we've even turned don a television (actually, it might be the first time we've HAD a television). It was an interesting show - I think we were supposed to recognize the maestro, but we just enjoyed the music before going to bed.
Planning for tomorrow
We have a ton of things on the list to see tomorrow -- we booked a return at 5pm (although we can use the return ticket any time in the next 30 days) and we'll see how things go. Many people go to Orkney as a day trip -take the 9am ferry over, rush to the primary sites (Maes Howe, Skara Brae, the cathedral in Kirkwall) and then return at dinner time to the mainland. That was a bit too fast for us. But I think we might be too optimistic that we'll see the stuff we want to and not be rushing around crazily tomorrow. We can decide tomorrow if we want to stay for another day.
This is where our rootless, wandering style tends to bite us in the ass, of course. We don't stay in one place very long, always moving on to the next town, the next new site -- we don't rush, exactly, but we also don't settle in and stay in one place for very long. I know for some people, our on-the-move style is anathema to traveling; for some, traveling is finding a place, settling in and spending a few days or a week lounging on the beach or sitting in cafes. I personally think we're somewhere in the middle -- on a month long vacation, I know a lot of people who would be visiting eight or nine countries and cramming in a "whirlwind tour'. At the very least, most would go to England as well and those people laugh at our insistence on sticking primarily with Scotland for the whole month.
We could have spent the whole month in the Borders, of course. There is so much to see between Glasgow and Edinburgh and south that we would have had full days every day and still missed so much. It's all a matter of balance.