May 14
We wished all the fishing folk with their short green pants and argyle sweaters the best of luck today as we left the hotel. They were packing up to reach their favorite spots on the Dee this morning and once again commented on the fact that we are up at the crack of dawn and, since we don't need the lovely, misty morning to surprise the fish, we should be in bed! We were on vacation! We should be lazing about and eating scones in bed. Everyone got a good laugh about it.
We set of in a random direction this morning, and stopped to take a picture of the ..well, we're not sure what it is, actually, a town gate? A decorative arch? In Fettercairn. Mostly we stopped because we knew that at some point in the future, we'd be talking bout this, and I'd post it on the blog/site, and someone would have a long and detailed history about it and it would be fascinating. Hope springs eternal, people! Someone out there has to know what this is!
Amazing gardens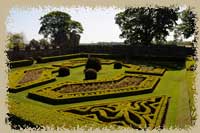 We managed to hit three detours (or as they are called here, diversions) on the way to Edzell Castle. I think that the towns are systematically re-doing the bridges in their areas. Luckily, there are seventy-four different ways to get to everywhere, so the detour isn't really so much out o the way as 'not on the direct route'. We tend to refer to that as 'Adventure Mode' on the satnav. It is programmed to find the 'fastest route' or the 'most direct route'. Sometimes, the most direct route leads us through some interesting teeny roads and off into cow pastures and farm yards that it is just SURE are the best way to get places.
Edzell Castle is an impressive tower house and we drove up to an empty parking lot and a very energetic and very talkative Historic Scotland guy. Our timing was a bit off, he said - next weekend they were having a re-enactment of the siege here, complete with cannons and guns and people in costume, the whole show. These sorts of activities are happening all over Scotland this year, part of the Homecoming Scotland 2009 scheme. Costumed dramas, battle reenactments, weaponry and cultural displays, festivals, guided walks. We have tickets later in the month for Party at the Palace, a two-day festival at Holyrood Palace, sort of a real-time Renaissance Fair with food, parades, games set in the 15th century palace grounds by the loch. Should be fun!
The castle has its own complement of peacocks, who are well-used to people walking around and giving them things to eat. They followed us around as we walked up the hill, and kept watching us curiously. I still haven't figured out a foolproof method to get the males to spread their tails (and no pea-hens in sight) so no joy. They're damned talkative, though. When they're roosting, they call to each other in a high-pitched sort of shriek that sounds like a woman screaming. I imagine it gets very, very annoying on these long summer nights. I always thought of them as warm weather birds, but they must winter over here without problems.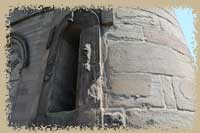 The real draw at Edzell are the meticulously maintained gardens. Inside the walled courtyard of the tower house, knot gardens, rose gardens, and perfect borders are a wondrous thing. And they are all managed by ONE person. One full time gardener, year round. It's pretty impressive. The courtyard walls are filled with strange little insert squares, alternating with a huge number of shields and family crests. The little squares are set in a 3x3 checkerboard, and we were told that in the summer, they were planted with lobelia, to mimic the check board blue of the family coat of arms. It doesn't look like they do that anymore, of course, but this would have been a lovely, restful place to spend time when it was in full bloom.
A personalized tour, with secret passages
The House of Duns was strongly recommended by a number of the guidebooks, so we decided to head that direction -- and were immediately distracted by Brechin, which has one of only two Irish-style round towers in Scotland. We saw a lot of these in Ireland, but the architectural style is pretty rare anywhere else. A quick stop in the cathedral (which is lovely, and we got to hear an impromptu organ concert as the organist practiced) and we were back on the road to the House of Dun.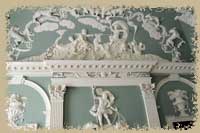 This square house is quite small, but the restoration work inside of the Robert Adams' ceilings and plaster work is impressive. We got our own tour, as it was a slow day. Our guide was very enthusiastic, and let us poke into the corners of the rooms, showed us all the hidden passageways and the architecture changes that turned this small house into a masterpiece of symmetry and elegance. It probably took two hours, but it was a great afternoon and we had a chance to see some parts of o the house that are normally closed off to the public, since it appears that we were the only visitors that afternoon. It was a blast! It's rare to get a personalized tour, most of the sites are too busy, and finding someone who is so excited and so knowledgeable, and just so into their role is fun.
There are about forty castles called 'red castle' in Scotland (the obvious reason being that the native sandstone is red), and we took a short detour to find the one marked on the map. We drove halfway up the narrow road that we thought was the entry to the castle, before we saw the little 'private no cars!' sign. We nearly killed ourselves trying to back out of what was a driveway, under the baleful eye of the owner, we think. We didn't mean to drive up, but seriously? An 8x10 handwritten note a hundred yards up the path is not enough warning! We maneuvered past several cars and then, entirely by accident, found the real entryway to the castle. We parked and walked up the hill to see a the tower and remaining walls. From the path, it looks quite large, but only the shell of the tower and a bit of wall remain. It looks like a lot of it fell into the sea at some point.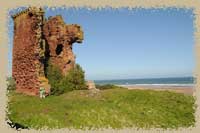 It's definitely red - and the winds from the sea have not been kind to it. The red stone is sculpted out by the wind, leaving cups and empty spaces in the tower. We've seen this in a couple of places (Tantallon is one of the better examples) when the castle sits along the coast. It makes the stone looks soft, as if you could walk up and scoop out pieces with your fingers. It's an illusion, of course - the remaining stone is still hard as..well, stone. It's just that wind and water take their toll. I wonder how much longer the tower will be here, perched on the shore above the beach; the ground under one corner is completely eroded away, leaving the edge of the tower dangling out into space. There's a bit of a drop-off, too, so we didn't' investigate too closely!
Abbey - Large
We're seeing a lot more abbeys on this trip (beyond the four Border Abbeys - Melrose, Jedburgh, Dryburgh, Kelso), and I'm surprised and delighted by the ruins each time. Like miniature cities, abbeys are - self-contained, walled off from the rest of the world. Arbroath Abbey is far larger than I thought - it's an enormous site with huge towers and gatehouses, and a number of outbuildings still in place. The church is huge and the massive gateway leading to the site is considered one of the best monastic remains in Scotland. Like many of the church sites, the abbey is in the middle of town, the huge stone arches incorporated into the winding gallery of streets and the ruined buildings screened behind the walls. The visitor's center is sensitively tucked into one of the walls, a modern glass-fronted gallery that leads into the huge estate.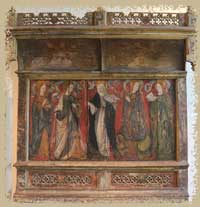 There is a standing commendator's house in the grounds which has been used, over the years, as a house, school, storage; the interior plaster is still in place, until you go down to the lower level, where the stone arched cellars look more like a medieval dungeon than a house. We wandered around the site for a bit longer, looking at the detailed stonework, all the carved corbels, arches, bosses. It's hard to be impressed with the workmanship of the stonemasons building these churches. Remember, they didn't really have blueprints, they didn't really have the concept of measured drawing-to-reality. They just built them, knowing from experience how it all had to go together, how many rows of stone before you indent jut a bit to make that curve, how high you can go without additional supports, how thin that window mullion can be. Most of the great cathedrals of Europe were built by masons acting as designer, architect, builders. And the work here - row upon row of arches and sedilla in the choir, are so alike they could have been mass produced.
In our search for a hotel with Internet access, we picked a Holiday Inn Express in Dundee. We got a bit lost getting there, and we got quite short with each other in the car on the way. Mark has a tendency to follow the plan of "call hotel --> drive there immediately" no matter when we happen start looking for a place to stay. He's responsible for making sure we end up at our final goal for the day, so I guess I understand, but I always feel like we drive by a half-dozen places to see on the way to the hotel because we Must Get There Now. I should be fair, though, if he didn't do this, we'd be skidding into our B&B for the night at 10pm and never get dinner. It's a normal, small tension for us while traveling. I somehow have the idea that wed ont' need to sleep.
At any rate, we couldn't find the damn place on the first, second or third try driving around the main street in Dundee. Even with an actual street address, we just didn't see any sign of the hotel -- and we were expecting it to be a repurposed warehouse or something, not a big-box. We did the third loop and finally called the hotel for directions. Turned out we were about 100 yards away, but we needed to park in the public car-park from the ramp on the back side (which it tells us NOWHERE in the hotel description or website, by the way) and then enter the hotel (which has a tasteful little sign) from the third floor of the car park. Easy enough once you know the trick, and the hotel is bright, modern, new, and very comfortable.
We took a moment to recover from the snarking in the car, and asked at the desk for a recommendation for dinner.
Approach Ethnic food with trepidation...nay, suspicion
Despite our misgivings, we took the advice of the hotel clerk to try the Mexican restaurant just down the street. Sancho Pancho. We were thinking, "Mexican food in Scotland? This is going to be...ah...interesting." Quite a lot of food doesn't translate well from one culture to another, and eating out is always an adventure.
Oh, we were so right.
Chips and salsa. Ok, seems normal so far. Wait...the salsa has cucumbers in it. And it's sort of sweet, rather like Italian salad dressing. Still, pretty tasty. Mark doesn't do salsa at all, so I ate the little bowl by myself. The chips are tortilla triangles, but entirely unsalted.
Ordered a beef-and-bean burrito, the house specialty, called 'the famous wet burrito', which implied that it was smothered with sauce, which is what the description said "ground beef, refried beans, tomatoes, lettuce covered in our sauce...". Mark ordered just a regular beef burrito.
His was fairly normal - chunks of beef, red and green pepper, and lettuce. He asked for no tomato. Pretty good so far. My burrito, however, is a Serious Surprise. I have never in my life had a burrito in any sort of Mexican restaurant that included lima beans and carrots and PEAS.
A LIMA BEAN. In a beef burrito. Which I picked out of the sauce curiously, but still ate them. And little half-cherry-tomatoes. A few bites in, I discovered cubes of carrots and commented to Mark that if there were carrots, there were going to be peas. And yeah, verily, there were PEAS. And CARROTS.
And let me repeat…a LIMA BEAN.
Oh, it was very tasty really. Reasonably spicy, very good. Just..lima beans? Really?
I pretty much collapsed in fizzy laughter just down the street from the restaurant and mark had to drag me back to the hotel.
Lima beans. I may now have seen everything.