May 13
We woke up this morning refreshed, stretched out on the big comfortable bed, and decided to stay another night at the Deeside Hotel. The dinner was lovely, lots of fun people, and a plushy bed - what more can we ask for?
Off to follow the 'castle trail' today -- it's a well-marked tourist route, beautiful drive, and some of the best preserved castles in Aberdeenshire. Of course, we'll probably add a few of our own to the list, since my maps clearly show dozens of dots mingled in with the highlighted ones. It's a perfect day (again! We must be the luckiest travelers on the planet!) and we can get in free to almost all the castles through National Trust or Historic Scotland.
On the 'Castle Trail'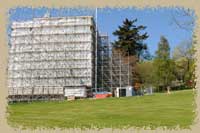 Most of the castles that I'm interested in seeing are medieval tower houses or large stone motte-and-bailey castles--what we think of as "castles" with stone towers and machicolated walls. But these are really examples of the height of castle-building in Scotland in the 13th and 14th century. The earliest castles in Scotland were built in the 11th and 12th centuries, but most of these castles were still timber motte-and-bailey castles and were not replaced with stone castles until the 13th century. Some of the most spectacular castles in Scotland (Kildrummy, Caerlaverock, Tantallon) date from this period. Of course, most castles with any substantial remains have parts of the castle that date from many different periods - an early stone castle was expanded and added to over the centuries, and often eventually incorporated entirely into a "modem" mansion house when the castellated architectural style reappeared in the 18th and 19th centuries.
The Historic Scotland magazine that we received in January had an interesting article on Craigievar Castle - they are completely renovating the exterior of the castle, picking off the old concrete-based harling and replacing it wit historically accurate lime-base harling. Why? Years and years of water damage - standing water on the floors, soaked walls, spring rainstorms that left the interior of the castle molding and dripping. Restorations of earlier decades (and sometimes earlier centuries) had leveraged the most modern scientific knowledge of their day…and they had been wrong. Modern technology wasn't as good as the medieval methods of sealing these stone buildings--because the old methods didn't SEAL the building, but allowed the stone to breath and handle the moisture more easily. We saw the same kind of un-doing of a bad protective scheme at Spynie Palace, too.
The effort here at Craigievar is a multi-year process and it required that they empty out the entire castle, store all the interior details, pick off all the concrete, repair the stone (which I never knew could actually rot from water damage) and then reharl the entire building using the medieval recipe. The castle is entirely covered in scaffolding and the crew was doing the final preparations to do the new harling. I would have liked to get a better look at the denuded castle, but there really wasn't any access. The site and park are open, but the castle is closed to visitors and fenced off. I talked to a few guys on the crew, and asked them how long until things would be finished. They said I was supposed to finished this month (May 2009). And then laughed like hyenas. In a calmer moment, they agreed an another couple e of months to get the harling done, and then the task of refitting the interior with all the art and antiques. The castle has been a sort of pinkish-salmon color for years, the new harling is a bit less colorful, more yellow-cream-y colored than pink. I wonder how people will like that, historically accurate or not?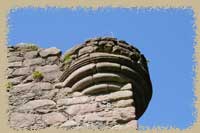 The next official castle on the trail is Castle Fraser, but we detoured a bit to look for Corse Castle. This rather substantial ruin lies on a small side-road and we both missed it o the first pass. The castle is about ten feet from the roadside! We KNEW It had to be there, but we didn't see it until we'd passed it again and Mark caught a glimpse o f it in the rear view mirror. Once we saw it, of course, we both decided to deny that we'd missed it, it was that obvious. We picked our way across the rickety bridge to look at the tower house. Most of the walls remain, but the cellars have all collapsed. The entire site is grown over with ivy.
I made Mark stop the car and walked back to snap a picture of Asloun Castle -- all that remains is a small, decapitated, round tower that is practically a garden ornament in front of a new house. It's private, but I snuck down the driveway a bit to get some pictures.
One of the reasons I like Craigievar Castle, is that it is as close to a fairy-tale castle as you are likely to see -- smooth harled walls, many turrets and bartizans. It is one of several castles in the area that have the same style -- Castle Fraser, Crathes, Drum all look the same. Well, some are more pink than others, but they all follow the same general scheme. We stopped at Castle Fraser, not realizing that it wasn't open today. Remember that these are usually (at least partly) privately owned, and are open on a specific schedule (in this case, not on Wednesday). We stopped in for lunch at the little café, which was quite popular, and walked around the outside to get a couple of pictures.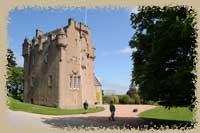 Crathes, next down the road, and we're beginning to see the pattern. Perhaps one primary stonemason/developer actually built all of these, they are so similar they'd be comfortable in any housing development. Ok, not really, but we spent quite a lot of time talking about the similarity in detail, and I stood in the main hall asking questions about whether this castle, like Craigievar, would need to be reharled - after seeing lots of water damage and drainage issues inside the castle. Oh, yes, I was assured, 'we are next!". These old buildings weren't meant to have good, sealed windows, and they certainly weren't meant to have central heating and all the extra humidity that entails. Add in a couple hundred visitors a day in the high season, and most of the towers are like damp sponges.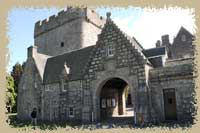 We only went into the tower at Drum Castle, instead of doing the whole tour (seriously, I simply cannot look at any more antiques, I swear). The tower is mostly empty, but the 12' thick walls are solid, and the wall-walk along the top is in place, with great views of the grounds. The tower is the most noticeable part of the castle (it would have been the original castle building here), the rest of the "house" is a series of wings that are quite plain.
I made another surreptitious walk up someone's driveway to snap a picture of Barra Castle, a tower house that has been entirely incorporated into a more modern house. At this point, I start a much-repeated (and I'm sure quite annoying) refrain that we should start looking for a place like this one, to buy and move to Scotland RIGHT NOW. Every time we walk through a town, I'm stopping in front of the estate agent's windows to see what sort of real estate is for sale. Most of the time, it's just small apartments or connected houses, but occasionally, an old castle pops up on the list. I suppose it's rather lucky that we really can't afford to just pick up and move, or we might have considered it I have to admit to being drawn to that sort of story.
House Hunting (or not...)
While doing some research for our next trip, I ran across a recommendation for "Castles in the Air" , by Judy Corbett-- the story of a young couple who bought Gwydir Castle in Wales and have worked to restore it. The castle was a partial ruin, roof-less, invaded by bats and rats, and horribly 'renovated" in the 60s to be a sort of "rave club".
I've always fantasized about living in a castle -- so I sat down and devoured this book in one sitting. Her writing style is a bit florid and overly precious, but the story really resonated with me. Almost penniless, unemployed , they ran across this dilapidated pile and instantly fell in love. Almost two years later, they moved in -- sleeping on cots, cooking on a camp stove, no hot water, and sharing the place with the creepy crawlies, birds, various rodents, and (if the author is to believed) ghosts.
"I was so saddened that such a venerable old house had been brought to its knees in this way. I wanted to wrap my arms around it and comfort it as you would a small child. The more I saw, the angrier I became, angry with the people and the authorities who had allowed this to happen. And with that anger came another, fiercer emotion which took me completely by surprise. I know as I ran my fingers over the damaged walls and as I picked up the broken shards of stained glass which lay scattered across the floorboards, that I would be prepared to anything to save this house."
Now, it's not my dream to live in a historically-accurate restoration sans electricity and running water, but the idea of bringing back a ruined house appeals to me tremendously. I'd prefer not to do it while living in squalor, but I absolutely understand that first, strong, emotional tie to the house. While the two are hardly comparable, that's exactly how I felt when we bought our first house -- a run-down, much-abused Folk Victorian with sagging porches, a leaking roof, and the full measure of dirt and grime from its hundred-year life. Houses have a sense, a personality, if you will, that really speaks to someone. Not everyone "gets it", I guess, but for Mark and I, our two house purchases have been made on the basis of "yes, this is the RIGHT HOUSE. This one feels right." I doubt we would buy a house and move if we didn't have that instant and immediate connection.
I'm sure Mark is hoping we don't 'have a house epiphany while on vacation.
More Piles of Rocks (that may have, at one time, been a castle)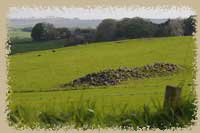 As we were driving to Tolquhon Castle, we passed through a field that had a long oval-shaped pile of rocks. It looks for all the world like a cairn, but I believe it is just a convenient pile where the farmer threw the stones to clear out of the field. Mark starts hooting with laughter "a pile of rocks! A pile of rocks! They could have been a castle! Take a picture!". When I argued that it didn't appear to have been a castle at any time in its life, he pointed out (quite logically, I thought) that this particular pile had more to represent itself than most of the actual castle ruins that we've seen. He's feeling quite witty and clever today. We're amused by the silliest things, sometimes. Signs that say, "Heavy Plant Crossing" sent us into gales of laughter about giant pumpkins or rhubarb and just how big did they have to be before they warranted a sign. Did they just roll across the road? Or creep in a slightly menacing, b-movie sort of way? (Yes, I know that a Heavy Plant is a large construction vehicle of some sort).
I loved Tolquhon castle -- it's huge and suitably crumbly, with many later-renaissance details that would have made it a very comfortable house. The twin-towered gatehouse leads to a small courtyard that is lined with residence and entertaining halls. We learned that the faint lines of previous roofs that show up on the end walls--sometimes two or even three of them of varying slopes-- are called 'raggles'. I was also shouted at by a peculiar black and white bird on the curtain wall as I neared its nest. I think it was an Oystercatcher, it certainly was loud and obnoxious. All I was trying to do was go outside the walls to see the evenly spaced "boxes" along the walls which were reputedly used as bee-boxes. They would have been filled with woven hives for honey bees, which could have been harvested by the castle kitchen. Make sure to walk around the back side of the castle, too, to see the stone-built dovecote.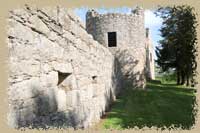 Since we barely snuck in under the wire at Tolquhon, we knew that Haddo House was going to be closed to visitors, but I wanted to see the gardens and the exterior of the house, at least. We met a lovely couple who work at the house, They were out walking their little dog and we spent some time talking about dogs and rescue and RSPCA and even a little about the House. Haddo House is not much to look at from the outside - very regimented, very stodgy looking. Inside, though, it is supposed to be a jewel. I might be overdone on antiques and paintings of dour, dyspeptic-looking Renaissance families, but I do wish we had been able to go inside to look around a little. Haddo House got rave reviews.
Bad fishing and good company
The fishing cohort returned just before we did, and were congregated on the lounge, drinking scotch and recounting fish stories. Apparently, though, one of the men here had his (very expensive) rod stolen from his car while it was parked at one of the good fishing spots. Everyone is extremely upset by this, and they all agree it must have been one of the "new kids", not one of the older fishermen who came here every year and understood what the rules were. I was shocked to learn that some of these handmade casting rods are hundreds (if not thousands) of dollars. Woah.
We spent dinner sitting in the conservatory watching the small group of pigeons in the yard. One pigeon was obviously the Godfather pigeon, we were sure he was simply too fat to fly very well. He just pranced around the yard, scaring off all the other birds, and preening. I decided he had to stop every few feet to preen so he could catch his breath from having to move that bulk around. Obviously we were very tired, and we slunk upstairs to fall asleep in just a few minutes.