May 22
Oh, how restorative a full nights sleep on a huge bed can be! Mark can stretch out entirely, and I'm not pushed to one corner of the bed because his legs don't fit. It was fabulously quiet and even had a good shower. Yeeha!
The couple running the B&B are a hoot, too. Jim, the husband is 70-something and working in the quarry on the property every day. She's handling the rest of the farm and the B&B and two other self-catering houses. When I first saw them, I thought that she was his daughter - she definitely doesn't look like she's in her 60s, but she is. Not that he looks seventy, either. A well-tanned 50 maybe. They don't do sheep anymore, because the new rules on tagging and keeping track of the animals is too onerous. They are supposed to tag both ears of every sheep so they can track them through the whole lifecycle, but the reality is that sheep routinely tear out tags, and the existing model of spray paint and ear notching work fine. But of course, get the government involved, and they want more accountability for each animal. It cost them more the first year to do the tagging than they made on their small flock, so they sold them off. They still have a herd of cows --although they had just lost their last Highland calf -- and they have chickens ad ducks and a few goats, of course. But that's it.
Hidden Castles in the middle of town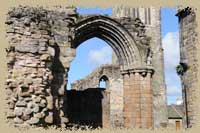 We went into town to see Kilwinning Abbey in town, by following the same instructions as to the hotel last night , but kept on going to town. I shouldn't be so glib, it didn't go that smoothly. Took a few go-rounds in town to find what we were looking for, all the while avoiding the herds of school kids walking to and from school. It was nearly ten in the mooring, we couldn't figure out if they were on a break, or if they didn't go to school until 10, but clusters of teenagers were hanging around the SPAR shop and drinking Irn Bru and smoking. They didn't look like delinquents, but it's doubtful that anyone could look like a delinquent wearing a plaid catholic school jumper and polished shoes. They all look so clean cut, even the emo and goth-wannabes.
The abbey is in the middle of town, and nothing really spectacular. The main tower is rather cool, but the rest of the abbey is sparse, or incorporated into the current parish church. It's hard to get an idea of the place when it's hemmed in on all sides by apartment buildings and shops.
We drove down to the harbor in Ardrossan. The castle -- which sits up the hill from the harbor on an enormous natural mound -- is marked as a dangerous ruin, but is just as clearly a place where the local teenagers come to drink and party. Bottles and wrappers and cans and condoms are all over. Surprising, considering that half the mound is a kiddie playground. We were careful when we walked around on the site - no idea what might be hidden in the grass. The view over the harbor is quite pretty though--as is the view down the main boulevard to the harbor, which is about six lanes wide. It almost looks like they flattened a block of buildings to make it all street.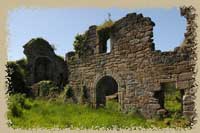 We also found Blair Castle tucked behind Stevenston, though -- in a house development, behind the houses, surrounded by high metal fencing. The woman we saw was surprised we were there to see it - why? It's a pile of rocks and not a very interesting one at that! Actually, it is quite interesting - multiple window styles in the main hall, and the stumpy remains of several different building eras. WE can't get into the site, of course - someone quite sensibly sealed it off with locked gates, but once again we got to startle someone with our strange tourist ways! Bwaahaha!
Making it further south
We need to get a little further south today, if we're going to get around in time to get back to Edinburgh on Thursday. It really shouldn't be hard, but it's awfully easy to go round and round in the same area and not any progress at all. I have a terrible time passing up the dots. My job is to find the stuff to see every day, Mark's job is to make sure we make some forward progress and get to the end destinations that we have. We didn't have many deadlines this trip (although more than the last one, I'll admit!) but he is good about making sure we aren't at the opposite end of the earth when we need to be somewhere. If it was up to me, we'd probably still be within 40 miles of Peebles, where we stayed the first night, tracking down everything of interest in that tiny circle. Using that method, we'll need to make about thirty more trips to Scotland.
I'm already taking a lot of guff for wanting to come back to Scotland instead of picking some new and different destination. There were a couple of reasons - a) I love the place. It resonates with me in a way that none of our other trips have and b) I like the symmetry of 10th anniversary/20th anniversary in Scotland There are a host of other reasons, of course, but that covers my initial argument. There are a list of places that we want to go -- Scandinavia, Italy, China. Next year we're going to Ecuador and the Galapagos Island with Mark's family. I would just like to be able to do the trip every year, not every other year, but to do that we'd have to get better jobs. Hmph. I want to retire and travel full time. I fantasize about doing travel photography or travel writing and getting paid for that - enough to continue traveling, at least.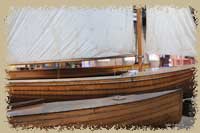 Mark loves the ships and harbors, so we went to find the Maritime Museum in Irvine (the "main" museum). It's a huge metal-girder building near the harbourside filled with bits and bobs from ship building in the last few centuries. Not really a museum, per se -- more of an old ship junkyard, collected and displayed with interesting labels. Lots of machinery, engines, parts, anchors, that sort of thing, but not terribly cohesive except for a couple of displays on rudders and wood-vs-steel building. There used to be a number of actual boats in the harbor that were open to the public (the "floating" part of the museum), but those are no longer accessible due to 'health and safety reasons'. Feh. They had an old Puffer boat and a tug that would have been very interesting.
A puffer is a small boat that as used to offload much larger ships that couldn't quite make into the harbor because of their size. The larger boat would anchor offshore, and the puffers would pull along side, quickly unload the goods, shuttle them to shore, and unload them there (or onto another, smaller boat). They 'puffed' because of the type of engine that they had, and the sound was quite distinctive around here for many years.
I was, to be honest, more interested in the building itself, than the contents. It was an actual shipyard building, moved here beam by beam. It's all cast iron, and you can see the almost delicate spans of the trusses holding up the roof. Each beam was numbered, dismantled, and reconstructed here on the site. It's a Victorian building, with all the prissy detail that is endemic in the style. It's been extended a few times, each time in the same style. Pretty cool, all in all.
Searching for Lego Men
We got stuck in Irvine - the road we needed was closed and the GPS was loudly bleating that we HAD to go that way, so we turned it off, went the other way, and drove to Dundonald Castle to get our bearings and move on. We'd been there already, but it was a good target in the right direction. We didn't' even take any pictures! We just sat in the car and made reservation for tonight (Each Challoch Farmhouse) and then decided to visit Culzean Castle, as everyone told us to do.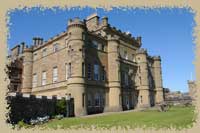 Culzean (pronounced Cull-ane) is pretty cool. It's all posh and fixed up and looks like a fairy-tale castle with turrets and chimneys. Inside, it's perfectly made up and restored to the Adams style. The oval staircase is world renowned, and it look as if the house was designed around the staircase, when in fact it was the last thing added to the house. It's quite stunning and it's a lot of fun to tour through (it's a self-guided tour) because the caretaker for the house has put a tiny Lego person in each room -- hiding on a window ledge, hanging from the curtain cord, tucked behind a book or piece of sculpture. Everyone scans each room to find them. The kids love it, and the adults spend a lot of time in each room looking for them (for some reason, the kids find them right away!_. Apparently the head curator moves them every once in a awhile, so its' a fun game to find them on every visit. Every room has one and it's considered quite a coup to find all of them. We didn't even realize this was going on (it's not really mentioned anywhere) until we heard someone talking bout it -- and then we had to backtrack to the few rooms we'd already been to, to find the others.
By the way, since we're National Trust members, we not only get into the grounds sand gardens free, we also get the house tour free, as well. Saves about 30 pounds. (Yes, another plug for joining - it saved us tons of entry fees!). The grounds are lovely and the view out of the oval office (which is the inspiration for the oval office in the US Capitol, I am led to understand) is stupendous - it feels like you're floating over the water. We weren't allowed out on the balcony, of course, but it's easy to imagine working in this room, looking out over the sea. Upstairs is the Eisenhower apartment, which was given (yes, GIVEN) to him after the victory in WWII for as long as he lived. They aren't open, of course, but they have a nice exhibit about his life and the war.
There are a couple of other buildings on the site (an ice house, an d orchid house, laundry. We walked around a bit and lazed on the huge expanse of green lawn in the courtyard. It's a popular place on a nice day -- a lot of people bring picnic lunches and spread out on the grass in the gardens. When I started getting sunburned, we packed up and went back to the car. I got sunburned anyway.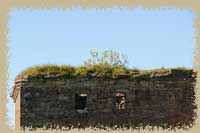 We got turned around coming out of the castle grounds, and only a half-mile down the road made a u-turn and discovered Thomaston Castle - the grass-covered decapitated tower attached to a riding stables and festooned with lots of 'private: no entry' signs. I risked life and limb to cross the road and walk up far enough to get some pictures. I have to be very, very careful o look BOTH WAYS when crossing the street here -- a lifetime of traffic coming from the left when you cross means you have to consciously remember to look to the right so you aren't hit by a speeding lorry. Look right, left, right. Repeat. I've only tried to fling myself into traffic a few times. Luckily, Mark is conscientious about making sure to put up a hand or grab my coat when I step off the curb. IT's funny, really - everyone who has ever walked anywhere with me does the same thing - as we reach a curb, they put a hand out in front of me. Seriously, it's not like I regularly walk out into traffic! Once or twice, maybe. But not all the time! Certainly not enough to warrant the kindergarten crossing-guard shtick! Hmmph.
Optical illusions aren't so fun when you're IN them
Since we were a mile or so from the Electric Brae, we drove up the hill. It's an optical illusion, of course, that you are going uphill when you are really going downhill and it wasn't quite as stupendous as we were led to believe by the glowing recommendations in the guide book. Apparently if you stop the car, put it in neutral, it will "roll uphill", but the only way to see this is to get out of the car and clamber out into the field across from it. Not gonna happen often, as this is a very busy road. Although there are signs about 'slow moving traffic' posted all over, and I imagine they are needed in July when the tourists descend like locusts. Oh -- it's called the Electric Brae because early theories on what was happening involved magnetic or electric effects on the cars driving through it…or so the inscribed rock told us. It's just a combination of the surrounding geography.
At some point between Culzean and here the car started making a strange clicking noise. Mark thinks we picked up a stone in the tire. He checked the tires and things looked ok, so we're not worrying yet -- but history will replay: we WIL have to replace a flat tire somewhere on the trip. It will happen, it always does.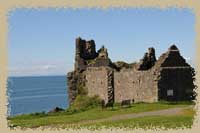 Along the coast jut a bit further on is a huge park and the remains of Dunure Castle. It was a lovely walk and tons of people outside playing in the sun. We walked down to the shore and wandered through the tiny tower house. The ruins scatter down into the rocks on the beach, and nearby is a huge stone maze. We didn't walk down to the maze -- it's one of those round mazes that you are supposed to trace over and over again for serenity? People were walking along the paths contemplatively and we didn't want to interrupt them.
The cows won't mind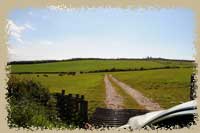 The GPS actually outdid itself getting us lost and insisting on a bizarre route -- much worse than the Mud Pit from Inverary. We plugged in the coordinate for Crossraguel Abbey (it was even one of the pre-listed destinations) and it drove us out on a farm road. We followed the turns obediently and the road got narrower and narrower, then it turned to gravel and then to two tracks with grass between them and then through someone's farmyard between the barns, with the cows, and then on a rocky path and then…a cow grate and fence and road petered off into the field. It just ..turned left and petered off into the field. (Mark's comment here was: "It would have worked!"). Up until then we'd been following a fenced field, mostly, and we sat there and laughed and laughed. Mark seriously considered FOLLOWING the "road"! He was sure e it would come out on the other side of the field. Through the cow herd. The GPS said it would, of course, and it probably DID come out on the other road like it should, but oy! We turned back and went through Maybole to get to the Abbey, still laughing about the sense of humor of whoever coded the algorithm. It had to be on purpose!
We spied Balterston castle on the way to the Abbey (I thought it was Crossraguel Castle, actually, but that is on the abbey grounds itself, in the shape of the abbey tower house). It was helpfully labeled 'castle' on a small sign on one of the light poles. Hah! We couldn't get close at all, so I took pictures fro the road and we continued on to the Abbey, about 300 yards away.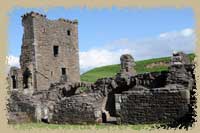 Crossraguel is the most complete abbey in Scotland and it is much, much larger than it looks from the road. There are foundations for most of the cloister buildings, and even though the church itself is much-ruined, if you climb up on the tower you can easily see how this place would have looked in its heyday. This is one of the few abbeys where the workshops, kitchens, storage, and other 'artisan' spaces still exist - or at least their foundations do. This entire place would have been enclosed in a wall, with a gatehouse (which exists here, but I think it's a much later addition) and would have been a self-contained little town, trading with others for what it needed, and becoming richer and richer as it expanded the lands it owned. Abbeys in Scotland before the Reformation, were incredibly rich - lands and gold and other treasures.
I especially like the couple of cellars with the 'extra bits" that have been collected from the excavation. Bits of stone work, pieces of arches, bosses, carvings. They are strewn around on shelves and on the ground, like jigsaw pieces they can't quite figure out where to put.
Ardmillan Castle is small and not particularly notable, but we paused, then kept on down the road to Carleton -- which is a small tower in the parking lot of a roadwork company (or someplace else with big trucks, I'm not sure) and marked private. It was all closed, so I trotted over for pictures and didn't worry to much about it. I didn't poke around anywhere else.
Our hostess at the B&B told us this morning that there is no such thing in Scotland as a "private road" -- the rules about free access still ensure that you can traipse across anything without any problems. People put up signs to discourage people from driving down into their yards, but they aren't actually enforceable. It's polite to respect them, but a dedicated castle-bagger or hiker or cross country biker is free to use the road/driveway.
Full-service farmhouse B&B! Yeah for clean clothes!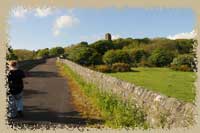 There's a ring of castles on the B734 that I wanted to go see, but the timer on the GPS to get us to the B&B is already showing us arriving at 6:45 and she'll only hold the room until 7pm. I know it's so they can plan their evenings and get any last minute guests. So we bypassed the dots, although I did convince Mark to stop at the tiny castle that just popped up by the side of road near Cosses. We walked over a defunct bridge to get a better picture, but it's far up the hill and buried in the trees.
On to the B&B, where the GPS once again tries to get us killed. Up a dirt track, through gates, over a railroad track (which is live - for high-speed trains -- and has no markings whatsoever, and then to the farmyard through the grass…we stopped before we hit the railroad and want back to the main road to get the "real" entrance half mile back, before the railroad, and even labeled nicely with the name of the farm. While the other way was possible, it was actually dangerous - people had been killed crossing the railroad tracks there. The trains come around a curve very fast and they are hard to see. Whew!
The owners here are hunters -- fox hunters, specifically, since they have fox heads and tails and feet hanging in the foyer and lots of pictures handing. It's working farm, and they owners are a bit quiet - they remind me of Norwegian farmer types - friendly enough, but quite and not very warm.
But they DO LAUNDRY! Yeah! We packed up a single bag full of a load of laundry and handed it off and she will have it for us in the morning. Woot! Saves us fining a place to do laundry ourselves on a Sunday and wasting half a day in a launderette, with me bitching the whole time. We got on the wrong schedule washing clothes -- we need to do them once a week; absolutely NEED to, given the amount we pack, seven days and we're out of clean undies and pants -- and we unfortunately did the first load on a Sunday. Next time, we'll have to plan ahead and do laundry on a Thursday or Friday, even if it means doing it early the first time, so we aren't trying to find a laundry open on Sunday when everything is closed. It's hard enough finding a place that's open during the week, on reasonable hours.
We drove into town to have dinner at L'Apertif, a bar/tavern/Italian place in Stranraer. It was quite good, although the food seemed really bland to both of us (I had pasta carbonara, mark had Lasagna). The spices are just…off., and we expect things to be a bit more savory, I think. This is mostly true of the "ethnic" food that we have tried - spicy food is not something that appears very often. Oh, no! An Herb. We must not use it lest people not eat the food!" That's a bit harsh, our meals have been very good, but when things are not quite what you are used to, it's hard not to notice.
The fog rolled in thickly about 9:30. IT's still light outside, or light enough that it felt like someone had thrown a heavy blanket over everything. We could watch the front of the fog bank come across the field across from the farm. For a brief moment, I felt like a character in a Stephen king novel. It's hard to judge time here - it "feels" like it should be 7 or 8pm,it's light outside with that end-of-evening twilight approaching. But it's really 10:30 or 11. Gotta love the late spring days here -- light at 4am and dark at 11pm by the time you get to June.
The fog rolled back out as quickly as it had come and we went to bed even though it still wasn't dark.